Sophia Grojsman – a revolutionary perfumer with a progressive vision of the art of making perfumes
Sophia Grojsman is a revolutionary perfumer with a progressive vision of the art of making perfumes. Her distinctive signature can be seen in using very few perfume ingredients, creating powerful sensations and adding a specific character to the perfumes she creates.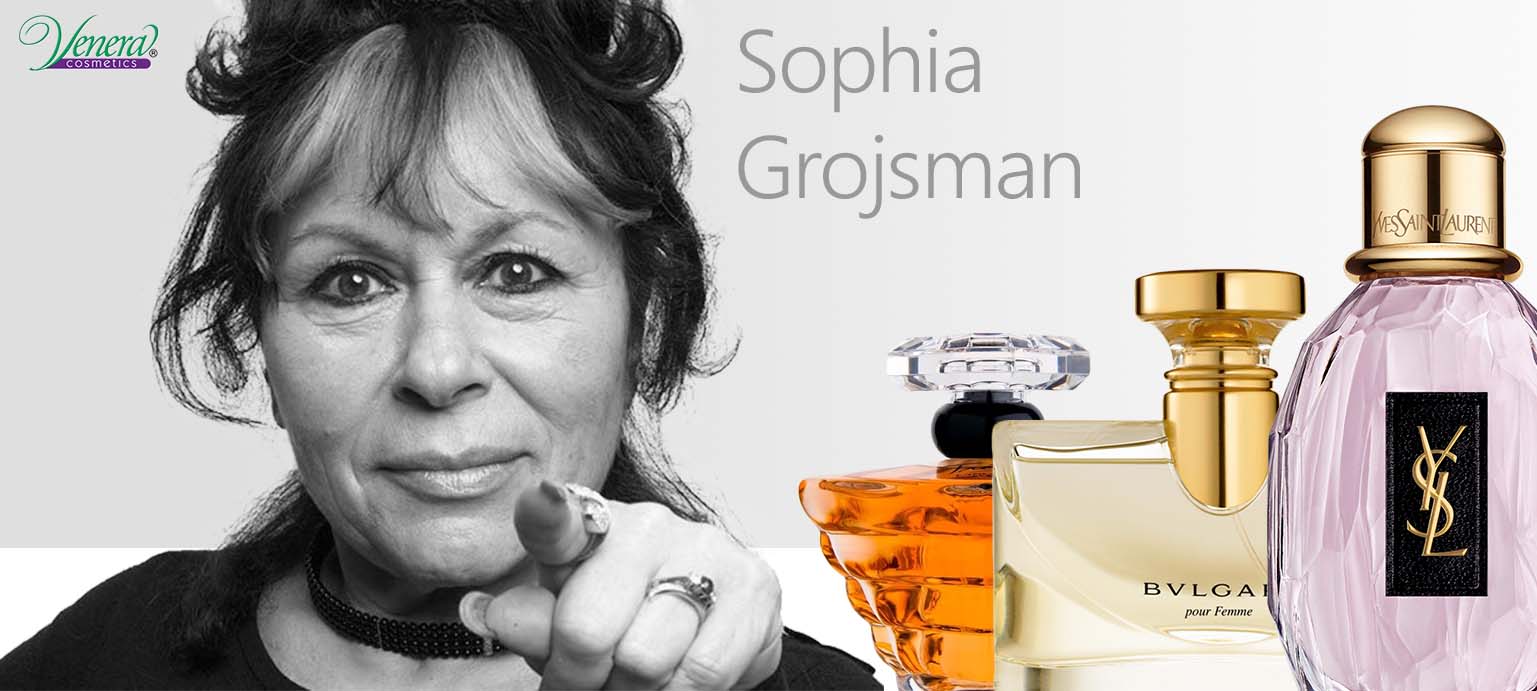 Throughout her career, she has worked with an impressive list of the most famous brands, including A Lab on Fire, Bill Blass, Boucheron, Bvlgari, Calvin Klein, Celine, Christian Lacroix, Clinique, Coty, Elizabeth Arden, Elizabeth Taylor, Estée Lauder, Frederic Malle, Gloria Vanderbilt, HRH Princess Elizabeth, Karl Lagerfeld, Kenzo, Lalique, Lancome, Laura Biagiotti, Love2Love, Michel Germain, Oscar de la Renta, Paloma Picasso, Yves Rocher, Yves Saint Laurent, etc.
Born on 08th March 1945, she grew up in a small Belarussian town where her mother learnt to rely on her incredible sense of smell ever since she was just a girl. Here's what she recalls, "Since we did not have refrigeration, my mother would ask me to taste the butter, milk, and cottage cheese in order to determine their freshness. If I would make a face, she knew that the food would spoil within a day and she would never buy it."
Entering the world of perfume barefoot, with no previous experience whatsoever, she learns everything from scratch, "I had no experience! I smelled things in the lab, but I never knew how the perfume was made. My impression was that you collect the flowers, put them in alcohol and then you mix them. I learned in the midst of experimenting and studying."
A true admirer of flowers, Sophia Groijsman puts them on a pedestal when it comes to their role in creating a successful perfume. She is particularly fascinated by the luxury and opulence of the queen of flowers, the rose. Here's what she shares about this love, "Rose is a flower of love; it is the first flower that a man gives to a woman. Petals of roses have this luxurious, rich smell that is familiar. My competitors would always say that everything I make is rosey. And even if I did not have any roses in the composition, they would still say that it is too rosy."
Some of the perfumes, created by Sophia Grojsman, you will find in our online store:
Bill Blass Nude EDC for women – this gentle floral fragrance is specially created for sensuous women. Fresh, yet rich, the perfume is incredibly intimate.
Bvlgari Pour Femme EDP for women – this delicate floral fragrance, created by Sophia Grojsman is a true jewel in the Bvlgari collection. Romantic and feminine, this fragrance remains a classic (it was first launched in 1994, but in 2006 it was renovated and relaunched in a more luxurious design).
Lancome Tresor EDP for women – Sophia Grojsman created this perfume for the exceptionally elegant woman who can conquer the world with grace as her most powerful weapon.
YSL Parisienne EDP for women – created by Sophie Labbe and Sophia Grojsman, this perfume is a true treasure of style, romance, and love. It perfectly balances the mystery and feminine individuality of the woman who wears it.
Do you have a favourite perfume created by Sophia Grojsman? Share it with us in the comments below!