Francis Kurkdjian – a master perfumer, an artist, an inspiration
A winner of the Prix François Coty in 2001 for his lifetime achievements and an owner of many international awards, Francis Kurkdjian is a master perfumer, an artist, an inspiration. Discipline, perfection, persistence, harmony, effort, beauty – these are all words he uses when describing himself and his work. The passion he puts in his work can be explained by his vision: "I guess since I have been a perfumer, I am running after the perfect scent and fragrance knowing it does not really exist. This is why I keep creating, working and searching…"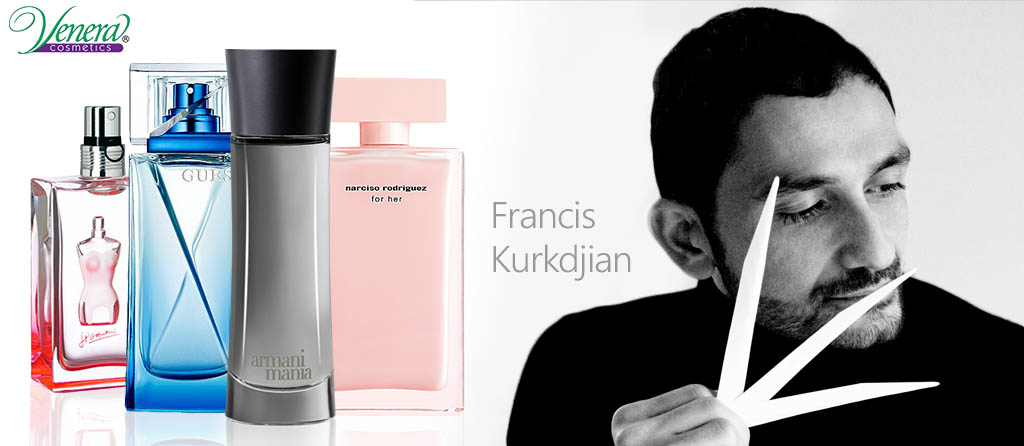 We will not call him "a nose" in this article as he has a very strong opinion regarding this attribute: "I was also fed up about people calling us "Noses" and saying we create "Juices". I never use these two expressions which I found terrible and very disrespectful of our work. "Nose" is to me a very pejorative expression, which is so far from our reality as perfumers. It does not reflect at all the fact that we use our brain first to work like any other artist. You do not call a pianist or a writer "hands", a dancer "body", "feet" or "arms"."
Francis Kurkdjian was born on May 14, 1969, in Paris, France. In 1983 he failed the competition to study at the Paris Opera School of Dance and this was the reason he decided to become a perfumer in 1985. Here's what he says about this decision: "I wanted to become a ballet dancer but I failed to one of the contests to be part of the ballet school. I was 13. It took me a year to recover from that. When I discovered the metier of the perfumer, I knew right away this would be my playground."
After graduating ISIPCA Versailles, he joined Quest International in Paris where he also prepared a master's at the Institut Superieur de Marketing du Luxe. His first perfume was created in 1995 (when he was only 26 years old) and since then his career as a perfumer is thriving. In 2009 he co-founded the luxury fragrance house "Maison Francis Kurkdjian" with his business partner Marc Chaya.
As he says: "…scent could be used as a real art form, the same way you have the notes for music and colors for paintings, photograph or video." This attitude has won him numerous fans among the most famous perfume houses. He has created perfumes for Christian Dior, Narciso Rodriguez, Davidoff, Elizabeth Arden, Escada, Acqua di Parma, Giorgio Armani, Guerlain, Jean-Paul Gaultier, Joop, Kenzo, Lancaster, Lancome, Versace, Yves Saint Laurent, etc.
Some of the perfumes skillfully created by Francis Kurkdjian you can find in our online store:
What is your favorite perfume created by Francis Kurkdjian?