Antoine Lie – in search of the perfect balance between mainstream brands and niche perfumery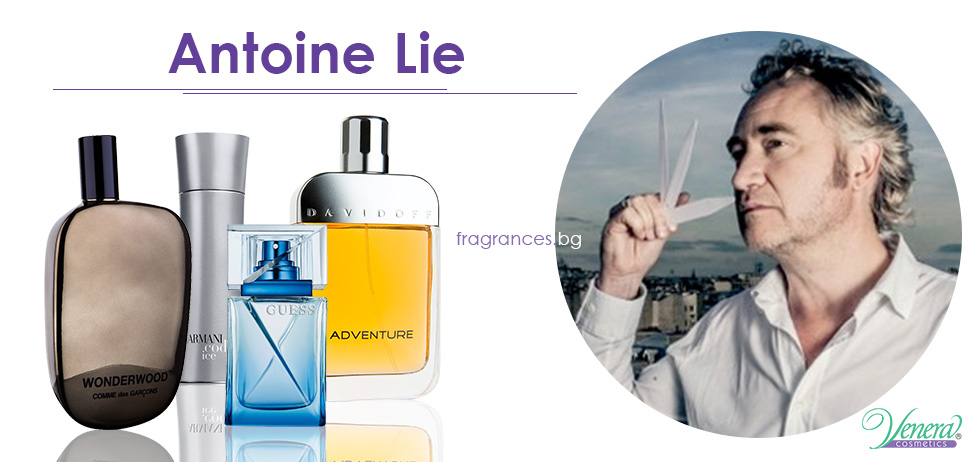 Undoubtedly one of the most popular perfumers today, Antoine Lie is the nose behind iconic fragrance bestsellers like Armani Code, Versace Crystal Noir, and Calvin Klein Contradiction, but he is also responsible for the launch of some of the most contradictory niche perfumes on the market like the famous Secretions Magnifiques Etat Libre d`Orange with extraordinary notes.
The childhood of Antoine Lie was marked by the young boy's extreme sensitivity to smell. Even though he comes from a family that has nothing to do with the perfume industry, his exceptional olfactory mastery was enough to take him to the fragrance journey of his life.
His first memory connected with smell was a teddy bear's scent on his cot. Later on, when he was a teenager, he got more and more interested in different kinds of smell. By the time he was 12 or 13 years old, he already knew he wanted to become a perfumer! Here's how he describes his decision: "I got intrigued by the perfume of my mother. She used to have qualitative and classic perfumes that immediately grabbed my attention. Around that time, through reading articles, I also discovered the job of a perfumer. Since that moment on, I have tried my best to become a perfumer."
Born and raised in Strasbourg, France, Antoine Lie took a degree in chemistry before he attended the Givaudan perfume school in Grasse studying fragrance under the direction of Jean Carles. After an extremely beneficial apprenticeship under the guidance of famous teaching master Jean Guichard, he had the privilege to be involved in the creation of some of the world's most famous fragrances like Armani Code and Versace Crystal Noir.
The years he spent working for Givaudan were full of opportunities and he split his time between France and the United States contributing to the development of bestseller fragrances and working with some of the biggest perfume brands in the world.
"I joined Givaudan as a student", he remembers, "and was very impressed and immensely happy. It was a dream of mine to smell many different things, which was exactly how I spend my days as a student. I was excited to learn about the difference in scents. I was also learning a lot about the US market, which was then an important market in the perfume industry. After my days as a student, I was happy to work for Givaudan as a perfumer. Being a perfumer at Givaudan was a great experience for me to develop and challenge myself."
In 2011, he took a big step towards his independence and growing popularity as an unconventional perfumer by joining the fragrance society of Takasago. He needed to step back from working for the perfume giants and explore his own creative freedom by working in the niche perfumes industry.
"Working on smaller projects gave me this opportunity to have more influence in the creative process. In Takasago it is possible to work on smaller projects since it is a smaller organization than Givaudan. At Takasago I could challenge myself by working on different projects. For me, it is exciting and challenging to work for Takasago."
The perfumer, whose motto is "Making sure not regret anything", likes working with vetiver, leather, iris, sandalwood as well as with controversial notes like vinyl, metal, and ether. His inspiration comes from many different things. When he works for a big perfume brand, there are certain marketing frames which he has to lock his inspiration in but, when he accepts more unusual and challenging projects, he finds inspiration in new revolutionary perfume concepts, unconventional theories, and controversial ideas.
"I try not to follow the trend", he explains, "I like to explore new olfactive territories and search for uncommon ingredients and uncommon associations that can intrigue new interests. I also saw that the perfume market needed something different; new olfactive possibilities."
Using contradictory materials and creating real perfume masterpieces, Antoine Lie is a perfumer that not only masters the art of perfume making but is also a true inspiration for younger and inexperienced perfumers. His "best creations", as he refers to them, though, are his three children. "There is nothing comparable and more comforting than putting my nose into their hair and smelling their head."
Deeply involved in the niche perfumery, Antoine Lie agrees that the niche perfume industry is growing and becoming very popular. For him, the niche perfumery is a great opportunity to explore new boundaries and turn brilliant concepts to life without compromising on quality. What he likes most about working with smaller brands in the niche perfume industry is the influence he has on the whole process and the creative freedom that lets him fully unfold his potential and mastery.
In our online perfume shop you'll find some of Antoine Lie's masterpieces:
Other fragrances by Antoine Lie:
Blood Concept Red +MA (2012)
Burberry Brit Gold (2005)
Cerruti L'Essence de Cerruti (2009)
Comme des Garçons + Daphne Guinness Daphne (2009)
Comme des Garçons + Pharrell Williams Girl (2014)
Comme des Garçons Energy C: Grapefruit (2008)
Comme des Garçons Energy C: Lime (2008)
Comme des Garçons 888 (2008)
Costume National Cyber Garden (2013)
Elizabeth Arden Ardenbeauty (2002)
Eris Parfums Belle de Jour (2016)
Eris Parfums Ma Bête (2016)
Eris Parfums Night Flower (2016)
Ermenegildo Zegna Z Zegna (2005, with Pierre Negrin & Olivier Gillotin)
Ermenegildo Zegna Z Zegna Extreme (2007)
Etat Libre d'Orange Bendelirious (2008)
Etat Libre d'Orange Secretions Magnifiques (2006)
Etat Libre d'Orange Je Suis Un Homme (2006)
Etat Libre d'Orange Rossy de Palma Eau de Protection (2007, with Antoine Maisondieu)
Etat Libre d'Orange Tom of Finland (2008)
Etat Libre d'Orange Vierges et Toreros (2007, with Antoine Maisondieu)
Everlast Original 1910 (2006)
Gucci Rush for men (2000)
Joop! Homme Sport (2016)
Kenzo Parfum d'Ete (2002 version)
Laura Ashley Magic Garden (2001)
Lulu Castagnette Lulu (2006, with Guillaume Flavigny)
Nu_Be Hydrogen (2013)
Nu_Be Oxygen (2013)
Parfums Morgan Sweet Paradise (2007, with Guillaume Flavigny)
Paul Smith London for men (2004)
Puredistance Black (2013)
Puredistance White (2015)
Ralph Lauren Romance for men (1999)
Roxy Love (2008)
Quiksilver for men (2008, with Antoine Maisondieu)
Salvador Dali Purplelips Sensual (2007, with Guillaume Flavigny)
Salvatore Ferragamo Tuscan Scent Golden Acacia (2015)
Tocca Brigitte (2008, with Sonia Constant)
Valentino Gold (with Cecile Matton)
Van Cleef & Arpels First Premier Bouquet (2008, with Sonia Constant)