The history of Lucas Sieuzac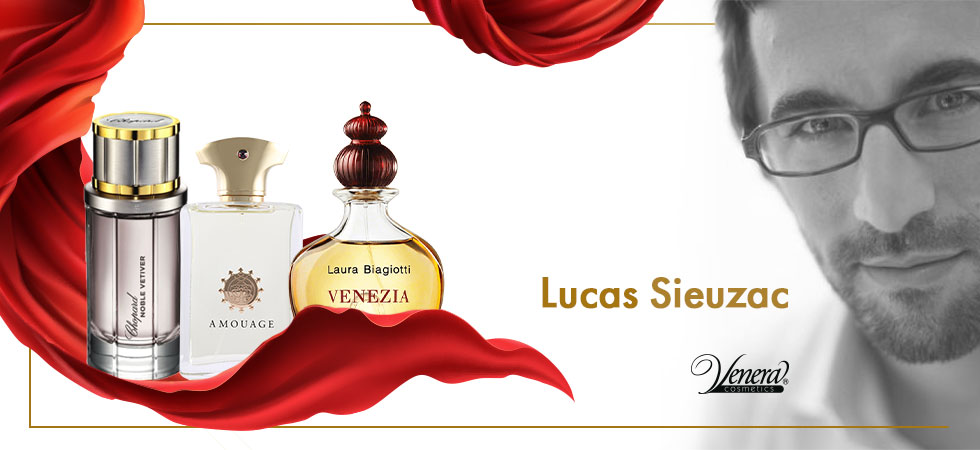 Lucas Sieuzac is a worthy representative of the French perfumery with whom the country can only be proud of. Born and raised in the magical town of South France – Grasse, Lucas Sieuzac had the opportunity to be close to thousands of incredible scents. He is a third-generation perfumer in his family, so to follow the same path was only natural for him. Sieuzac decided to pursue a career in perfumery when he was 18 years old. Then, already relatively mature, he realized that creating fragrances through which you can connect with thousands of people, is the biggest achievement. Today, the French has over 25 years of experience in the sphere and in the art of making perfumes.
Even though in his family he was surrounded by other perfumers, Lucas Sieuzac looked for his own signature and followed his own style, which became apparent in his perfumes. His success was soon obvious and he started working in famous perfume companies where he gained experience and inspiration and had the opportunity to show his talent. He started working in the conglomerate for food flavors and perfumes Florasynth in 1994 which is located in his home town and perfume capital since the 16th century.
Soon after that, Lucas Sieuzac looked for new challenges and went to work in Symrise, today named Créations Aromatique. As with the previous company where he was employed, Symrise is engaged in the development and production of flavors. This period is important for Sieuzac because it was then that he got the opportunity to collaborate with huge perfume brands like Amouage and Burberry. Thanks to his newly acquired fame, the perfumer received enviable new offers from just as elite brands and companies.
The name of Lucas Sieuzac became famous after the opulent fragrances he is responsible for. They include Night by Giorgio Armani, Azzaro Now by Azzaro, Berlin by Playboy and Play by Givenchy. Besides that, Sieuzac gained prestigious awards, among which Prix Lalique by the French association Centre du Luxe et de la Création. In 2019, Lucas Sieuzac joined the Spanish perfume company Eurofragrance.
By this moment, Sieuzac is the author of over 30 perfumes. On our online store you can find the following:
Amouage Reflection Man – this is a men's perfume that was launched in 2007. It has seducing woody and musky notes that will make every man confident and irresistible. The herbal scent of rosemary, petitgrain, and spicy pink pepper open the composition. After this aromatic start, follows an aroma of white flowers like jasmine and neroli, and finally, a combination of woody notes that include cedar wood, sandalwood, vetiver, and patchouli. This perfume will freshen up your senses and will attract the attention of you.
Givenchy Play – this is another men's fragrance that has a fresh and lively scent. Thanks to its citrusy notes like bergamot, grapefruit, mandarin and orange, the perfume will bring you nice summer memories and will freshen you up. Seducing coffee, spicy black pepper and woody notes are also part of the composition and make the perfume masculine and intense. It was launched in 2008.
Chopard Noble Vetiver – another men's perfume with a refined and elegant scent, suitable for men who love to emphasize their style. Created in 2010, this fragrance has an opulent aroma of herbs, leather, and wood. Surprising paprika, fresh bergamot, mahogany and tobacco are just some of the notes that create this original and rich perfume.
Trussardi A Way for Her – this is a romantic, floral perfume for women. It has fruity and oriental notes that include peach, frangipani, and jasmine. Besides them, in the perfume, we can sense tempting vanilla, vetiver and tuberose. It was launched in 2014 and has an original and unique scent which will bring you a lot of compliments.
Laura Biagiotti Venezia 2011 – this fragrance for women is sweet, fruity and floral and will make you feel like true, elegant ladies. Black currant, peach and plum start the composition. After them follows a floral bouquet of rose, jasmine and ylang-ylang. In the base are hidden vanilla, amber and sandalwood that bring gentle warmth to the perfume. It was launched in 2011.
Other perfumes from Lucas Sieuzac's work include the following:
Suggestion Eau d'Or Montana (1994) for women
Unzipped Perfumer's Workshop (1998) for women
Annayake Pour Elle (2000) for women
Biotherm Aqua Fitness (2000) for men
Emporio Armani Night She (2003) for women
Police Naked pour Homme (2003) for men
Jammin Reminiscence (2006) for men and women
Azzaro Now Men (2007) for men
Amouage Jubilation 25 Woman (2007) for women
Esprit His Horizon Men (2007) for men
Givenchy Play Intense (2008) for men
Jil Sander Jil Sander Style Summer (2008) for women
Six Scents Parfums Bernhard Willhelm Wicken 3000 (2008) for men and women
Jil Sander Style Pastels Blush Pink (2008) for women
Givenchy Play for Her (2010) for women
Givenchy Play Intense for Her (2010) for women
Jammin Reminiscence Vibration (2011) for women
Chopard Noble Cedar (2011) for men
Gloria Vanderbilt Little Gloria (2012) for women
Davidoff The Game Intense (2013) for men
Salvarore Ferragamo Tuscan Soul: Bianco di Carrara (2013) for women
Oriflame Miss Giordani (2014) for women
Cerruti 1881 pour Homme Edition Blanche (2015) for men
Oriflame Divine Idol (2015) for women
Comme de Garçоns Dot (2016) for men and women
Carolina Herrera 212 VIP Men (2011) for men
LPDO Creation Handfidance for women
LPDO Creation Lorev for women
Giorgio Armani Emporio Armani Night for Her (2003) for women
Emprise Eau Jeune (2010) for women
Replay Essential for Her (2014) for women
Florissima by Devota & Lomba for women
Folie à Plusieurs Funeral Parade of Roses (2018) за мъже и жени
Folie à Plusieurs Ghost – Black (2018) за мъже и жени
Folie à Plusieurs Holy Motors (2018) за мъже и жени