Anne Flipo – the Lady Million
Anne Flipo can be described as a sensitive and curious hedonist with a passion for stylish fragrances. She spent her childhood in Picardy, France, where she was surrounded by fresh flowers and vegetable gardens that were her first contact with the beautiful world of fragrances.
Here's what she says about this early period on her life: "That's where I learned about nature and the basics of an art of living made up of simple pleasures; I was fascinated by nature and have wonderful memories of family cooking and cake making, not forgetting my love for music, an essential part of my personal stability".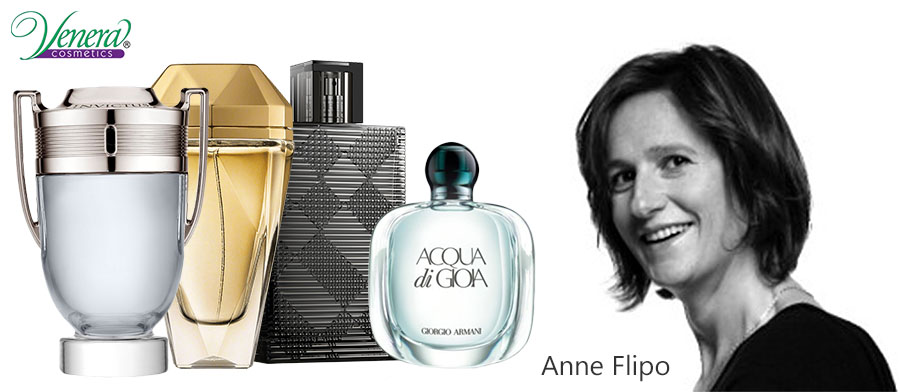 When she grew up, she attended a perfume school in Versailles, ISIPCA, where she discovered the power of essential oils. After graduation she started working with Jean-Louis Sieuzac and Michel Almairac. Today she works for IFF (International Flavors & Fragrances) – here's her opinion about this experience: "I finally let myself go, I am so much more relaxed and believe in my own intuition at last".
Although she spent a lot of time working on woman fragrances, she has recently started composing men's fragrances as well. As she says: "It was difficult for me at first to get into this type of perfumery. Now I am totally at home. It's a whole new territory with a lot of potential and I realized that it can be extremely fulfilling and create tremendous enthusiasm and drive".
She considers her work a game with rules that change all the time: "you have to understand what a client is looking for to the point where it becomes your own, you soak in the spirit of a project, study it from every angle: perfume is an eternal challenge where you have to confront the imperfection of things. As long as there is still a sensation of the unaccomplished – everything remains possible, it's the same principle in life".
Anne Flipo has been creating perfumes for the most famous perfume houses for over 30 years. Here are some of the perfumes created by her passionate intuition:
What is your favorite perfume created by Anne Flipo?