Thierry Wasser – Guerlain's "adopted son"
Thierry Wasser has been Guerlain's nose since 2008. Born in Switzerland, he is the first perfumer not coming from Guerlain's family, but they call him their "adopted son". He has surely proved to be worthy of being called part of the family with some of the great creations he made for Guerlain so far: Idylle, Habit Rouge l'Eau, Shalimar Parfum Initial, and a reinterpretation of the famous La Petite Robe Noire.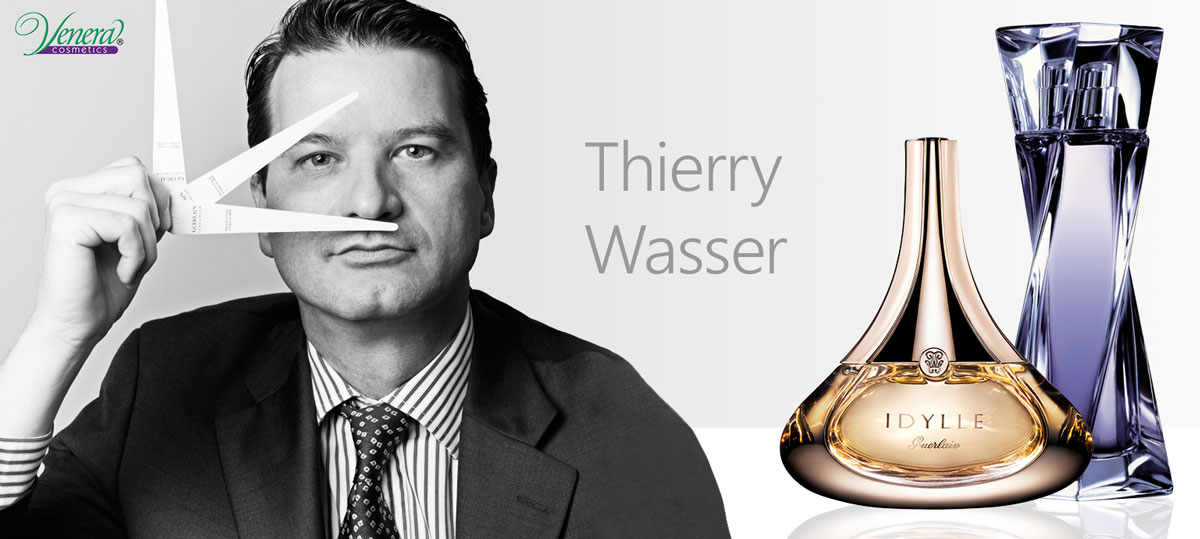 Born in 1961 in Montreux, Thierry Wasser recalls his youth and the way his interest in botany and nature influenced his decision to become a part of the perfume industry: "My interest in botany is definitely linked to my youth and my childhood environment in Switzerland. I lived in a small town in the wooded hills, and there as a boy, I developed a sense for the rhythm of nature and the seasons. Our neighbors were farmers and I was over there all the time and developed a strong interest in nature. This was my first experience with Wellington boots! I lived in them. The neighboring farm had different animals including a couple of cows producing milk, some pigs, and chickens. They also grew fruits and vegetables, cherries, raspberries and apples for the tourists of Montreux. These memories affect my outlook today."
Elegant and charming, Thierry Wasser has a craftsman mindset and is not afraid to go out of the lab into the world of raw ingredients: "Most people envision perfumers living in their lab, in the clouds somewhere, as if they were creating in a remote, isolated place, but in reality I can usually be found in a field wearing Wellington boots."
Like every creator, Thierry Wasser considers himself an artist. However, he is well aware of the fact that his art is actually a very important part of a worldwide known perfume industry. Here's what he thinks about the bond between art and business in Guerlain: "The marketing team does provide me with a long-term business perspective, forecasting what will be launched in the coming years. Fueled with this knowledge, I then decide how I want to express myself fragrance-wise."
In his career each success is followed by another and this can be proved both by the trust that Guerlain put in him and by some of the prestigious international awards he was given. In 2009 he was awarded "the Best Luxe Men's Launch" at the Canadian Fragrance Awards and in 2014 he was awarded the "Chevalier de la Légion d'Honneur" medal.
His passion for recreating classic perfumes and reformulating old fragrances is evident in his work. "In the fragrance industry today, you need two feet to dance: a great, blockbuster classic and a younger, more accessible formula." To him the fragrance development from sourcing the raw materials personally to creating the perfume itself is a never-dying art: "It's a privilege and a luxury – it won't die – that's why I'm here."
Here are some of the perfumes Thierry Wasser created that you can find in our website:
Do you have a favorite Thierry Wasser perfume? Share it with us in the comments below!