The inspiring story of Coco Chanel
The legendary woman that made not one but two fashion revolutions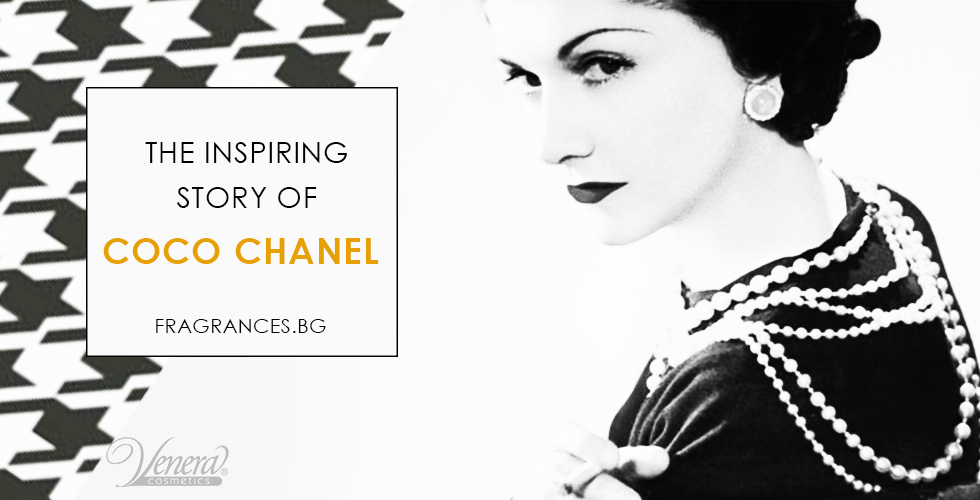 Chanel is, undoubtedly, one of the world's most popular luxury fashion and perfume brands. The legendary designer Coco Chanel created some of the most iconic trends in fashion and perfumery: the classic quilted leather chain bag, women suits, the two-tone shoes, and, of course, the most famous perfume of all times, Chanel  N°5.
Here are some fascinating (and less known) facts about the fashion brand Chanel and its founder, Gabrielle (Coco) Chanel:
Coco Chanel childhood
One of the most famous fashion designers, Coco Chanel, has had a long and rather fascinating life. She was born on 19th August, 1883, in Saumur, France and her birth name was Gabrielle Bonheur Chanel.
Not many people know that Coco's childhood was marked by poverty and misery. When she was only 12 years old, her mother (a laundry woman) died and she was sent to an orphanage convent in Aubazine (Central France). It was a tough time for the little girl but that was the place where she was taught how to sew by the nuns at the convent.
How the brand Coco Chanel was born
It will come as a surprise to many people that the fashion house Chanel started as a… millinery shop. Coco Chanel has never hidden the fact that she used her numerous lovers as a stepping stone for the establishment and development of her fashion and beauty brand.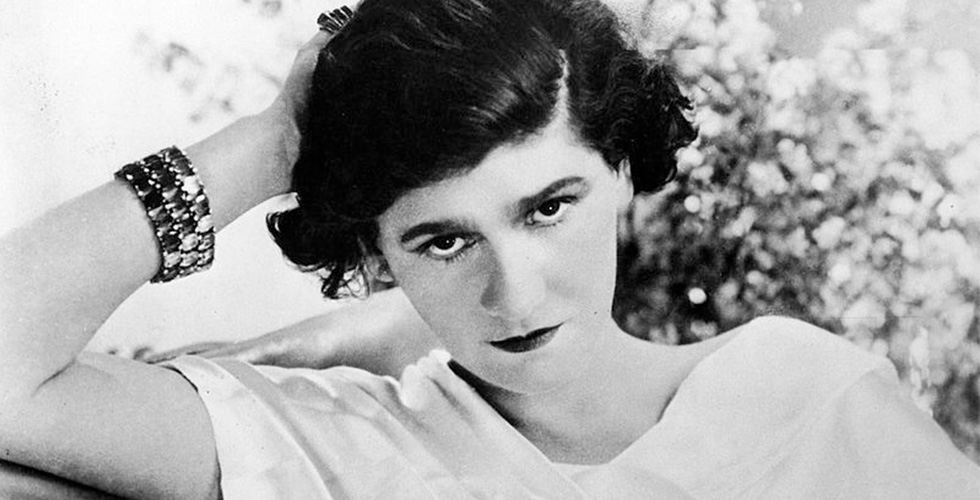 Source: Hal Vaughan. Sleeping with the Enemy: Coco Chanel's Secret War. Random House (2011), p. 20
In 1908, Coco became the mistress of Etienne Balsan, a wealthy ex-military officer. The young Coco (only 23 years old) moved in with her lover and spent the following 3 years in his chateau. There, out of boredom, she started designing and creating hats – this was her first step in the world of fashion!
 In 1909, she became a mistress of Arthur Edward 'Boy' Capel, a close friend of her previous lover. The first Chanel shop (a millinery shop) was opened in 1910 and was housed on the ground floor of the Parisian flat of Arthur Capel, where she also lived as his mistress. It's a fascinating fact that she remained Arthur's mistress for nine years, even after he got married!
In 1913, Chanel opened her first boutique (also financed by Arthur Capel). It offered deluxe casual clothes made of jersey and tricot. This was a revolution in women's fashion as these fabrics were used only for men's underwear before. With a prime location on a fashionable street, her boutique quickly became a success. Her sister and her aunt were the first Chanel models – their job was to get dressed in Chanel's clothes and "advertise" them by wearing them while walking around town dressed in Chanel from head to heels.
A few years later, in 1916, the brand was already so successful that Chanel managed to give back her main sponsor all the money he invested in her.
The story of Chanel No 5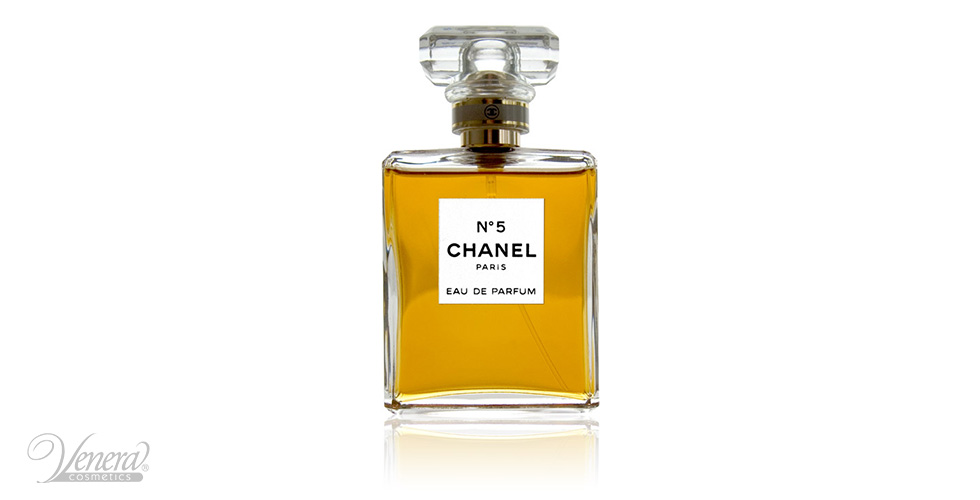 Chanel No 5 is, undoubtedly, the queen of all perfumes. It is so iconic that even people who are not into perfumes would instantly recognize it. The "women's perfume with a women's scent" was launched in 1921 and is today the best-selling perfume of all time. It has been estimated that a bottle of Chanel No 5 is bought every 30 seconds!
There is a fascinating story behind the perfume's name, No 5. When Coco Chanel invited perfumer Ernest Beaux to come up with a formula for her first fragrance, he presented her 5 sample bottles to choose from. It was the scent in the fifth one that won her heart, hence the name of the perfume, No 5.
What's more, 5 was also her favorite number, which is also connected with the date the perfume was launched, 5th May, 1921 (the fifth day of the fifth month).
The formula of Chanel No 5 (featuring jasmine, ylang-ylang, May rose, sandalwood, and aldehydes) was revolutionary. Prior to Chanel No 5, women's tastes in perfumes were single-sided. Respectable women wore perfumes that smelled like separate flowers (e.g. rose), while courtesans wore more sensual scents like musk and jasmine. But then Chanel No 5 was launched and it combined sensuality and pureness, tearing to pieces the position of perfume as indicative of social standing. Now both devout wives and seductive mistresses wore the same perfume – Chanel No 5!
One of the very first perfumes that mixed natural and artificial perfume notes, Chanel No 5 was the number 1 most purchased gift from US soldiers to their wives, turning Chanel No 5 into an international craze.
It is a less known fact, though, that the original Chanel No 5 got Coco Chanel only 10% of its profit as it was produced in Parfums Chanel where two Jewish brothers possessed 90% of the company. A year later, when the perfume becomes an international success, he filed so many claims for full ownership of Chanel No 5 that the company's owners had to hire a full-time lawyer that handled only Coco Chanel's claims.
Ultimately they reached an agreement that she would receive wartime profits and would get 2% of all Chanel No. 5 sales worldwide. Additionally, Pierre Wertheimer (one of Parfums Chanel's owners) would pay ALL Chanel's personal living expenses for the rest of her life.
Two of No 5's ingredients (Grasse jasmine and May rose) are very rare perfume ingredients and the brand is today growing their own jasmine and rose fields to guarantee their survival (with the help of local growers).
The foundation of Société des Parfums CHANEL
After opening a few boutiques and launching her first fragrance, it was time for Chanel to launch a second iconic fragrance, namely Chanel No 22. It was launched in 1922, hence its name.
A few years later, in 1924, Chanel launched her first makeup line, changing forever the world of luxury makeup. The exclusive makeup collection included lip products and face products and its success lead to the foundation of "Société des Parfums CHANEL", the brand division in charge of Chanel's fragrances and beauty products.
Chanel's tweed
The year was 1924. After several visits to Scotland (with the Duke of Westminster), Coco discovered her iconic tweed. Up to then, tweed was solely used for men's garments but she lent some of the Duke's clothes during her visits and she noticed the high quality and the exquisite comfort the cloth possessed.
She quickly realized she could use this fabric for women's wear as well so she soon enlisted a Scottish factory to make tweed fabrics she could use for everything from women's suits and coats to sportswear and even accessories. She was inspired by the Scottish nature for the designs as well, turning the new tweed trend into a timeless classic that is featured even in today's Chanel collections made by legendary designer Karl Lagerfeld.
The Little Black Dress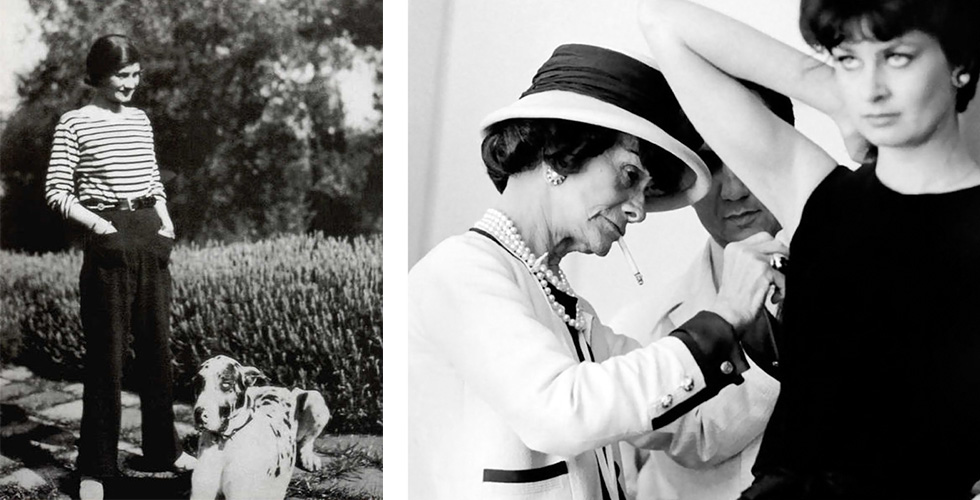 Source: http://missowl.com/coco-chanels-fashion-life/

The little black dress (or LBD, as many people call it) is a compulsory element of every woman's wardrobe, regardless of her age, marital status, body type, and position in society. The iconic little black dress was first included in a Chanel collection from 1926. It was later featured in the famous Vogue magazine, turning it into the legendary dress it is today. What's more, it was Chanel's short black dress from the same collection that made black a fashionable color!
The second fashion revolution of Chanel
In 1954, after the end of WWII, at the age of 71, Coco Chanel reopened her couture house which was closed during the war. The incentive for the grand re-opening? Christian Dior and his post-war "new look".
When Dior launched a collection featuring the dreaded by Coco corset, she was enraged. Everything she ever created was geared towards liberating women (both literally and figuratively speaking).
With her relaxed, yet luxurious and refined clothes, she made women feel comfortable in their skin, freeing them from the label of being somebody's wife/daughter, etc. So, when Dior brought corsets back on the fashion stage, she just couldn't allow this and she started a second fashion revolution, winning the respect and love of her American clients.
The 2.55 bag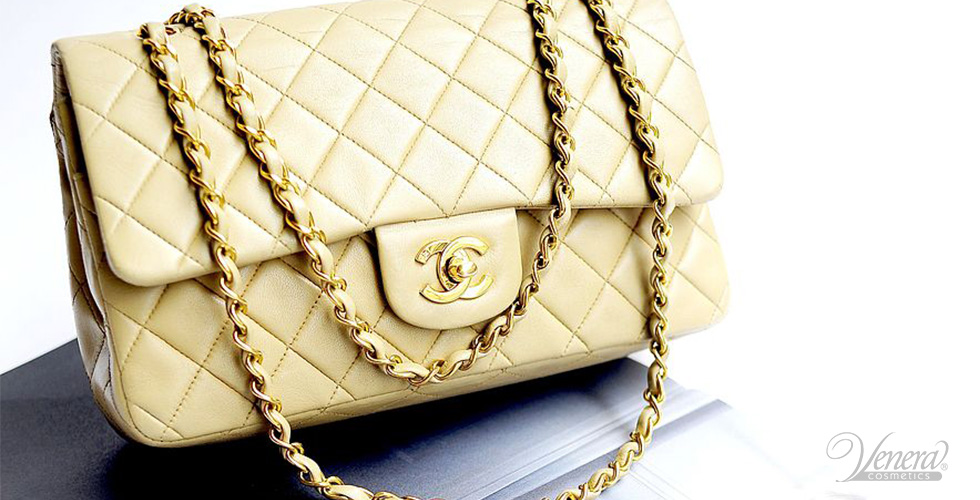 Source: https://www.flickr.com/photos/liuwencheng/3923113713/
The classic quilted leather handbag with a gold chain and a shoulder strap finally freed women's hands, giving them a light, yet strong handbag with a unique design. It was launched in February 1955, hence its name, 2.55.
Everything in the 2.55 shouts Coco Chanel. The inner lining is burgundy – that's the color of the uniform Coco wore in the convent she grew up in. The inside zipped compartment of the legendary handbag is where Coco used to hide the love letters she received from her numerous lovers. The shoulder strap's chains were inspired by the chains caretakers used for their keys at the convent.
The two-tone shoes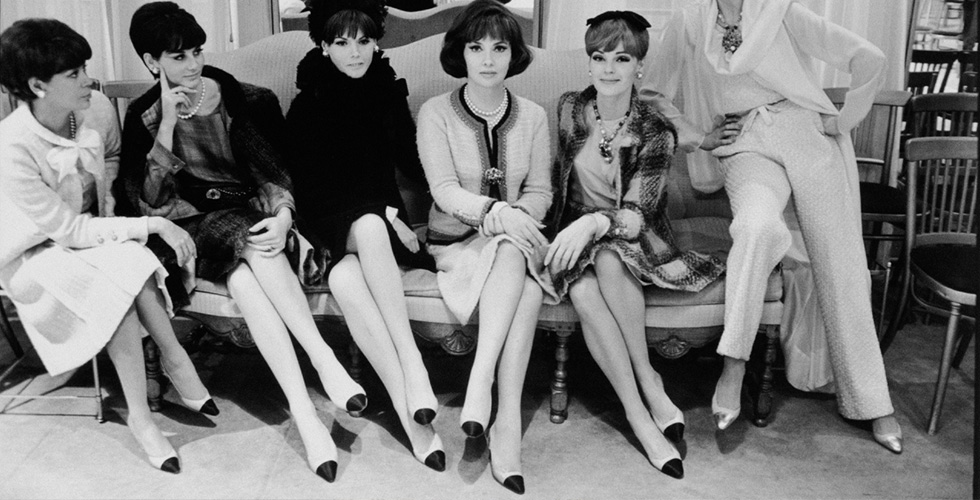 Source: Chanel-Bicolores-Alta-Costura-1964
The year is 1957 and Coco Chanel makes yet another fashion revolution with the creation of the iconic two-tone shoes. Combining neutral beige for the base and contrasting black for the shoe cap, the two-toned shoe serves a double purpose. At the same time, it shortens the foot and makes the leg look visually longer. No wonder they were an immediate success!
Chanel's Clientèle
Ever since its launch, the brand Chanel won the hearts of the French elite. As the brand developed, it gained fervent fans among worldwide celebrities and notable famous women.
That's how Coco describes her clients, "I've got a really, really beautiful clientèle. This is the only thing I'm truly proud of. I'm convinced there isn't a house in France with a clientèle like mine. From all around the world you understand, the best from all around the world and I don't blush to say so, it's bold to say so with such confidence but it's the truth. You can check it, I believe anyone who dresses well in the world dresses here. "
Here are some of the famous women who were Chanel's fans:
Elizabeth Taylor
Jane Fonda
Jackie Kennedy
Grace Kelly
Marilyn Monroe
Greta Garbo
Marlene Dietrich
Coco Chanel's successors
After Coco Chanel's death in 1971, the brand faced the problem of finding worthy successors that would guarantee Chanel's continuous success. They have certainly found the best: In 1981, Jacques Polge became Chanel's master perfumer. Two years later, in 1983, the famous designer Karl Lagerfeld became Chanel fashion's artistic director.
5 interesting facts about Coco Chanel
Coco Chanel was the first designer who put women in pants (she also invented the suit for women).
She is the only fashion designer in the Time's Magazine top 100 most influential people of the 20th
Coco Chanel made sunbathing fashionable. It happened by accident when she returned to Cannes after getting sunburned during a cruise holiday and everybody followed the trend).
She spent 34 years living in a suite at the Hotel Ritz in Paris until her death in 1971.
Before she became a designer, she used to be a singer at Parisian cafes.
Famous quotes by Coco Chanel
A woman who doesn't wear perfume has no future.
A girl should be two things: classy and fabulous.
Don't spend time beating on a wall, hoping to transform it into a door.
Dress shabbily and they remember the dress; dress impeccably and they remember the woman.
Simplicity is the keynote of all true elegance.
Fashion changes, but style endures.
"Where should one use perfume?" a young woman asked. "Wherever one wants to be kissed."
I don't do fashion, I AM fashion.
The best color in the whole world is the one that looks good on you.
You can be gorgeous at thirty, charming at forty, and irresistible for the rest of your life.
A woman with good shoes is never ugly.
Dress like you are going to meet your worst enemy today.
As long as you know men are like children, you know everything!
Nature gives you the face you have at twenty. Life shapes the face you have at thirty. But at fifty you get the face you deserve.
I don't know why women want any of the things men have when one of the things that women have is men.
In our online store, you can find the brand Chanel – https://venerafragrances.com/