What perfumes do celebrities wear?
All of us have favorite actors, models or celebrities. Their life is glamorous and interesting, full of fashion events, vanity and fame. Who hasn't dreamt of becoming part of this world even for one day? As you know, nothing is as typical for a person as the fragrance they wear, so, if you want to feel like a celebrity, you can choose the same fragrance as your favorite celebrity and feel like a real star! 
So here's a list of some of the most popular famous people's favorite fragrances:
ACTORS/ACTRESSES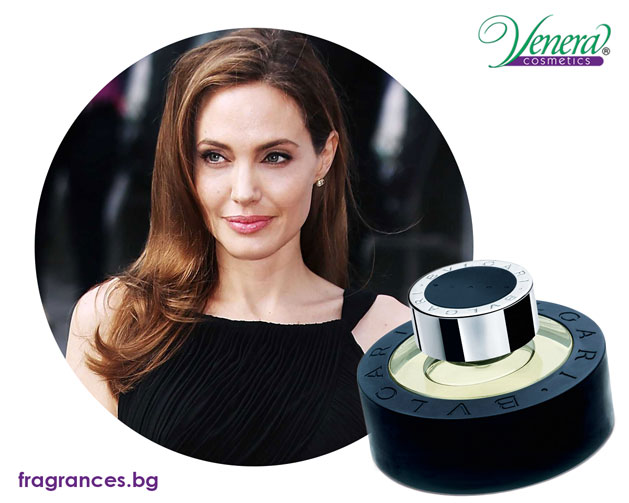 Angelina Jolie – one of her favorite fragrances is Bvlgari Black – this refreshing fragrance is contemporary and elegant – just like her! What is interesting is the fact that such a feminine woman prefers a fragrance that is suitable both for men and for women. But she is so irresistible that she can wear a men's fragrance if she wants, and she'll still be sexy!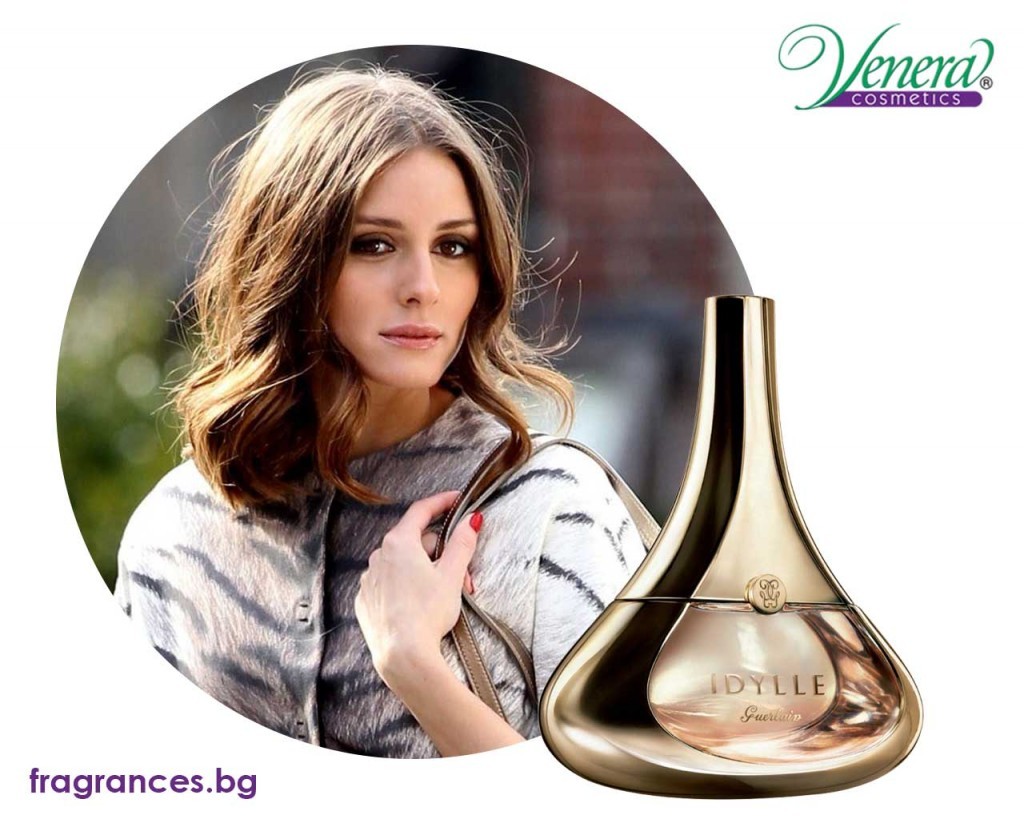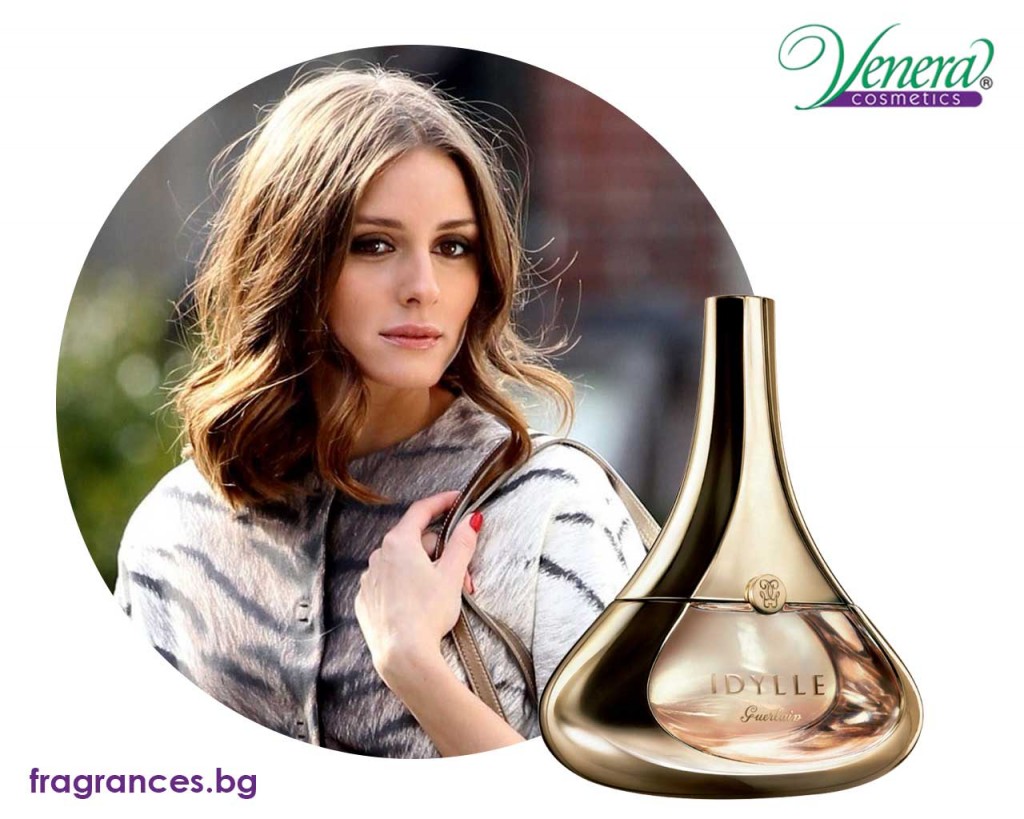 Olivia Palermo, who gets in the light of the cameras after her participation in The City, is a fan of light floral fragrances. Her favorite perfume right now is Guerlain Idylle. The sensual and romantic scent beautifully enhances her character and suits the elegant events she is regularly invited to.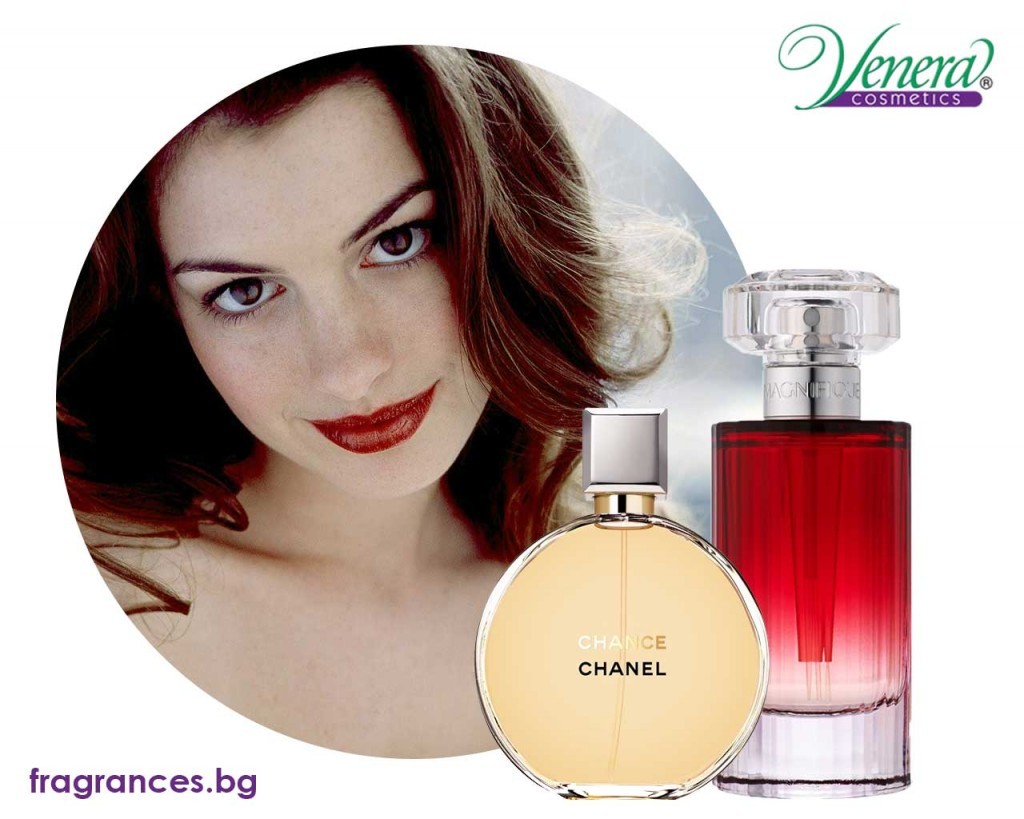 Anne Hathaway's favorite perfumes are Chanel Chance and Lancôme Magnifique. While the first one enhances the seducer in her with its divine flower bouquet and exotic base notes, the second fragrance is more contemporary and fresh, suitable for the everyday life of the beautiful actress.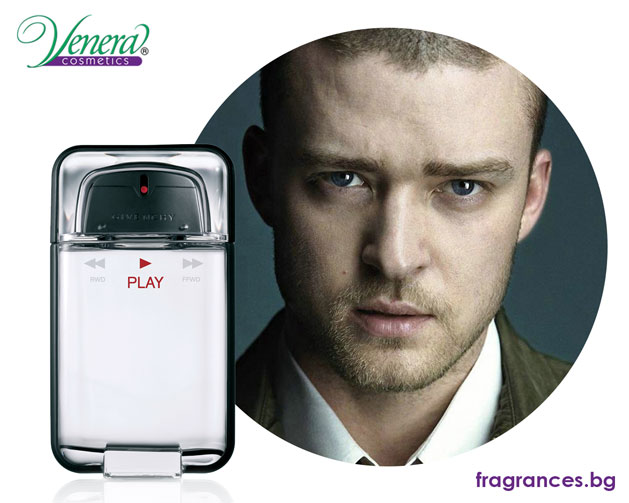 Justin Timberlake – yes, we know he is the face of Givenchy Play, but he really wears it (at least he says so)! This woody perfume is mysterious, fresh and modern, so it suits him well!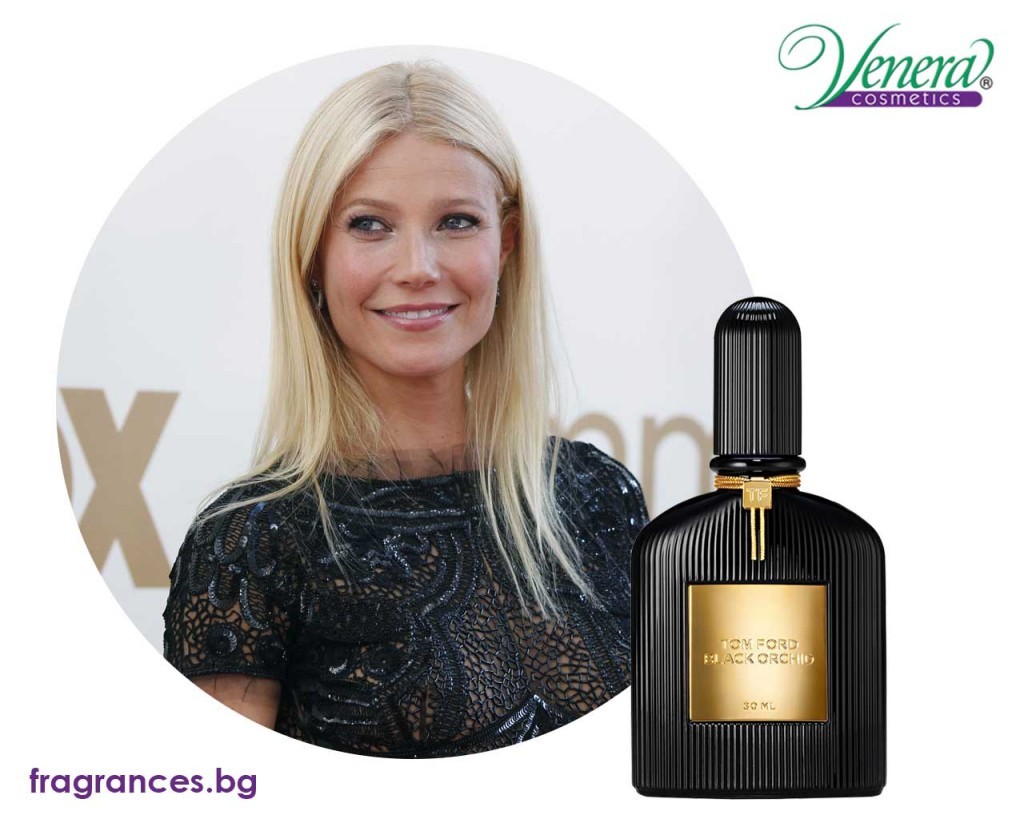 Gwyneth Paltrow – The Oscar winner is a fan of Tom Ford Black Orchid. The luxurious and sensual scent just like her!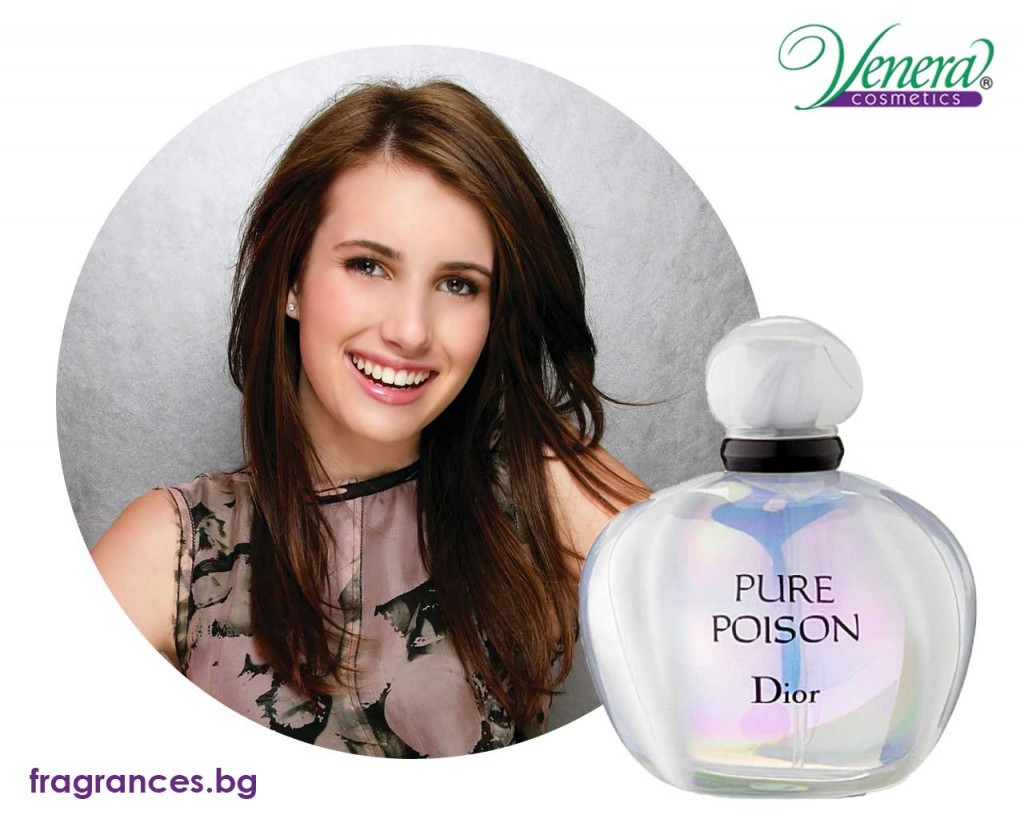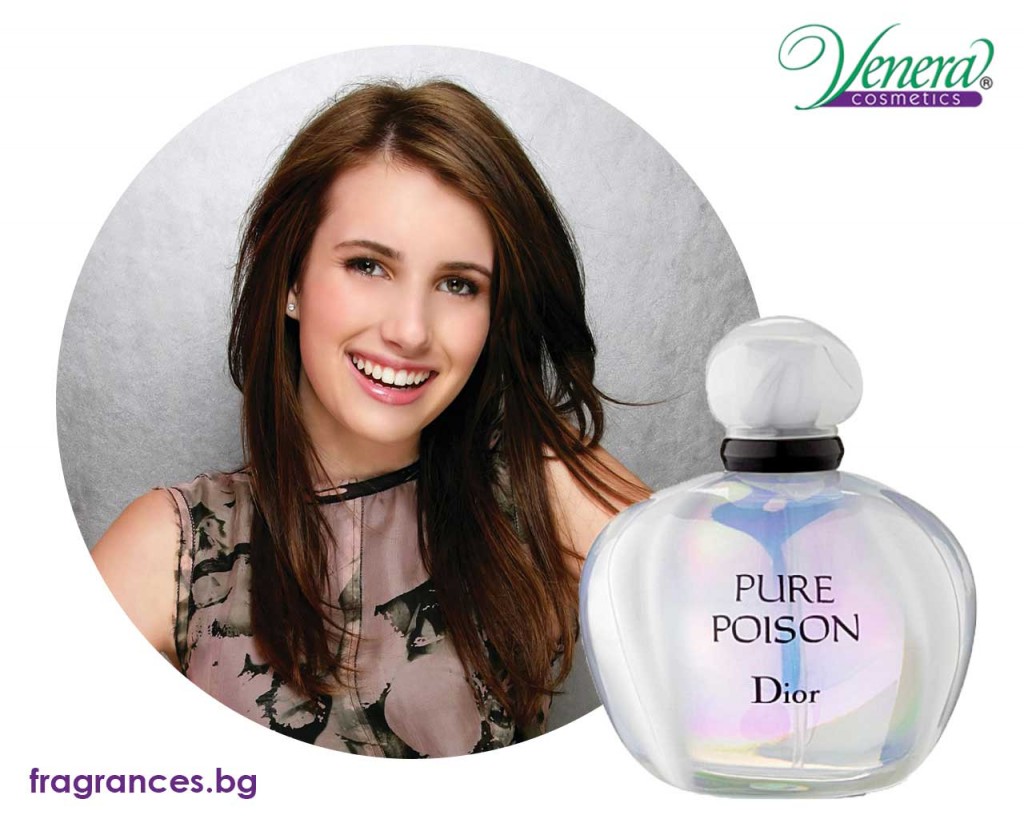 Emma Roberts, who has repeatedly been part of the list of the best dressed young stars of Vogue, wears Dior Pure Poison. Its impressive composition is enchanting,bold and fills you with strength.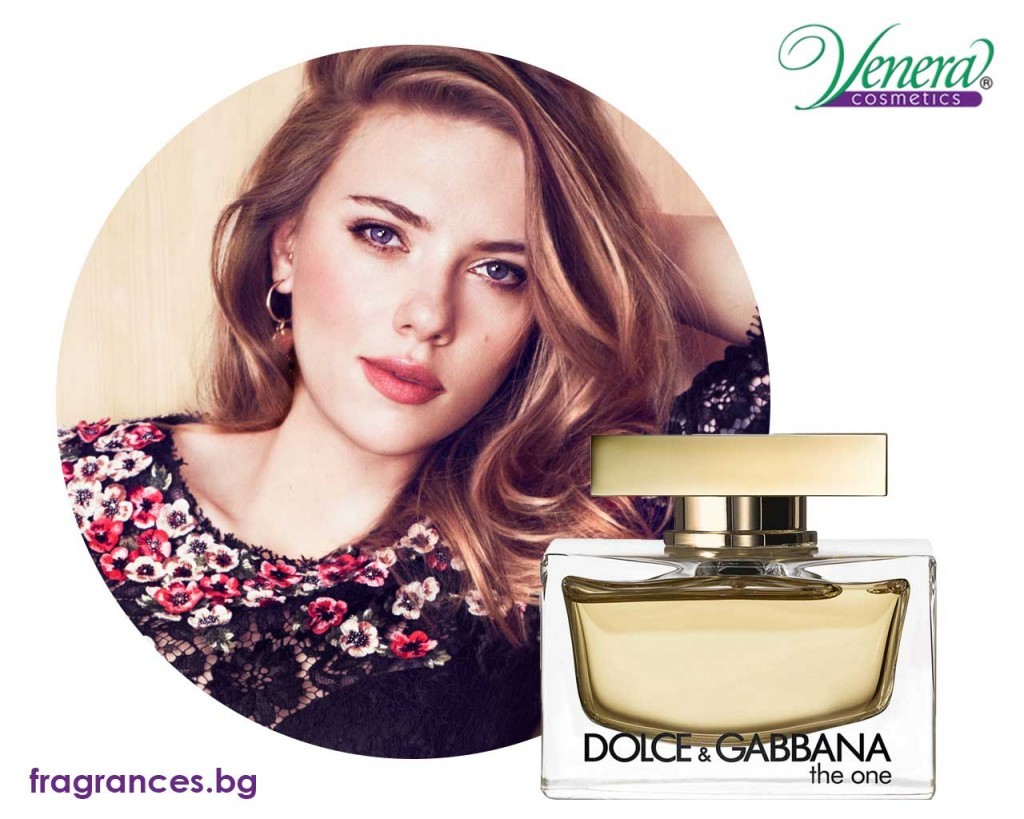 Scarlett Johansson – We are pretty sure that there is no man, who can resist her sensual lips, deep eyes, and impressively sexy curves. She adores the influence she has on men and is not afraid to enhance her sexuality with bold floral oriental composiotions like Dolce&Gabbana The Оne. The hypnotic charm of this perfume perfectly fits Scarlett Johansson's personality and this is probably the reason that she is the face of Dolce&Gabbana The Оne.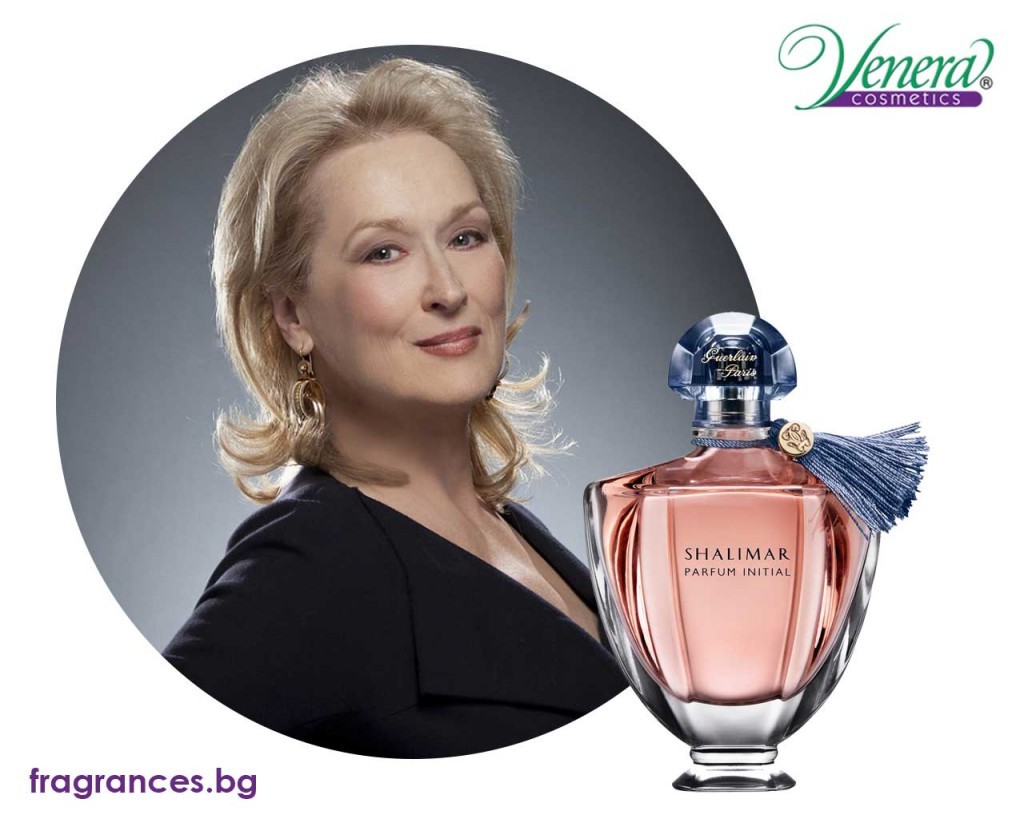 Meryl Streep – she is a fan of Guerlain Shalimar – no wonder, given the fact that both the perfume and the actress are exceptionally feminine and refined. Its mystifying sensuality has won not only Meryl Streep's heart…
SINGERS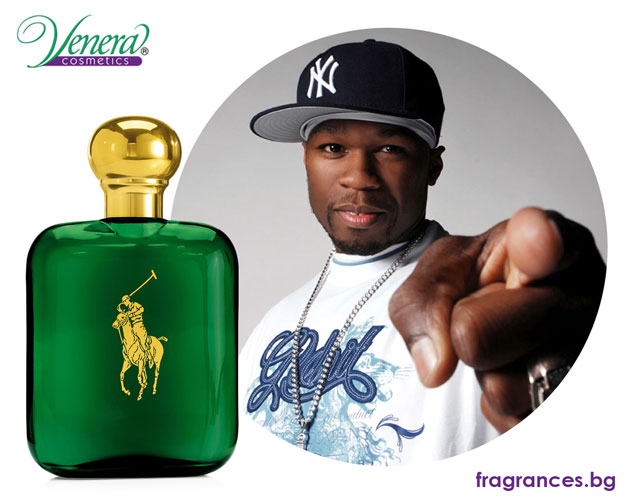 50 Cent (Curtis James Jackson)'s choice is Ralph Lauren Polo – so masculine and bold, this fragrance is perfect for confident young men that appreciate their freedom.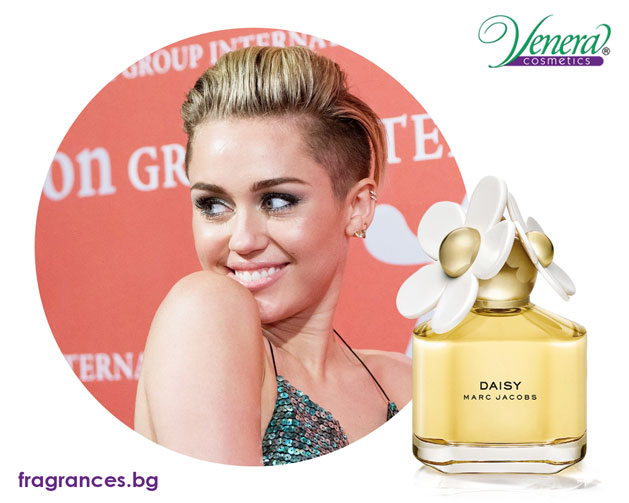 Miley Cyrus is one of the most famous singers these days. One of her favorite perfumes is Marc Jacobs Daisy. We cannot think of a better match for her – this perfume is fascinating, but not too serious. It's playful and seductive, fresh and feminine – just like Miley!
MODELS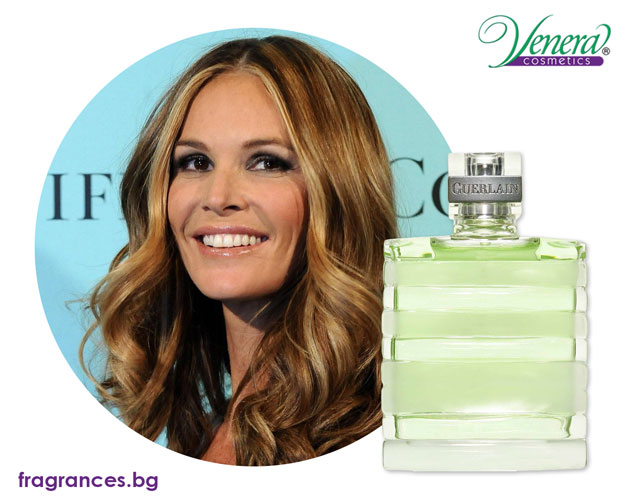 Elle MacPherson likes Vetiver by Guerlain. At a first glance, it is somewhat strange that a world-famous model, called "the body" chooses a men's fragrance. But, Vetiver by Guerlain is refreshing and spicy, a specific fragrance for an extraordinary lady like her…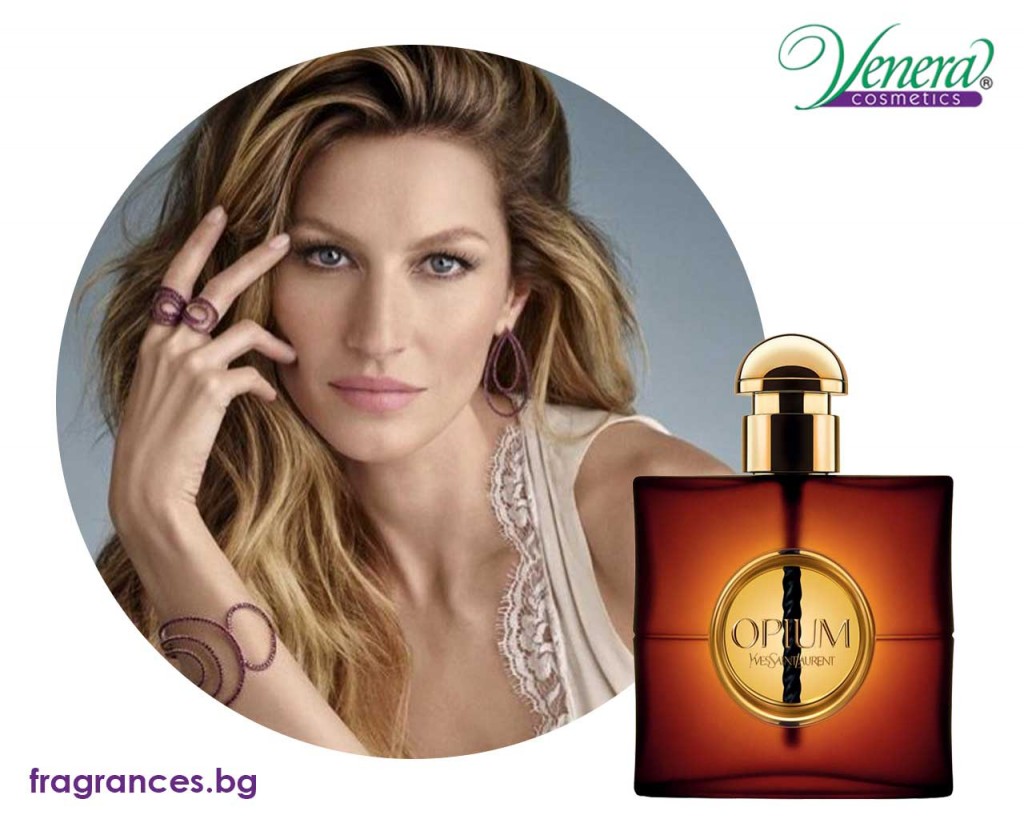 Gisele Bundchen is a fan of YSL Opium. Even the sound of the name of this perfume reminds us of the Brazilian fashion supermodel. Mirroring her personality and looks, this perfume is a perfect balance between sensuality, freshness, and exoticness.
ROYALTIES
Rainier III, Prince of Monaco – he was the ruler of Monaco for almost 56 years, which makes him one of the longest-ruling monarchs of the 20th century. Except for his political life, he is also famous for marrying American actress Grace Kelly. His favorite fragrance was Guerlain Habit Rouge. This classical fragrance was first launched back in 1965. With its mixture of earth, warm leather, and the forest, it is a perfect fit for the refined man with powerful instincts.
Princess Stephanie of Monaco – she is the daughter of Prince Rainier III and Grace Kelly. Except for the fact that she has blue blood running through her veins, she is a very active person: she has been a singer, a swimwear designer, and a fashion model. A woman with so many interests, she stays true to herself even though her favorite fragrance – Allure by Chanel. This rich and refined perfume has nothing to do with ostentation – it is elegant, simple, and mystically charming.
We all know that Hollywood actors and actresses, famous singers, fashion icons, politicians, and celebrities have a whole entourage of fashion and makeup stylists that take care of their clothing, styling, look, accessories, etc. There is, however, one (essential) part of their personal style that they choose themselves – the perfume.
Have you ever wondered what your favorite actor, singer, or celebrity applies to their wrists and behind their ears before they go on the next film premiere, movie awards, or charity dinner?
In part 1 of this article we found out that Angelina Jolie prefers the contemporary and elegant fragrance of Bvlgari Black, Justin Timberlake wears the mysterious, yet fresh and modern Givenchy Play and the Brazilian fashion supermodel Gisele Bundchen is a fan of the sensual scent of YSL Opium.
Let's take a look behind the curtains of the glamorous Hollywood lifestyle and find out more about some of the most loved actresses, singers, models and their preferred fragrances!
Women:
Jennifer Aniston – Cacharel Anais Anais L'Original Eau de Parfum
 Jennifer Aniston, or as we all know her – Rachel from Friends, has always been a fashion icon. Women from all over the world still try to copy her style, get the same hair color and haircut like hers. There is even a term called "Rachel Green Friends Fashion", and women are obsessed with ever since the launch of Friends.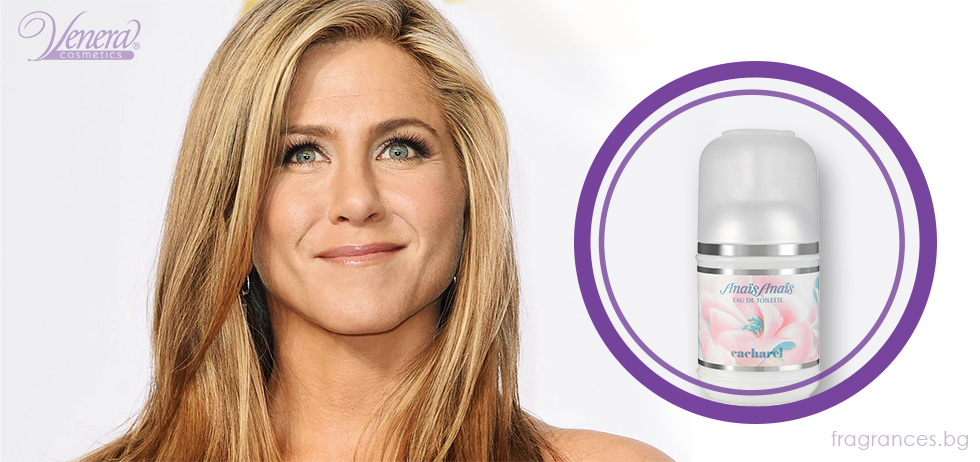 What about Jennifer Aniston's favorite fragrance? What is the perfume she puts on right before she leaves home? The invisible fragrant accessory of Jennifer Aniston is the delicate floral fragrance Cacharel Anais Anais L'Original Eau de Parfum. A perfume that's certainly not the perfect fit for any woman, Cacharel Anais Anais is a fresh spicy scent with green and woody nuances and a warm exotic base. We bet Jennifer Aniston rocks it!
Emma Watson – Be Delicious DKNY
 Emma Watson, mainly known for her famous role as Hermione (the best friend of Harry Potter from the book and movie series). Born in Paris in 1990, today the actress is considered a style icon. A certified yoga and meditation instructor, she has both the body and the mind that's needed to rock almost any outfit her stylists put on her!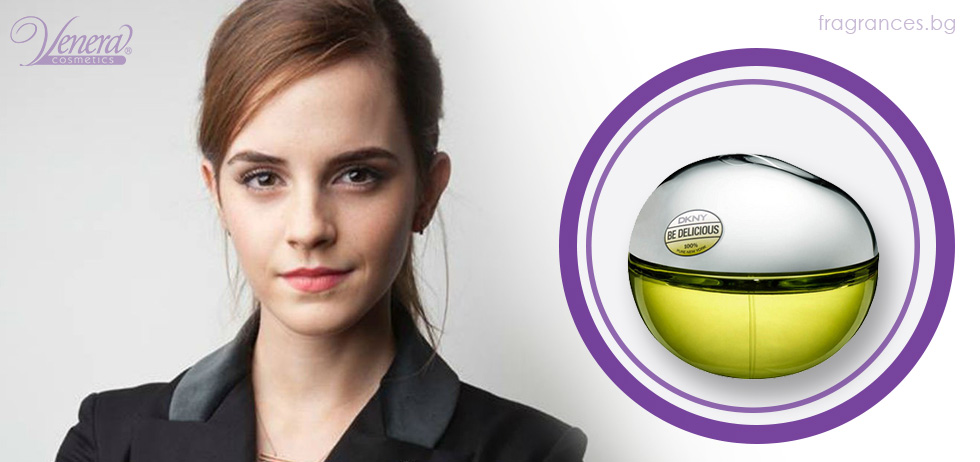 When it comes to fragrances, Emma Watson rarely betrays her favorite perfume, DKNY Be Delicious. This floral fruity fragrance is fresh and energetic, just like the actress! Its top perfume notes include green notes, violet leaf, apple, grapefruit, and magnolia. The heart of the composition is a rich floral bouquet of tuberose, lily of the valley rose and violet and the warm base hides sandalwood, amber, and musk.
Madonna – Dior Hypnotic Poison
 The famous singer and entrepreneur Madonna who is also an actress, a book writer, and even has a wine named after her, certainly knows how to turn everything she touches into pure gold. One of the most famous Hollywood vegetarians, Madonna is called the queen of the music world for a reason. Did you know she is even included in the Guinness Book of World Records? She is featured there as the most successful female recording artist ever!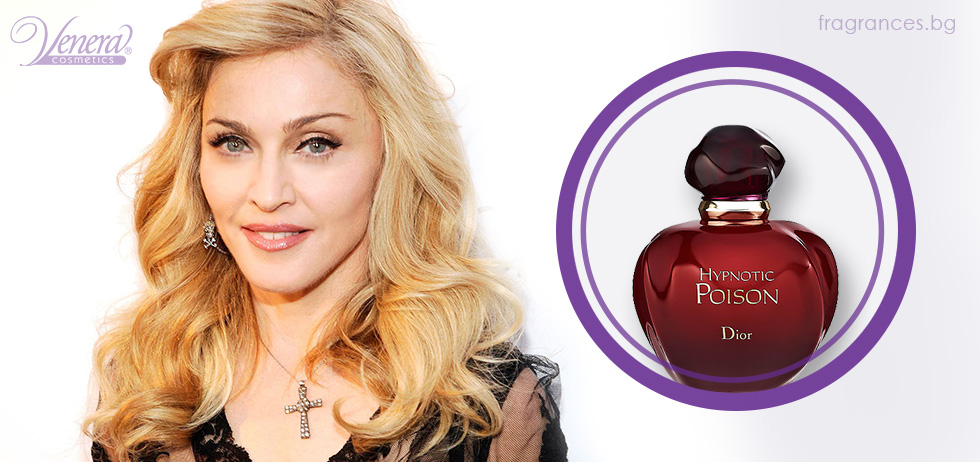 If you are not sure what success smells like, Madonna's perfume might as well best describe it with her favorite perfume, Dior Hypnotic Poison. The oriental vanilla scent has a sweet nutty smell that simply cannot leave you unnoticed. It must be the mystical mixture of plum, jasmine, rose, sandalwood, almond, and vanilla that have won Madonna's olfaction (and heart).
Taylor Swift – Flowerbomb Viktor&Rolf
 Taylor Swift is a fascinating mixture of talent, beauty, and youth. Starter her career as a teenager, she still has a major fan base and manages to surprise everyone with her new endeavors. She released her first album in 2006, and in 2008 got a Grammy nomination for Best New Artist.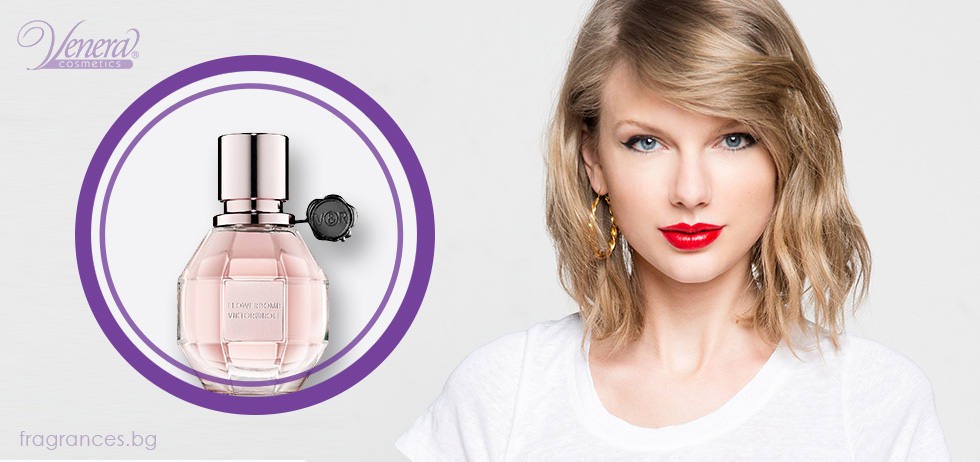 Taylor Swift certainly has a refined taste – her favorite drink is Perrier and she is obsessed with its different flavors like black cherry, pomegranate, blueberry, strawberry, key lime, and tangerine lime? When it comes to fragrances, she relies on the intensive oriental floral scent of Viktor&Rolf Flowerbomb. It's citrusy-green opening, opulent floral heart, and powdery oriental base form the perfect scent for a sensual, yet refined woman like Taylor Swift.
Katy Perry – Thierry Mugler Angel
Raised in a conservative family with a pastor father, Katy Perry starts her career as a gospel singer. Her debut album is released in 2001 but she attracts media and people's attention well after that, in 2007, with her first more provocative single. Today she is one of the most famous pop singers with more than 11 million albums sold worldwide.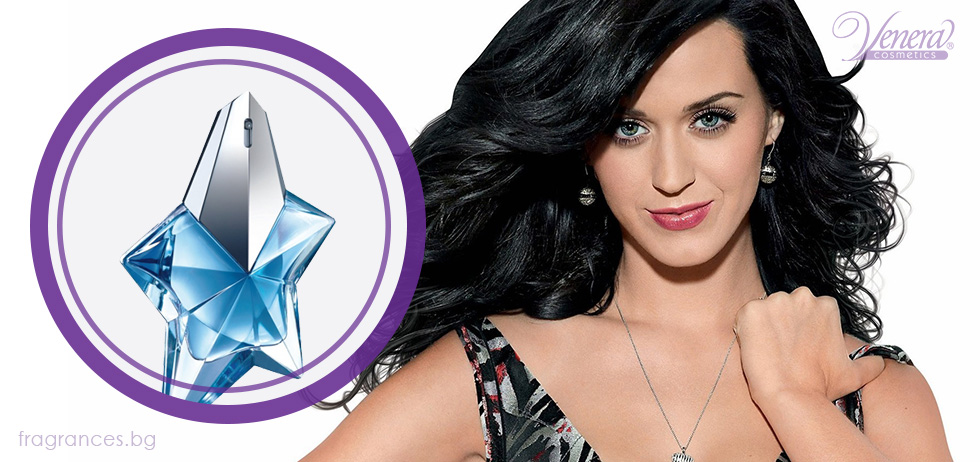 When it comes to perfume, Katy Perry is a big fan. She has her own fragrance line, and her favorite scent is the amazing Thierry Mugler Angel. This a perfume for women that dare to be themselves and break the chains of everyday life. Katy Perry certainly is an embodiment of that.
Men:
Ashton Kutcher – Lanvin Eclat D'Arpege Pour Homme
He gains fame with a role loved by most – Michael Kelso in "That '70s Show", and now is not only a famous actor but a successful investor, businessman and promoter and contributor to many charities and causes.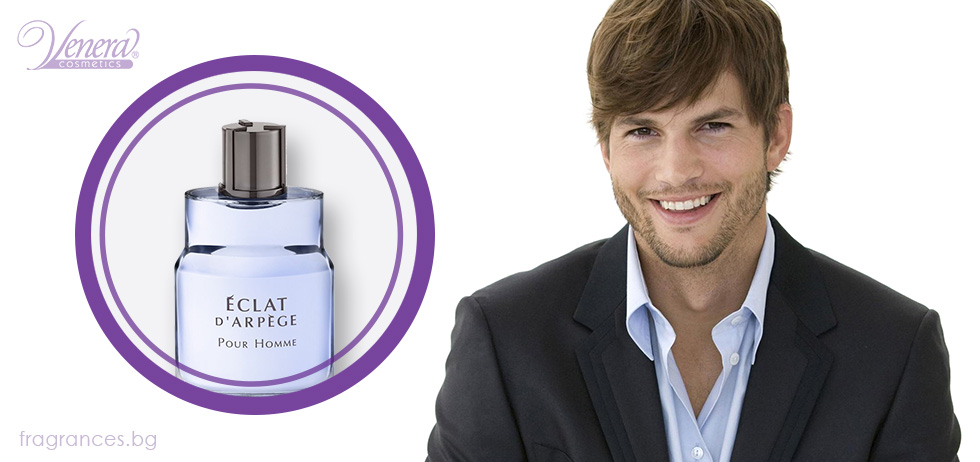 A lover of class and individuality, he chooses to escape traditionalism with this one. His favorite Lanvin Eclat d'Arpege Pour Homme is magnetic and honest. Inflaming female emotions, this symbiosis between jasmine, bergamot and violet leaf is created for the contemporary genteman, the elegant and masculine, brave and relentless.
Alexander Skarsgard – Calvin Klein Encounter
The 39-year-old actor, famous for his role as a vampire in "True Blood" and his transformation as Tarzan, is a true feast for the eyes. No denying it here – the Swedish actor, with his sexiness, charming personality and looks and seductive gaze, makes every woman pant.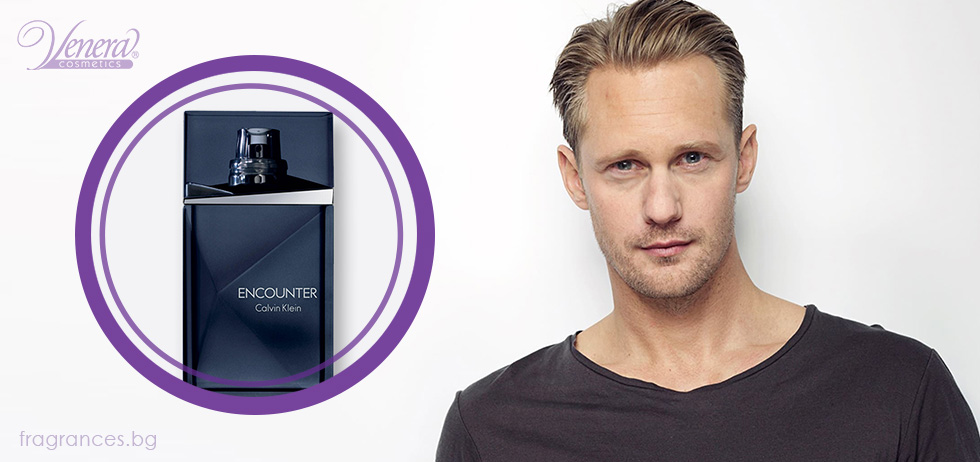 The way to achieve the same results? Start with the perfume. This viking loves the scent of Calvin Klein – Encounter. He was a model for the perfume's ad campaign, but that's not the only reason he prefers this fragrance. Encounter wins with its mysterious and seductive scent. Its composition, presenting a dance between juicy tangerines, rum, cogniac and jasmine, lets us travel to a mysterious fairytale-land.
Johnny Depp – Dior Homme Cologne
The eccentric actor is famous for his many unconventional roles and people he has embodied. From a cooky and crazy pirate, a barber-killer, to the Mad Hatter, he has become a symbol for the unconventional, fenomenal and unusual. The life he leads can be covered by these definitions, too.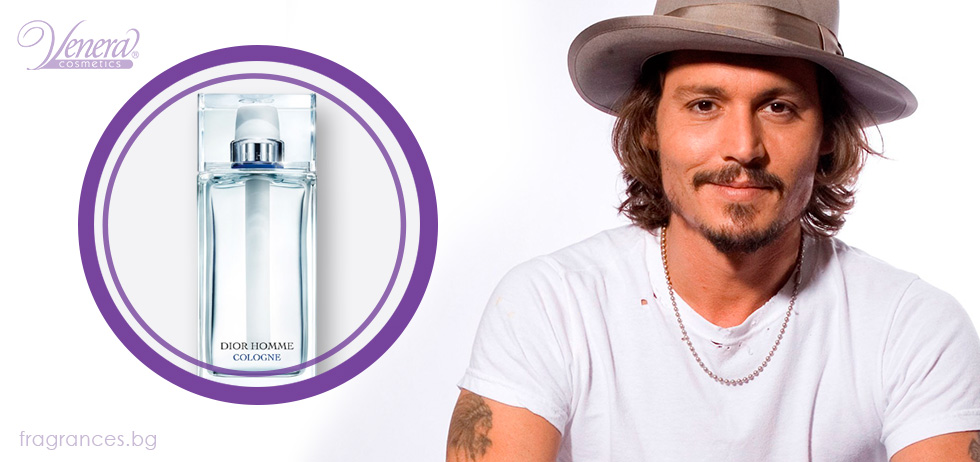 However, when it comes to perfumes, he is a fan of classic and traditional fragrances. His favourite perfume – Dior Homme Cologne, is simple, stylish and elegant. With its rich cocktail of citrus, floral and musk scents, the perfume rounds out the look of the contemporary successful modern man.
Colin Farrell – Dolce&Gabbana Intenso
The talented Irishman graces our screens for many years now. With his talent, charisma and charm, he not only conquers every woman's heart but manages to gather many prizes through the years. Supporters to many campaigns and causes, amongst which ones against domestic violence, bullying, and ones fighting for equal right of women and the LGBT communities.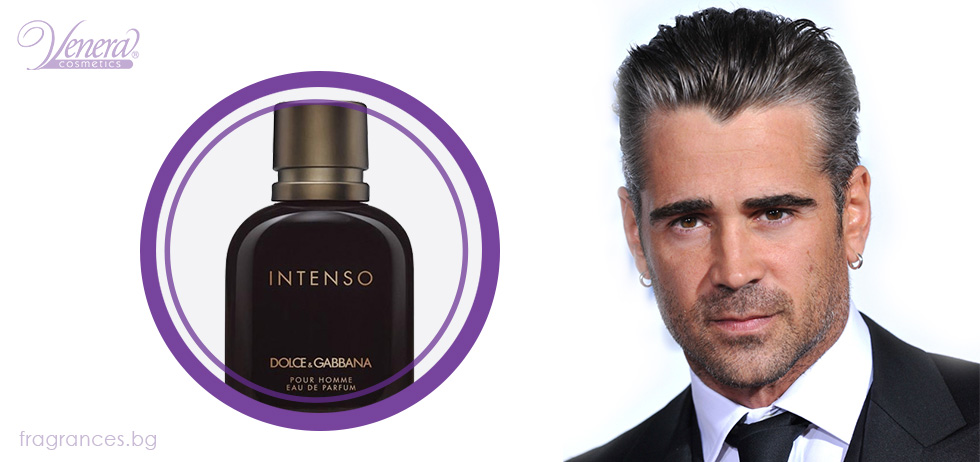 After he becomes a model for the Dolce&Gabbana Intenso's campaign, he also turns it into an integral part of his daily life. Intenso is suitable for men, who know want they want and achieve it at any point, this perfume is definitely for the gentlemen with style, confidence and brave contributions.
Prince Harry – Davidoff Cool Water
Prince Harry doesn't need any introduction. Described by the media as the "black sheep" of the Royal family for his numerous party appearances, he refutes these statements with his participation in the army and many public campaigns for various causes. Tied recently with the beauty Meghan Markle (we understand your disappointment, ladies), he builds the image of the grown, responsible and matured man.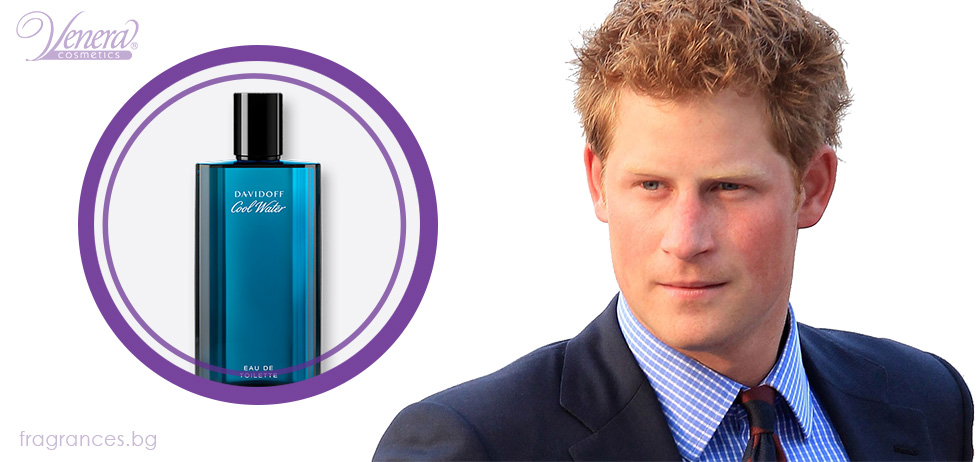 However, his busy days continue to require a lot of energy. His favorite fragrance confirms this. The Prince chooses the fresh and energizing Davidoff – Cool Water, that captivates the senses with its freshness, coolness, dynamics, and infinite ocean breeze.
Are you a fan of any of these celebrities' favorite perfumes? Share with us in the comments below!