The perfume as a gift for a person who has everything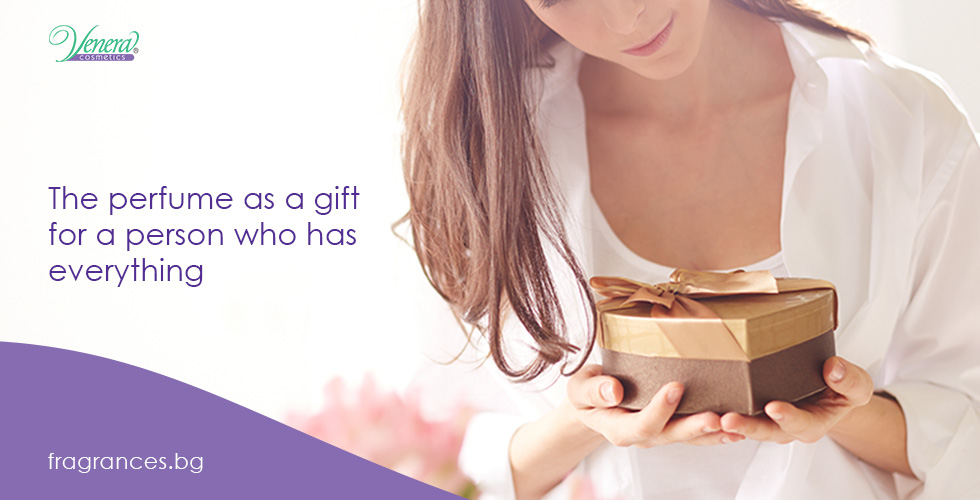 Every single one of us has been in a situation in which we had to tackle the task of choosing a gift for a person who (seemingly) has everything. It is then when the desperation hits us leading to the real consideration of some amazingly absurd gift ideas. However, this is not the time to get all worried. We decided to write this article in order to help you in these moments and sway you in the right direction – basic but importaint things everyone should have and of which we can never have too many.
What gift can we give to a person who does not need anything?
When choosing a gift, the main things we take into consideration are the person's taste, interests, character, and what he/she needs at this moment. These little tricks, however, are not of such importance here. The person in question not only has everything he/she wishes for, but also a bunch of other "unnecessary" things. They also have enough resources to get everything they might need or lay eyes on. However, this doesn't mean that we're at a dead end. In addition to the really important "gifts" such as love, support, understanding, help, friendship we can give, there are some universal presents that are an excellent gift choice due to their universal and alluring character. And the perfume is one of them.
The perfume – a universal gift for every occasion
A perfume is a great solution for all our gift related problems. It will help us make a great impression, show appreciation, and give happiness to the person. It really doesn't matter if they already have a few perfumes – different fragrances bring out different emotions and different aspects of the wearer's nature and character. So, even if it seems that the person in question doesn't need anything (at least not something that can be bought with money), we can humbly say that we definitely don't agree with that. Everyone knows that one can never have too many fragrances. With this perfume-emotion in a bottle you will:
Give something that lasts;
Gift something that brings good thoughts and happiness and boosts the wearer's confidence and self-esteem;
Show special treatment and at the same time choose something universal and "safe" with which you can't go wrong;
Make a luxurious gift without spending too much money.
We think that clears it. If you, however, are still not so sure and need more reasons as to why perfumes are one of the best gifts, we will give you 10. Now let's find out how to choose the perfect fragrance.
How to choose the right scent?
Choosing the right fragrance is not always easy (especially when you are not that close to the other person). However, it all comes down to several components. Think about the person's character and interests. Think about the message you want to send with your gift. Think about the fragrance's role in their life – whether you want it to emphasize certain parts of their personality, or you want it to inspire and bring some more confidence and good thoughts.
Don't be hasty with your decision. Often the first impression of a certain perfume is not complete and can't begin to cover its complexity. Give it time and wait for the appearance of the heart and base notes. Only then you will be able to draw accurate conclusions about it.
Luxurious fragrances for luxurious people
Since we've managed to (kind of) form a portrait of our recipient and give basic guidelines about choosing a suitable perfume, now has come the time to be more specific and add more color to this perfume's image – it has to be unforgettable, luxurious, and impressive.
In cases like this, it is not enough to gift an aromatic bouquet bringing good thoughts, emotions, and experiences to its recipient. You have to choose one that is a true piece of art, luxurious and unique, made for connoisseurs. You already know where we're going with this, right? Niche fragrances are not intended to appeal to the general public, they have a different role. Created with enormous passion, by hand, and only of the highest quality aromatic oils from all over the world, each bottle niche perfume is considered a masterpiece. The work is done by the world's best perfumers, and that's not all. Not only the scent is of the highest quality and completely unique, it is put in a unique, handmade bottle, which is itself a work of art. Do you still wonder whether the person in question would enjoy such an aromatic masterpiece?
See our suggestions:
For the stylish lady who appreciates peace and harmony around her, choose Amouage Interlude Woman. She will be impressed by the incredibly beautiful deep blue bottle, adorned with golden ornaments and a Swarovski blue crystal cap. The exotic vision of the bottle also exudes the exotic flavor of the fragrance itself.
If you are going for a unisex scent, why not choose Armani? Armani Prive Eclat de Jasmin is considered a natural symbol of love because of the jasmine and Bulgarian rose notes. It brings out eternal class, elegance, and exclusivity, and can say a lot with even just a whiff.
Armani Prive Figuer Eden is the flavor of the creative, artistic people who love to dance with their imagination. The fig smell opens the gates of a peculiar paradise garden and offers wonderful aromatic surprises.
Everyone admires the Amouage Honour Man. It conquers not only male thoughts but also female hearts. Packaged in a bottle of white glass with golden elements and a cap, it fits into the category of exotic, spicy, irresistible fragrances.
When talking about male luxury fragrances, we cannot but mention the oriental Amouage Epic Man. It is often described as mystical because of its highly aromatic ingredients – pepper, cardamom, cumin, myrrh, sandalwood, patchouli. The oriental luxe is visible with just a glance to the bottle – deep green with golden elements and a cap. Oriental, exotic, classic beauty.