Spring perfumes 2017: Lovely scents for a colorful spring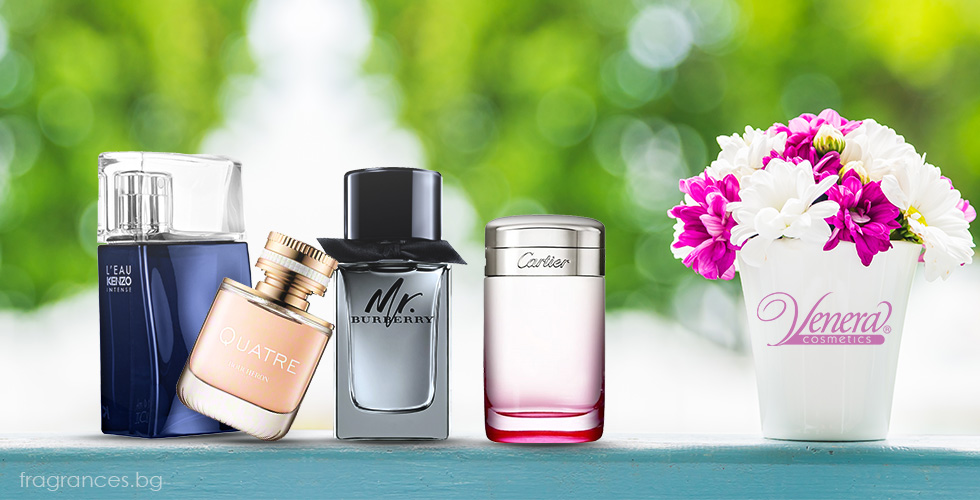 Spring is finally here and it's time to put our winter jackets away and open our hearts and minds for the beauty of warm weather. This long-awaited new season brings with it hopes, dreams, and a general feeling of happiness and anticipation for all the amazing things that are going to happen in the summer.
Spring is, traditionally, a time when both men and women take a look at their wardrobes and decide which clothes to throw away. This way, we make room for new spring collections with brighter colors that will give us a feeling of rejuvenation and pure joy.
What about our perfume wardrobe? It's time to put away those heavy oriental perfumes that were our everyday choice during the cold winter days. Let's give way to the lighter spring perfumes that are way more appropriate for the sunny spring outside! Here are our suggestions for the best spring perfumes 2017:
Women perfumes spring 2017:
Launched in 2015, this is the fifth perfume in the fragrance series Jardin by the world-famous perfume house Hermes. Bright and zesty, this perfume is light, yet impossible to forget. The perfume is inspired by a Chinese garden! Here's what the perfumer behind the scent, Jean-Claude Ellena, recalls about it: "I remembered the smell of ponds, the smell of jasmine, the smell of wet stones, of plum trees, kumquats, and giant bamboos. It was all there, and in the ponds, there were even carp steadily working towards their hundredth birthday." Hermes Le Jardin de Monsieur Li EDT is very subtle and simple – it's like a memory of a garden – equally real and imaginary. Just like a beautiful Japanese haiku, the fragrance is mild and soft, very delicate and unostentatious. The fragrant bouquet of aromatic citruses, clean jasmine, and pale woods make it one of our favorite perfume choices for women for this spring!
Launched in 2015, this is a spring fragrance created by perfumers Anne Flipo and Nicolas Beaulieu. The fruity-floral fragrance owes its sweetness and freshness to the combination of pear, white flowers, rose, white musk, and sandalwood. The promise of the brand regarding this perfume is that it "conjures up the euphoria of a sunny stroll filled with flowers and joy." Cheerful, sheer, and contemporary, this is one of the best spring scents that have entered the market in the past few years. Perfect for a brunch with the girls under the spring sun (or just an aimless stroll enjoying the weather), this perfume will immediately lift your spirit and make you dream about the endless possibilities for outdoor fun that spring has to offer.
Another fragrance that belongs to the floral-fruity fragrance family is Quatre by Boucheron. Launched in 2015, this lovely spring perfume has a modern scent that is aimed at impressing the younger fans of the perfume brand. Inspired by Paris and its eternal beauty, this floral-fruity perfume with elegant woody base notes will certainly get you under the spotlight this spring. Feminine and sophisticated, Boucheron Quatre is an irresistible perfume that won't leave you unnoticed!
Launched in 2016, this fresh and spicy floral aquatic perfume is inspired by the breathtaking golden sunrises that can be seen over the azure Mediterranean sea. The relaxing citrusy fragrance with a floral heart and a sweet woody base is called Paradiso Azzurro (Blue Paradise) for a reason. It has the power to get your mind to the Mediterranean coast where you almost feel the warm sand with your bare feet. Romantic and sensual, it is the perfect spring scent that will prepare you for summer romance.
This purely floral fragrance was launched in 2014 and the nose behind it is Mathilde Laurent. The delicate fresh aroma of Lys Rose is powdery and sweet, based on the irresistible combination between pink lily and raspberry. The clean musky veil of Lys Rose is further enriched by pepper and jasmine to create a versatile fragrance that is perfect for a spring day spent outside. It will make you feel happy and in unison with the sunny weather and rising temperatures outside.
Men perfumes spring 2017: 
Launched in 2016, this men's perfume is created by the famous perfumer Alberto Morillas. Created for the younger man (in his 20s and 30s), Versace Pour Homme Dylan Blue is a mixture of fresh and memorable perfume notes. What sets it apart from the regular men's fragrances on the market is its powerful combination of citruses, fig leaves, aquatic notes, black pepper, violet leaves, and papyrus. Here's how Donatella Versace describes the perfume: "Dylan Blue captures such an evocative world of Versace masculinity", she says, adding that it is "strong, fresh, seductive."
Launched in 2016, this men's fragrance is as urban as a perfume can get, hence its name "In New York". Capturing the Big Apple's busy yet classy lifestyle, this perfume is perfect for the contemporary man who conquers the big city on a daily basis. Its fresh woody scent is timeless – it's one of those perfumes that will never grow old or outdated. Its dynamic composition features a citrusy opening, aquatic notes, lavender, clary sage, and an intense wood base with musk, amber, and tonka beans.
Launched in 2016, this men's fragrance is not appropriate for every man. It takes class, elegance, and style to wear it and feel like a true British gentleman in it. Created by perfumer Francis Kurkdjian, the fragrance features a citrusy opening, an oriental heart of birch leaf, nutmeg, and cedarwood and a warm woody base of sandalwood, vetiver, and Guaiac wood. The classy fragrance goes hand in hand with the warm spring weather, simply making you feel good. If you want that mystical balance between sensuality and freshness this spring, Burberry Mr. Burberry is your obvious choice!
This men's fragrance was launched more than 10 years ago (back in 2006) but its elegance soon put it in the top men's perfumes for spring. It is not your usual men's fragrance, though! Its composition is distinct and memorable – just like the man who dares to wear it. The composition of Hermes Terre D'Hermes is minimalist, yet impossible to forget: it opens with sweet citrusy top notes, then evolves into a whole plethora of heart notes (pepper, cedar, patchouli). The fragrance matures and gets warmer thanks to its earthy woody base notes.
Launched in 2015, this inspiring men's fragrance is among our favorite perfumes for men this spring. It is the perfect scent for the man who is ready to conquer women's hearts after the long winter is over. Powerful and energizing, its scent goes hand in hand with the law of attraction, leaving no woman indifferent to its captivating scent. Designed for the confident man, this perfume is perfect both for business meetings and for the (still) cool spring evenings. If you want a reminder of the salty ocean air, then Kenzo L'Eau Kenzo Intense Pour Homme is your best option this spring!