Fall perfumes 2016: best fragrances for this season
Summer is officially over and you can tell it by the extra topcoat you bring with you in the morning. No more sunbathing and leisurely afternoons at the pool, no more Mojitos and crazy summer nights…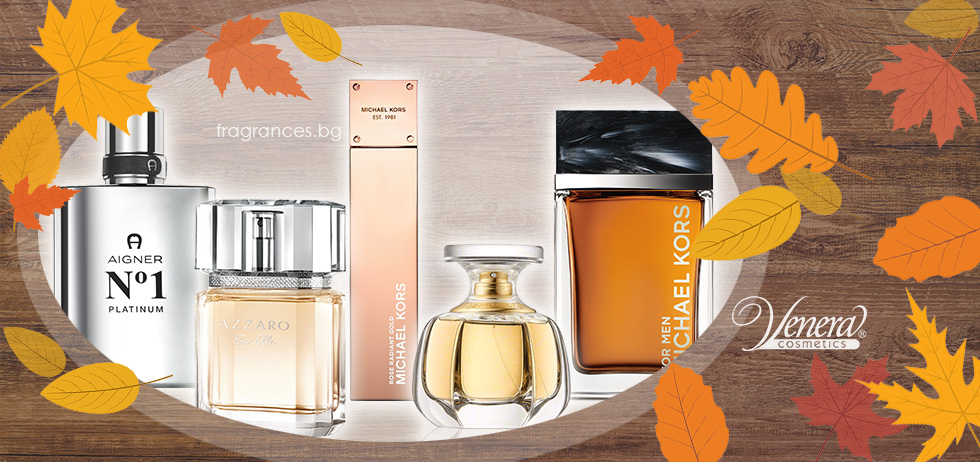 But fall has its own advantages and charm. Now that the temperatures are not too high, you can show off your autumn wardrobe and change the flip flops with classier shoes. Autumn is also the season of accessories – sunglasses are as fashionable as ever, scarves of all types turn even the plainest shirt to a trendy outfit and you should no longer be afraid that your watch will leave a white spot on your wrist due to the scorching sun. And autumn perfumes are the invisible accessory that helps you make the transition to the new season effortlessly and stylishly.
Fall perfumes are rather different from the scents you used to wear during the hot summer days. The colder weather and the different activities autumn is famous for calling for warmer scents with richer compositions and longer skin life. Here are our favorite perfumes for fall 2016:
Fall perfumes 2016 for women
Launched in 2015, this fabulous perfume is inspired by one of the compulsory pieces of clothing for the fall season, the white shirt. The slogan of the fragrance is "La Camicia Bianca Secondo Me", or "My idea of a white shirt". Exotic, warm, and yet sophisticated, this perfume is perfect for an office fragrance for fall 2016. Whether you are wearing a white shirt with it or not, don't forget to put on your high heels and favorite lipstick and let the world know there's a new queen in town ruling this season.
Launched in 2015, Lalique Living EDP is a bold and luxurious fragrance created to fit the lifestyle of the successful contemporary woman. The exquisite mixture of delicate flowers, spices, and sensual musky notes will never leave you unnoticed. Be prepared to conquer the business world with grace and style – this perfume will be your best weapon!
Launched in 2016, this woody floral musk perfume is a compulsory element of your fragrance wardrobe for fall 2016. Its delicate scent has unexpected seductive power and its natural fragrance is perfect for more mature women whose femininity simply cannot fade with time. Featuring rich Bulgarian rose and powdery musk notes, this fragrance is feminine elegance personified.
Launched in 2015, Azzaro Pour Elle takes the art of seduction to a whole new level. Passionate and bold, this fragrance will be your perfect companion in fall 2016. The woman who wears Azzaro Pour Elle is like a magnet for men – she is sexy, provocative, and a real seductive diva! Delicate, feminine, and oriental, her fragrance leaves men begging for more.
Launched in 2015, Jimmy Choo Illicit will be your graceful fragrant companion this fall. An amazing fall fragrance featuring ginger, orange, and honey, this perfume will help you ease into the colder weather after summer is over and will embrace you in a flower hug of rose and jasmine that make its heavenly scent simply irresistible.
Fall perfumes 2016 for men
Launched in 2014, Michael Kors for Men is a classic men's fragrance. What makes it perfect for the fall season is its warm and spicy scent that also makes it a great perfume for a night out! The composition is intense and bold thanks to the oriental woody notes in it and its scent are so masculine that it leaves women to feel weak in the knees when they smell it.
Launched in 2015, Aramis Black is the gentleman's fragrance for fall 2016. Sophisticated and elegant, this men's fragrance is also deep and sexy thanks to the specific alcoholic perfume notes of mastic and cognac. The bold composition that reveals exquisite masculine notes is a hint that even the perfect gentleman has the instincts of a predator who is willing to stop at nothing to catch his prey and achieve his goals.
Launched in 2015, Baldessarini Ultimate is the scent of the mature man for fall 2016. Simple and stylish, this men's fragrance has a well-balanced oriental spicy composition that is perfect for the colder autumn days. It will be a great addition to the fall fragrance wardrobe of the steady man who has a lot of experience and has won more than a few battles on both the business and the love fronts.
Launched in 2015, Jean Paul Gaultier Ultra Male shouts masculinity. From the scandalous bottle representing a naked male figure to the bold oriental chypre composition, this fragrance is created as a masterpiece. This fall, it will perfectly fit the lifestyle of the young rebel who fights for his rights and is confident that he will achieve his goals.
Launched in 2015, Aigner № 1 Platinum is a woody spicy men's fragrance you just have to possess this fall. The Mediterranean touch will at first bring you back to the seaside but, as the fragrance matures, you will be carried over to a warm carpet of woody notes guiding your way to an exotic land of amber, incense, and musk. Beware, though, as this fragrance is so rich and overpowering that women may start flocking together enchanted by your masculine scent.