Fall Perfumes 2017: For a Beautiful Autumn, Shining With Bright Colors and Scents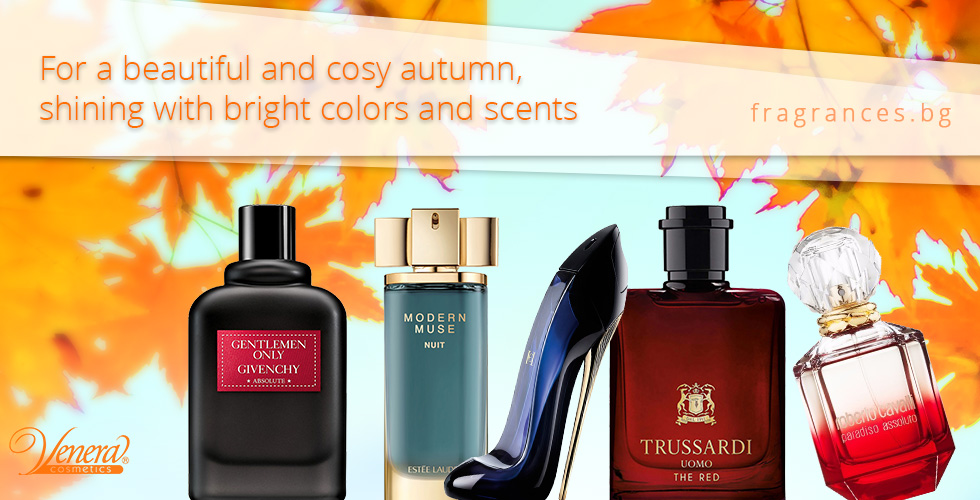 The official end of the summer was less than a week ago. The nostalgia we experience about its infinite blue, impulsive and unforgettable experiences and crazy moments is quite obvious, isn't it? Still, don't think we are not excited for the fall. On the contrary.
Autumn is a synonym for coziness and magic and is filled with the warmest colors, feelings, moments, and acts. Each new day is tinted with a new color, a new shade. Amongst the many reasons because of which we love fall so much are:
The autumn warmth – all the beautiful moments in which we are nestled in our warm blanket, holding a warm, aromatic drink in one hand, and the warm hand of a loved one in the other.
Wandering around on a cool morning, filled with childish thoughts and spirit, engaged in foolish and sweet games with the huge piles of autumn leaves.
Sweater weather! Suddenly we turn into some multi-layered creatures – one for every piece of clothing such as warm and colorful hats, gloves, cardigans, sweater, and we love it!
The amazing symbiosis between nature's breathtaking color palette and fall's cozy and aromatic nature and flavor.
Nature shows its true self, its layers, and diversity – we can still see grass sticking its head out between the warm shades of the fallen leaves.
That settles it, right? We are all set for one of the most colorful and amazing seasons. The autumn in all of its colors and splendor goes hand in hand with certain scents that complement its coziness and tranquility. Add to that a cozy lit fireplace and tasty hot chocolate and you are on the way to a full autumn experience. See our suggestions for perfumes perfect for fall 2017!
Autumn perfumes for the gentlemen:
This aromatic-fruity fragrance "screams" masculinity. Way intense than its predecessor (Jimmy Choo Man), it is sexy and masculine, leaving all women enthralled. A strong and sensual fragrance, which is perfect for the cooler but also warm-hearted and sweet moments. Its spicy notes are blended with aromatic lavender, fresh mandarins, and fragrant Tonka and patchouli in a brave composition that takes you and the people around you into a world where you dictate the rules.
Trussardi's Uomo The Red is the scents of the individualist. It combines the dual nature of autumn and all its nuances as both a fresh and warm fragrance, leaving a long trail after you. The stylish and elegant perfume is best suited for connoisseurs of strong experiences. The irresistible composition with leather, geranium, cognac, tonka, lemon, nutmeg, Galban, salvia, and patchouli notes hints of its owner style and class and speaks of warm and unforgettable moments ahead.
A*Men Pure Malt is sensual, unique, a stylish perfume inspired by the scotch and its smoky, woody-spicy flavor. It is perfect for the elegant and exquisite man for it puts an accent on his class, unique sense of style, and masculinity. The fragrance has an extremely sensual scent, slightly sweet with delicious and intoxicating accords, embraced by woody and slightly smoky accords. An elegant and sophisticated fall perfume, highlighting male individuality and style.
It's quite obvious for whom this scent is intended, isn't it? However, Givenchy Gentlemen Only Absolute not only lives up to its name (and to its predecessor's fame) but also captures the soul and senses from the first moment. It's stylish and refined, soft and intense, a symbol of class and luxury. The sensual composition combines vanilla and sandalwood base, spicy heart, and a refreshing beginning, which makes the fragrance a perfect addition for your autumn days and nights.
Bottega Veneta Pour Homme Parfum is a fragrant trip to remember! It is even more impressive and memorable than its predecessor due to its even stronger concentration of aromatic notes. Its dual nature really goes with the one of the fall seasons. It is the perfect accessory of the always active and never stopping man – he is irresistible, invincible, professional, and doesn't stop before anything. The perfume blends with nature's aroma creative a fragrant utopia. Beware of the risks though – you risk leaving everyone enthralled and addicted to you and your scent.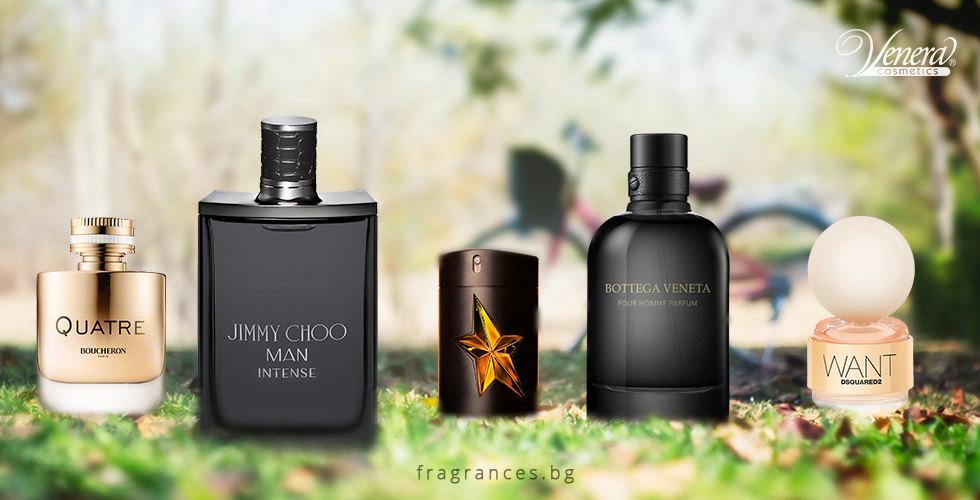 Autumn fragrances for the ladies:
This sophisticated scent is created for only one purpose – to complement the lifestyle of the confident, bold women who are not afraid to express themselves and stand out from the crowd. This is the reason for not pairing the fragrance to a male one – according to the perfumer Aurelien Giscard "this girl is not a girly-girl, she is self-confident and determined enough". The girl who takes control of her life and faces any challenge head-on. The beautifully balanced composition brings a feminine and soft accent turning the fragrance into a whole charming, irresistible and unforgettable one.
Boucheron's Quatre Intense is a fine balance between modern and classical, innovation and tradition, rebellion and conventionalism. It is the perfect autumn accessory for the radiant women – those whose light is infectious. It complements a strong female character, with a charismatic and unforgettable presence. This classy interpretation of Maison Boucheron emblematic ring is a combination of elegance, floral freshness, euphoria, and a sophisticated afterglow
Roberto Cavalli's fairytale oriental scent brings a vision of a divine garden. The aromatic combination of temptation, sensuality, femininity, and wild nature plants an unearthly fantasy in our minds. Paradiso Assoluto is rich, colorful and extremely tempting, an irresistible fragrance inspired by the breathtaking and endlessly blue tropical moments. It is sensual and perfect for cozy and warm nights, as well as romantic and wild experiences in the fall.
The scent of temptation. This addictive fragrance submerges us in glamor and class and embodies the starry lights and temptation of the night. Modern Muse Nuit is luxurious with rich accords that explore the unknown and even more addictive side of the modern muse. True fragrant gems with an irresistible composition – precious amber, sensual musk, tempting jasmine. This is the autumn temptation in a bottle – one you would not be able to resist.
This is for the girls who know that well-behaved women rarely go into history. For the girls who tell us that it's good to be bad. The dualism is strong in the perfume composition, which makes it so perfect for the fall. It is powerful and sensual, soft and hardcore and gives us an extraordinary mix of light motifs and dark elements. This fragrance prepares us for unforgettable moments, leaving us with a desire to experiment, rule, act wild, and dominate. The perfect autumn accessory for the sensual, seductive, bold, and daring women, who impress with their independence and complex female beauty. For the women who are on the verge of conquering the world and everyone knows it. Just give them the right shoes.
Do you have a favorite fall fragrance or you prefer a new one for each season?