Dubai perfumes – authentic or not?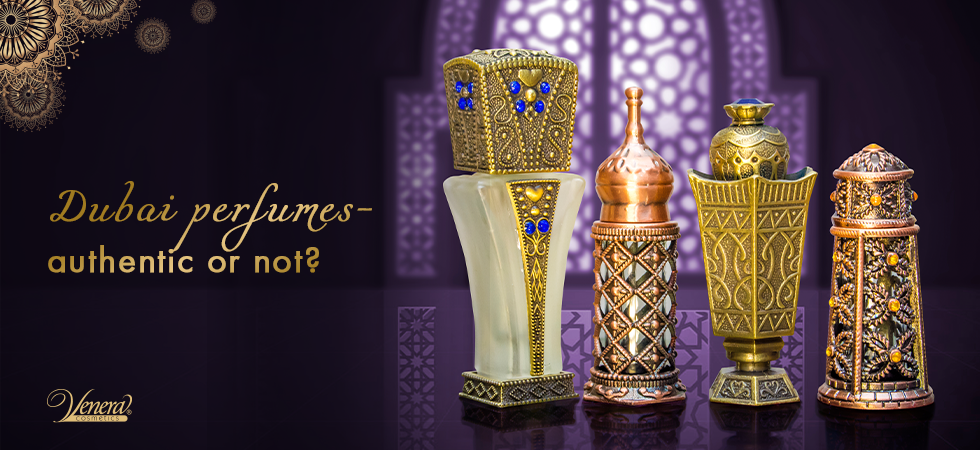 For centuries, the East has fascinated us with its mystique, exoticism and last but not least – unique perfume fragrances. Quite deservedly, Arabic perfumes have earned the fame of some of the most saturated and long-lasting fragrances in the world. They are not inferior to the popular Western brands that we are used to.
Perfume making has a deep tradition in Arab culture from time immemorial. They are characterized by woody, floral and spicy notes, which provide a strong and memorable aroma. Among the popular ingredients of these perfumes you will often find wood, amber, vanilla, rose, jasmine and others.
These exotic and bright combinations have inspired some of the most famous perfume brands in the world to create their own interpretations as well. You can learn more about them in our article dedicated to the most famous luxury branded Arabic perfumes.
Undoubtedly the pearl in the crown of Arabic fragrances are Dubai perfumes. They are extremely saturated, long-lasting and have a captivating luxury feeling, with which we associate the Eastern lifestyle. It is no coincidence that Dubai fragrances are becoming increasingly popular in Bulgaria. Therefore, in the following lines we will tell you a little more about the most famous Dubai perfumes brands. We will also look for the answer to a very important question: Are Dubai perfumes authentic?
Famous Dubai perfume brands
Although not so recognizable in Western countries, these brands have become a benchmark for quality perfumes in the Arab world. They are the preferred choice of the local population of Dubai, and also attract the attention of tourists who definitely want to leave with a captivating Arabic scent. Here are some of them:
Ajmal
Ajmal is one of the leading perfume manufacturers in the Arab world, and the company itself was established 70 years ago in India. Its founder is Late Haji Ajmal Ali, also known as the "perfume king". The reason why is that he was able to build from scratch a thriving perfume empire. His successors managed to impose the successful brand in Dubai and the United Arab Emirates. Today, more than 300 unique fragrances can be found in Ajmal's portfolio, which are sold in over 30 countries around the world.
Swiss Arabian
Swiss Arabian is a leader in the production of perfumes in the UAE. The company was founded in 1974 and has created some of the most popular Dubai perfumes. What distinguishes them from the most brands is that in addition to its large portfolio of fragrances, the company offers a service to create an individual fragrance designed just for you, thus meeting the needs and desires of even the most demanding customers.
Yas Perfumes
Yas Perfumes is one of the most famous perfume companies in the Middle East. It has earned this fame thanks to its modern and contemporary approach to creating fragrances with a rich aroma and extremely high quality. Yas aims to make exclusive high-end perfumes more affordable to customers in the Middle East.
In the list of famous Dubai brands you will also find Al Haramain Perfumes, Al Rasasi Perfumes and others.

Are Dubai perfumes original?
This is a question that excites consumers. For one reason or another, many people in our country are of the opinion that the perfumes that come from Dubai are not authentic. Whether this is the case, we will clarify the answer in the following lines.
Apart from being a center for the production of luxury perfumes, Dubai is also one of the important centers for the trade and export of perfumes. In the period 2000 until Bulgaria became a member of  the European Union, a large part of the perfumes on the Bulgarian market were imported from Dubai.
There are several reasons for this phenomenon. First of all, Dubai is a duty-free zone, which does not require traders to pay customs duties, unlike imports from many other countries. This allows them to acquire products at lower prices. In addition, the export of perfumes is a developed business in the emirate, as local traders offer a wide variety of sought-after and attractive perfumes.
Many companies can be found in Dubai that sell original branded perfumes of the highest quality and guaranteed authenticity. This challenges the popular claim that all perfumes imported from Dubai are necessarily fake. But where did their notoriety come from then?
Why did the belief that Dubai perfumes are imitations come about?
As in other parts of the world, in the exotic emirate there are also incorrect producers and traders of imitations of popular fragrances, which in the newspapers in our country are often called "Dubai fakes". They are best known for being high-quality imitations of well-known Western brands that enjoy great consumer interest. However, non-authentic Dubai perfumes are an exception rather than an established practice.
However, it should be noted that most of the replicas and counterfeits of perfumes in Bulgaria are actually imported from neighboring Turkey, as this allows fast deliveries and significantly reduces transportation costs.
As we have repeatedly pointed out, the use of non-authentic perfumes not only harms the correct manufacturers, but can cause serious damage to your health. To avoid falling victim to such a scam, make sure you only buy original perfumes from trusted physical or online stores.