The story behind the brand Benetton
United Colors of Benetton, or simply Benetton, is a global fashion and perfumery brand with a clear and specific style. It is characterized by cleanliness, minimalism and comfort. With its 5000 stores in 120 countries around the world, the Italian brand is one of the most influential and successful on the market today, and its products you could recognize at the first sight.
The Benetton brand was founded in Treviso, Italy in 1965 by the three brothers Luciano, Carlo, and Gilberto, together with their sister – Guiliana Benetton. The oldest brother Luciano started the business idea for making sweaters with a wide range of colors and models in 1955. That was why he bought a sewing machine, on which his sister Guiliana started making the first models of Benetton.
From store to store, riding his bike in the Treviso region, Luciano sold the clothes, which his sister sewed. This is how his passion for such a successful endeavor was born and these were named the first humble steps of the family toward a business that eventually became a global brand worth billions. Later, the two siblings were joined by the other two brothers – Carlo and Gilberto and 10 years after the start of the idea they established their first factory. In 1968 Benetton opened its first store in Paris and during the 70s the brand was already known worldwide.
The success of Benetton is largely due to the innovative and revolutionary marketing of the brand, which is even considered by many to be the founder of modern marketing that we all know today. Even though they are simple, Benetton's clothes have amazing, original, and very different marketing campaigns that promote the brand around the world.
Benetton's campaigns are not afraid to touch on politics, social and taboo issues, as well as the fight for racial equality. They are combined with bold photographs, which, like any innovative thing, receive a lot of criticism, outrage and disapproval. The most interesting thing about most of the brand's ads is that these campaigns don't even show the actual clothing models. Instead, the brand's simple logo is present in every photo and attracts the attention of buyers more than anything else. This innovative approach was appreciated and this quickly reflected in the growing sales of the brand, which has won many awards for its brilliant advertising campaigns.
The fashion house has also been a sponsor of many sports events and teams. In 1979, Benetton sponsored the Italian rugby team – A.S. Rugby Treviso. Later, a rugby team under the brand's name was even founded – named Benetton Rugby. After that, Benetton became a sponsor of basketball and volleyball teams and in 1983 it sponsored the racing team Tyrell in Formula 1. One year later it supported Alfa Romeo in the elite car race.
The amazing advertisement, as well as the bright colors and high-quality fabrics, make people buy Benetton more and more. Today, the brand offers a wide range of clothes for men, women, and kids. And even though its marketing campaigns are not so bold and extravagant anymore, Benetton has built a reputation as a luxury and high-quality brand.
Perfumes by United Colors of Benetton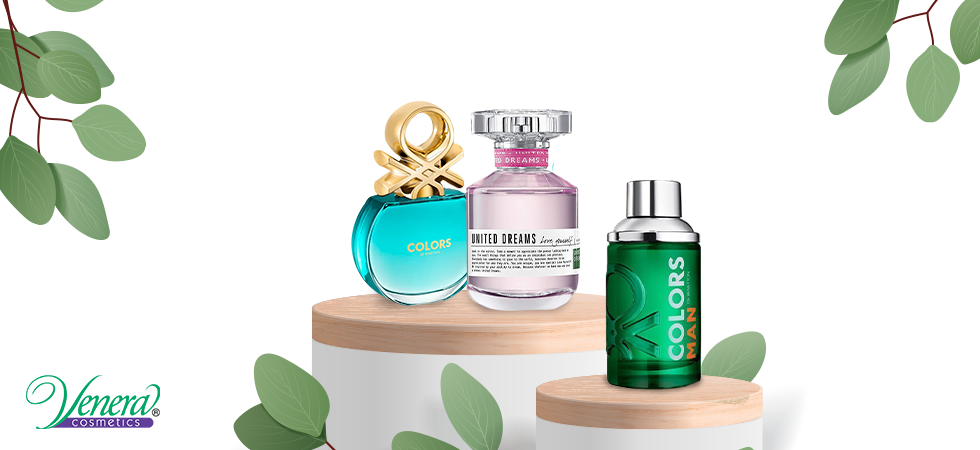 Besides the clothes and accessories which United Colors de Benetton offers, in 1987, the brand also started selling perfumes for men and women, and even ones for children. The first fragrance bearing the name Colors de Benetton is a fresh and citrusy scent for women. One year later, a perfume for men under the same name was also launched. Since then, Benetton has launched on the market 79 perfumes in total, with the latest one being from 2020.
The brand works together with world-famous perfumers among which Christophe Raynaud, Alain Astori, Alexandra Kosinski, Ann Gottlieb, and Sonia Constant.
Venera Cosmetics has selected some of the most loved fragrances by the brand, which we are presenting in the following list.
• Benetton Colors de Benetton Blue – We start the list with this very citrusy, summery, and fresh fragrance for women, launched in 2016. This scent is very youthful and refreshing. Lemon, yuzu and orange make up the top scent, followed by gentle orange blossom and freesia. In the heart, we can feel the aromatic scent of mate tea. The earthy-woody, base scent includes sweet tonka bean, musk and cedarwood. This is a modern and very unpretentious perfume from the Italian brand.
• Benetton Cold – This fragrance by Benetton is suitable for men as well as for women. As its name suggests, this perfume is very cooling and fresh. It is most suitable for the spring and summer when you need something refreshing. Notes of bergamot, aldehydes, and caraway open up the composition of the fragrance. After them, we sense the calming scent of lavender, geranium and coriander. The base scent is woody and includes musk, patchouli and vetiver. This fragrance by Benetton was launched in 1997 but it is still a great competition to the latest perfumes on the market.
• Benetton United Dreams Love Yourself – Delicate, romantic, and very fruity, Benetton United Dreams Love Yourself is a fragrance for young, adventurous girls who love to have fun. A sweet scent of raspberry, pear and apricot, freshened up by citrusy bergamot creates the initial scent. A bouquet of rose, freesia and jasmine also hide in the heart, and finally – the oriental scent of amber, musk and sandalwood. Like everything else by the brand, the United Dreams collection, which includes this perfume, has an original, fresh and untypical advertisement. It was launched in 2014.
• Benetton Colors Man Green – This men's perfume really has a "green" scent. Fresh, light, awakening and masculine, this fragrance will make every man confident and irresistible. Bergamot starts the composition with its citrus, awakening scent. An eastern, deep scent of coriander is hidden in the heart, and finally – cedarwood and blueberries, which will take you to a magical forest full of aroma.
• Benetton United Dreams Dream Big – The seductive, mysterious fragrance for men Dream Big is suitable for any season and occasion. In the composition of this modern fragrance, we can sense bergamot and mandarin, which awaken our senses from the first spray. After them, we feel cypress and orange blossom. The base scent is sweet and irresistible and is due to tonka beans, vanilla, and praline.