The story of Dolce & Gabbana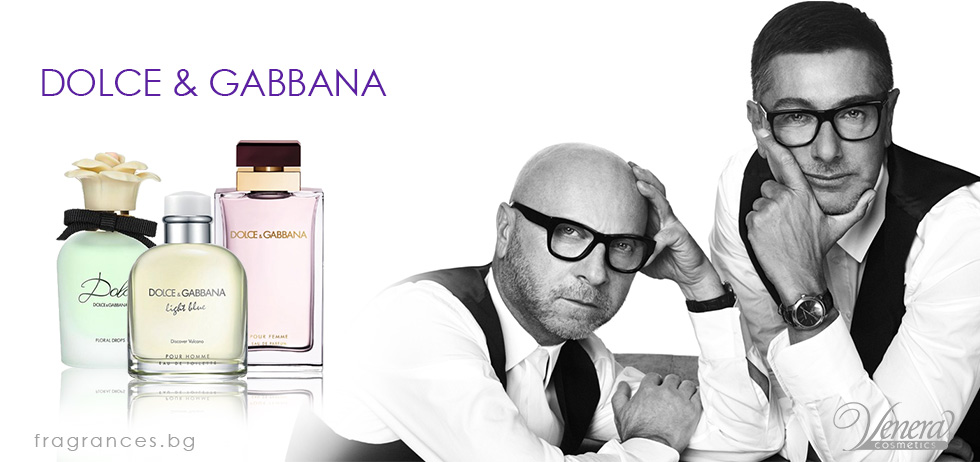 The luxury Italian fashion house Dolce & Gabbana was founded in 1985 by the fashion power-duo Domenico Dolce and Stefano Gabbana. The two designers who had less than US$2,000 combined to their name back in 1985 are today considered "the most powerful designers of our time" and are among the richest men in Italy.
Dolce and Gabbana's childhood years
Domenico Dolce was born in 1958 in a small town in Sicily. He was raised in a family of fashion-lovers: his father was a tailor and his mother was a fabrics and clothes seller. It was only natural that he found in fashion a way to express his personality and style. He also learned a lot about the industry from his parents, working in their small clothing factory while growing up.
Stefano Gabbana had a very different background. He was born in 1962 in Milan in a Venetian family. His mother was a laundry service worker and his father worked in a printing factory. In fact, it was only after he turned 15 that he got interested in fashion. However, he admits that it was Dolce who taught him everything he needed to know about fashion design.
How the brand Dolce & Gabbana was born
Domenico Dolce and Stefano Gabbana met in 1980 in a nightclub in Milan, only 5 years before their brand was established. At that time, they were both working for the fashion designer Giorgio Correggiari as his assistants. They spent a couple of years as colleagues and, apparently thinking about their future endeavors, namely the famous brand Dolce & Gabbana. In 1982, they quit their jobs and established a designer consulting studio where they still did some freelance designing for other brands until they founded theirs. Three years later, in 1985, the brand Dolce & Gabbana was born.
Inspiration
A highly successful fashion brand, Dolce & Gabbana is in itself a source of inspiration. Their feminine and seductive ladies collections show women in their best light. But where do the two designers get their inspiration from?
Here's what Gabbana shares in one of his interviews, "Everyday life. Inspiration can come from many things, but mainly it comes from observing what happens around us in the world, from observing people we meet on the street, in restaurants or in clubs. A book, a film, a song … everything!"
Another source of inspiration for the fashion duo is to travel in all its forms. Both designers love traveling and visiting different cultures, soaking the local culture, colors, attitude, and charm of each place they visit. Almost every memory from their travels finds its place in their fashion collections, beauty products, and advertising campaigns.
Madonna – Dolce & Gabbana's favorite customer and a loyal fan
One of Dolce & Gabbana's biggest fans is none other than the iconic pop star Madonna. They apparently share the same warm feelings towards her as the two designers are more than happy to take care of Madonna's both personal and stage wardrobe anytime she asks them. Their collaboration started back in 1993 when the two famous Italian designers created more than 1500 costumes for Madonna's famous world tour, "The Girlie Show."
In 2000, they also dressed Madonna and her ensemble for the singer's 8th studio album, "Music". They even designed the entire backdrop for the album's tour, turning their work, once again, to a total worldwide success. In 2010, the trio released an exclusive line of sunglasses called MDG.
Except for Madonna, Dolce & Gabbana have been working with some of the most popular celebrities in Hollywood, like Brad Pitt, Bruce Willis, Demi Moore, Victoria Beckham, Kylie Minogue, Beyoncé Knowles, Catherine Zeta-Jones, Salma Hayek, and Angelina Jolie.
The economic crisis and the fashion industry through the eyes of Dolce and Gabbana
After 30 successful years in the fashion industry, Dolce and Gabbana have faced not one or two challenges. The economic crisis was one of these challenges that made them think about their priorities and reconsider their business in the new market trends.
Here's how Stefano Gabbana describes it: "The industry has reached a very important turning point. The crisis that hit it was not only an economic crisis but one that touched all aspects of a world that believed itself to be immune to market trends. It was a reality check for everyone, and it brought back some humility, if you will, to the fashion and luxury world in general."
Domenico Dolce adds: "We came from a time where there was too much of everything and we were forced to reconsider many things. It was no longer possible to make mistakes, to make wrong investments, or to waste anything. We had to review all company procedures in order to eliminate anything that was superfluous and to rediscover a new efficiency, which was more in line with today's situation."
Trends versus style
Like every fashion designer, both Dolce and Gabbana want to create the next fashion trend. They are not afraid of making mistakes, however, as each mistake they make is an opportunity for them to learn and adapt to the new circumstances.
They are not particularly fond of the concept of "trend" as fashion trends nowadays have a very short life, often not lasting even for one fashion season. That's why they concentrate on creating style rather than fashion trends – clothes that last despite the trends of a season. In their style, they incorporate Italian traditions and timeless designs that withstand the test of time.
The secret to success
Everybody knows that there is no universal recipe for success. For Dolce and Gabbana, the recipe includes love and respect in the first place. Another driving force behind the development of their brand is their frequent arguments. They rarely agree on anything so they argue a lot but their arguments give birth to new ideas and concepts nurturing the brand's success and prosperity.
10 interesting facts about the two famous Italian billionaires and their world-famous brand:
When Domenico Dolce was a child, his dream was to work for Giorgio Armani. Thank God, it didn't come true!
Dolce and Gabbana have been not only business partners but romantic partners as well. In 2005, they broke up and remained separated until 2008, when they got back together.
Their first boutique was not opened in Milan or any other European city but in Tokyo, Japan (the year was 1989).
Dolce & Gabbana have been the official sponsor and designer of the Italian National Football Team since 2006. They have also worked with AC Milan and Chelsea Football Club.
Domenico Dolce created his first piece of clothing (a pair of men's trousers) when he was only 6 years old!
One of the most controversial fashion ads belongs to the brand Dolce & Gabbana. It was launched in 2007 and depicts a man holding a woman to the ground with several other men witnessing the scene.
They have a music single! It might be hard to believe this, but the fashion duo has released a single that features the phrase "D&G is love".
Dolce and Gabbana have partnered with phone producers Motorola and Sony Ericsson to produce two cell phones under their fashion brand.
There is a Citroën car that has been designed with the help of Dolce and Gabbana.
The "gold edition" of Martini's most favorite drink is produced in partnership with Dolce and Gabbana.
Dolce & Gabbana's perfumes
Dolce & Gabbana's perfumes are a true embodiment of Mediterranean luxury and Italian sophistication. They offer an impressive luxurious collection of fragrances both for men and for women that captivate the essence of the fashion brand. Their men's perfumes are masculine, charismatic, and elegant while their women's fragrances are exceptionally feminine and sensual. Men and women that are fascinated by Dolce & Gabbana's scents don't have age – just like the style itself!
Famous perfumes by Dolce & Gabbana you will find in our online perfumery shop:
Dolce&Gabbana Dolce EDP for women
Dolce&Gabbana Dolce Floral Drops EDT for women
Dolce&Gabbana Dolce Rosa Excelsa EDP for women
Dolce&Gabbana Light Blue Discover Vulcano EDT for men
Dolce&Gabbana Light Blue EDT for women
Dolce&Gabbana Light Blue EDT for men
Dolce&Gabbana Light Blue Escape to Panarea EDT for women
Dolce&Gabbana Pour Femme EDP for women
Dolce&Gabbana Pour Femme Intense EDP for women
Dolce&Gabbana Pour Homme EDT for men
Dolce&Gabbana Pour Homme Intenso EDP for men
Dolce&Gabbana Rose The One EDP for women
Dolce&Gabbana The One Desire EDP for women
Dolce&Gabbana The One Eau de Parfum EDP for men
Dolce&Gabbana The One EDP for women
Dolce&Gabbana The One EDT for men