The magical synthetic molecule Iso e Super in perfumes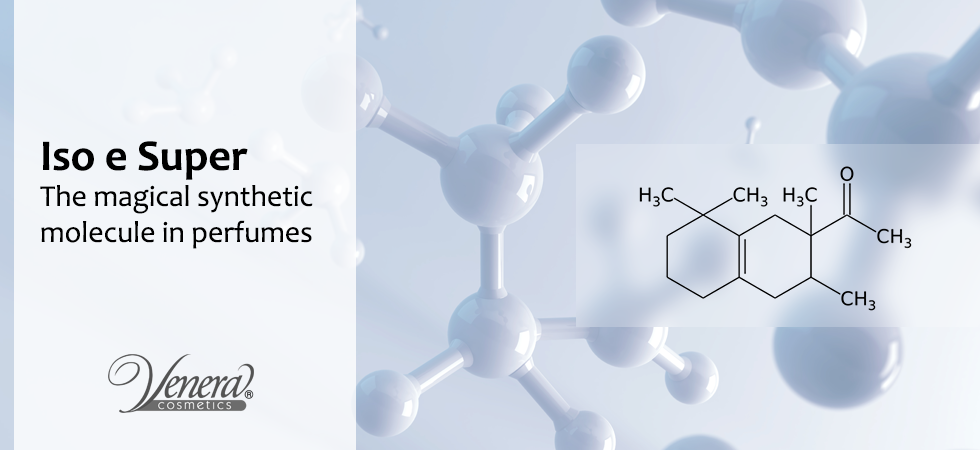 If you are true perfume lovers and you care about everything about them, then you have probably heard of or read of something called Iso e Super. But what is actually that and what does it have to do with perfumes? This is what you are about to find out in this article.
History
As we all know, perfumery is a complicated science that takes a lot of attention to details, a constant search for new ways to improve perfumes, and a sense of good scents. For years now perfumers have been spending a lot of time and effort into creating new perfumes through different chemical processes. That is how in 1973 two scientists John Hall and James Sanders found a new chemical compound that they called "Isocyclemone E".
Later they improved their discovery, the synthesis method and they called the molecule with the much easier to pronounce name Iso e Super. Exactly this molecule turned out to be a huge success in the perfumery world and is widely used in many perfumes now.
Iso e Super
Now you are probably wondering what this molecule smells like. If we have to describe it with one word, we would say amazing! But since we are more elaborate, we are going to say that the smell of Iso e Super is similar to a lovely combination of notes of cedarwood, amber, patchouli, and vetiver. However, its scent is gentle and unobtrusive which is not typical for the woody notes. This makes Iso e Super really versatile because it combines well with other scents, creating the perfect perfume.
The specific scent of this compound is loved by many people. Perfumers think that its aroma is gentle and soothing and they love experimenting with it. Besides that, Iso e Super is capable of soothing heavier and more obtrusive notes like those of incense, musk, and pine wood.
Iso e Super in famous perfumes
Iso e Super becomes a really popular thing in 1988 when Christian Dior used its smell in its men's perfume Fahrenheit. The innovative perfume becomes a hit and Iso e Super becomes the star in perfumery. Hundreds of perfumers started using this molecule in their own scents and they leave their own mark in their perfumes. Ever since then we can find many perfumes by famous brands that contain the molecule. Some of them are Escentric Molecules Molecule 01, Chanel Bleu de Chanel, Azzaro Wanted by Night, Calvin Klein Obsessed for Women, Gucci Gucci Bloom Acqua di Fiori, Burberry Mr. Burberry Indigo.
Because of its woody smell, Iso e Super is most commonly used in men's perfumes with woody notes that it perfectly matches. However, due to the versatility we already mentioned, perfumers successfully combine it in scents with mostly floral or citrus notes, too. This allows its use not only in men's perfumes. Percentage-wise, some of these perfumes contain a lot of Iso e Super while others just gently suggest its scent. So it is good to try a scent with lighter content to make sure you really like it.
Iso e Super truly is super. This ingredient is capable of turning an ordinary scent into a true masterpiece that touches your senses. The magical molecule has one of those universal smells that most people love. If you have a favorite perfume brand, chances are there are scents by that brand that contains Iso e Super. And even bigger are the chances that you have already smelled this scent without even knowing where it comes from. But once you relate the name Iso e Super to the magical aroma it has, you will always be able to recognize it.