Original perfumes, stickers in Bulgarian, official importers and distributors for Bulgaria

Last week one of our customers notified us they 'could not sense the scent of his perfume'. But what we found more interesting was not the fact that the man could not smell the scent of his perfume, since a man's nose gets used to a certain type of smell in a while, but the fact that after a month of using the perfume (at least, that's what our sales records show) our customer noticed that his product didn't have a sticker in Bulgarian, which led him to think it was not original. Unfortunately, we couldn't determine whether there had been a sticker present on the box, since most of the stickers, with importers' details, are placed on the cellophane package and after unboxing the product, the cellophane package usually gets thrown away. Also, we cannot know if the client stored his perfume correctly, otherwise inappropriate storage might affect the perfume and its quality. (Do you want to know how to store your perfume properly? Check out this article)
Anyway, this story made us write the current article in order to answer a few questions about both Bulgarian and European markets of original perfumes, as well as the products that our company offers.
Do only official Bulgarian importers have the right to offer original perfumes?
NO! Every single retail company has the right to offer designer perfumes without being an official importer of a certain brand. Moreover, since Bulgaria is a member state of the European Union, every Bulgarian business can trade with their partners in other union members, complying with the EU laws and regulations. Since most of the branded fragrances are produced within the EU, you should not have a specific import permision or to be an official destributor of a brand in order to make trade. For this reason every company has the right to sell designer perfumes freely on EU territory. When Bulgarian customers buy perfumes from the UK, then the British can seamlessly buy products from Bulgarian retailers, without any restraints.
Do only original perfumes have sticker in Bulgarian or a hologram?
NO! Very few of the original perfumes in Bulgaria have a hologram sticker. Most importers use a simple paper sticker. As we mentioned before, every Bulgarian company has the right to purchase perfumes from other EU companies and to put Bulgarian stickers on. However, it is really easy to imitate a sticker in Bulgarian and put it on a 3-4 lev replica, which you can offer as an original product. Even holograms can be replicated. So, this is why you should keep in mind that even the presence of a sticker in Bulgarian on a perfume, doesn't make it original. Nevertheless, it most certainly reduces the chance of you buying a fake one.
(Find more information about how you can avoid unlicensed perfume retailers herе).
If a perfume has a fault, does that mean it is not original?
NO! In perfume manufacturing, as well as any other industry, it is possible for some products to have faults, since the whole industrial process is automatic. In our experience, 0.2% to 0.5% of products can show manufacturing defect, especially when it comes to the sprayer. In addition, incorrect storing and transportation can damage the perfume's content. It is highly unlikely for you to receive a faulted designer perfume, but there is always a small chance, despite the perfume is original. But if that is the case, you should simply return the product to the shop you had purchased it from and ask for a replacement.
Do the perfumes that Venera Cosmetics offers have stickers in Bulgarian?
YES! Most of the products we offer have stickers in Bulgarian with details about the product, as well as information about the importer (except for those without package). Our company has several European partners and the items they offer don't have Bulgarian stickers, since the products themselves are not Bulgarian. So, in this sense, our partners are not obliged to put stickers in any language (including Bulgarian) on what they sell. If you purchase a product from France, it will certainly not have a Bulgarian sticker on it, but it doesn't mean it's not an original. In addition, we send items to our customers in other European countries under similar circumstances – the products don't have stickers in their native languages.
For those who have not notice or know all this, here are some pictures of perfumes with stickers, offered by Venera Cosmetics.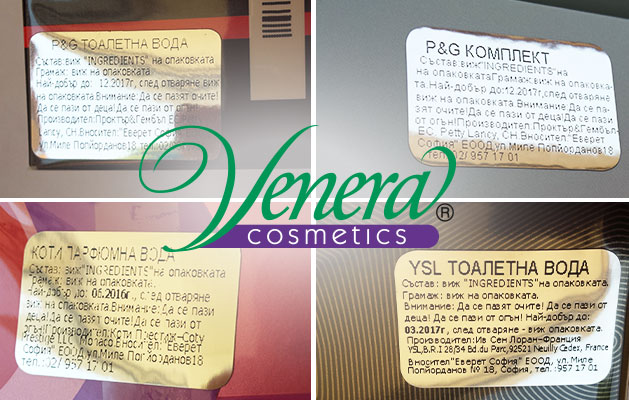 Why are the prices of Venera Cosmetics much better than those of other Bulgarian perfume retailers?
Our company has been both a distributor and a retailer of original designer perfumes for 22 years and we distribute our products to other stores and wholesalers in most of Southern Bulgaria. We are working with over 15 official distributors and retailers in Bulgaria and other European countries. We strive always to find the best possible price for our products. Due to the large amount of merchandise and low margins, we can offer our range of products at affordable prices. Sometimes, the margin (not the profit, but the trade margin on purchased products) is under 10%, which is extremely low for a retailer. In comparison, most of the perfume stores at big shopping malls sell on recommended retail price (RRP), which might be two, even three times higher than the prices that we sell. After all, it is extremely hard to maintain a luxurious perfume store (we can tell from our own personal experience since we had several ones in Plovdiv city centre), to cover your expenses and make profit – all at the same time.
What guarantees that the products offered by Venera Cosmetics are original?
WE are the guarantee! We are the ones who can assure you of the high quality of our products. WE are the ones, who you should alert in case of a problem, and then it is again our concern to contact our distributors about the issue. Since you have bought a product from one of our stores, regardless of it having a sticker or not, you can always return it in 14 days after the moment of purchase. But when you contact us after a month from completing your order and you tell us that your perfume 'doesn't smell' after using half of its content, you should know that in this case we are helpless and we cannot do anything about that.
We do not produce perfumes, but we sell what the big names in this industry manufacture. We do want the big companies to use more organic ingredients for their perfumes, instead of less expensive, synthetic substitutes, but perfumery is just a business. A business, which we have been a part of for 22 years. A business, which we will continue to be in, thanks to our clients' support and loyalty. We WILL continue to offer only 100% original perfumes with guarantee origins, at the lowest possible price in Europe.