Most anticipated perfumes 2017
12 fragrances you will want to add to your perfume collection this year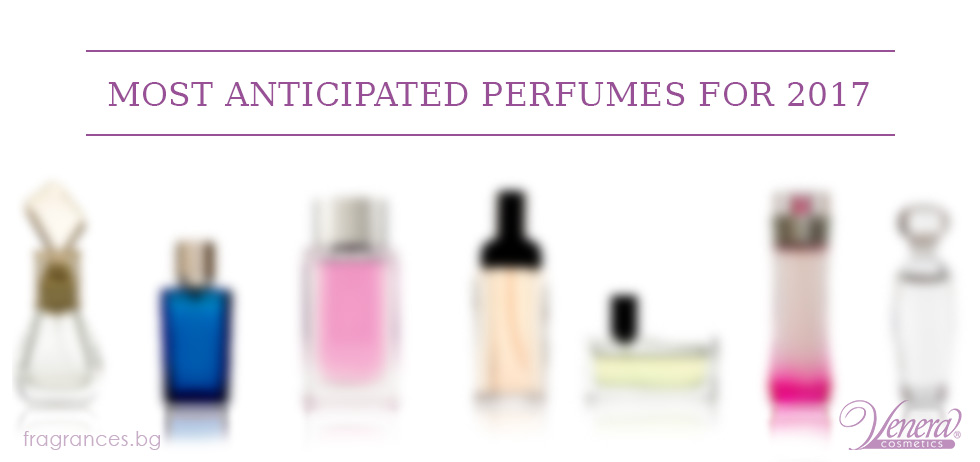 The new year is already here and we cannot wait to see what it has in store for all the perfume lovers! 2017 will certainly be a year full of exceptional perfume launches both for men and for women. Let's take a look behind the curtains and have a glimpse at the most anticipated perfumes to be launched in 2017.
Women's perfumes: 
 Nina Ricci Luna Blossom
 Nina Ricci Luna Blossom is a lighter version of the popular Luna by Nina Ricci. Primarily intended for the Asian market, the new fragrance Luna Blossom is also housed in the iconic apple-shaped perfume bottle that Nina Ricci's perfumes are so famous for. The new perfume bottle features a golden cap with two apple leaves, and the bottle itself comes in a fairy purplish-pink color with a violet sateen sash gently wrapping its neck.
The fragrance is created by perfumer Fabrice Pellegrin and will impress ladies who appreciate fruity-floral fragrances with distinct opening freshness, rich floral heart and seductive oriental base. It opens with a citrusy-fruity freshness of bergamot and Nashi pear and matures into a rich bouquet of peony, jasmine, and magnolia. The sensual base of cedar and musk add depth and intensity to the scent.
DKNY Be Delicious City Girl Collection
 Not one or two, but three impressive perfumes are going to be launched at the beginning of 2017 by DKNY in the Be Delicious City Girl Collection. They will feature the following fragrances: Brooklyn Girl, Chelsea Girl and Nolita Girl.
Brooklyn Girl will please contemporary women who are not afraid to take risks and certainly know how to use extravagant style to accentuate their personality, while following the latest fashion trends. The fruity-floral scent features blueberries, freesia and jasmine, deepened by the seductive base of amber. The perfume bottle of Brooklyn Girl comes in a lovely bluish-violet bottle following the famous DKNY perfume shape.
Chelsea Girl will be the perfume of the feminine woman who doesn't put any labels on her unique style. Ready to experiment with trends in search of her own individual look, she effortlessly wins men's hearts along the way. Coming in a feminine pink bottle, the perfume features notes of apple, orchid, black rose, and white musk.
Nolita Girl is intended for the rebel woman who is everything else but a good girl. Everybody envies her for her impeccable urban street style and for drawing her own boundaries. The perfume notes are raspberry, violet, magnolia, and sandalwood and the perfume bottle is in a feminine, yet rebellious violet nuance, implying that there's more to it than what can be seen on the surface.
Thierry Mugler Alien Eau Sublime
 The limited edition Eau de Toilette (Alien Eau Sublime) is among the most anticipated women's perfumes in 2017. The latest addition to the famous Alien line features the iconic original fragrance's perfume notes of jasmine, amber, and cashmere wood. The new edition, however, has been breathed new life with citruses, green notes, and summer flowers.
Loaded with freshness and feminine energy, the new scent opens with a combination of lemon, orange, mandarin, galbanum and summer flowers. The floral heart of the new Alien fragrance hides notes of jasmine, cherry blossom, Tiare flower, and heliotrope. The warm cashmere base features woody vetiver and white amber that recreate the distinct character of the original Alien in a new, inspiring way.
Miu Miu L'Eau Bleue
 2 years after launching Miu Miu Eau de Parfum (in 2015), the fashion house Miu Miu is launching a new edition of the fragrance in February 2017. The new fragrance is called Miu Miu L'Eau Bleue and will be a lighter version of the original. They've certainly chosen a great timing for the launch of their new fragrance as it will be among women's most wanted fragrances for spring 2017.
Created by perfumer Daniela (Roche) Andrier, the new Miu Miu fragrance has a fresh floral-green composition opening with spring flowers of lily of the valley. The delicate fragrant heart of the perfume features green notes, white flowers, and a perfume note interpretation of morning dew. The base of the perfume fascinates the olfaction with a special molecule developed by Givaudan. It's called akigalawood and resembles a mix of patchouli, peppery notes, and woody notes.
Sisley Izia
 A tribute to the rose perfume note, the new women's fragrance Izia by Sisley is expected to be launched at the beginning of 2017. The feminine perfume has a modern feel but promises to turn into a timeless classic thanks to its irresistible sensuality and seductive femininity.
The composition opens with aldehydes, white bergamot, and pink pepper. The rosy heart is further enriched by a bouquet of floral notes and angelica. The warm base features woody-musky notes among which amber, cedar, and musk are the most notable ones.

Men's perfumes:
 Bvlgari Aqva Pour Homme Atlantiqve
Bvlgari Aqva Pour Homme Atlantiqve is a men's perfume that is expected to be launched in March 2017. Created by famous perfumer Jacques Cavallier, the new masculine fragrance is inspired by the Atlantic Ocean.
The most notable note in the new aquatic fragrance is created specifically for Bvlgari Aqva Pour Homme Atlantiqve, namely the "sea amber". Representing the depth of the ocean, it is complemented by "vital water" notes, as well as refreshing Calabrian bergamot, energizing Sicilian lemon, and a whole plethora of captivating masculine base notes (vetiver, patchouli, sandalwood, and benzoin).
Giorgio Armani – Armani Code Colonia
 The newest fragrance by Giorgio Armani, Armani Code Colonia is among the most anticipated men's fragrances in 2017. Elegant and sensual, the new fragrance has a simple composition and is built on the contrast between light and deep notes, creating an elegant scent that will appeal to men who value unostentatious elegance and timeless style.
The perfume is created by famous perfumer Antoine Maisondieu. Its composition is fresh and elegant with a distinctive sensual hint of orange blossom. The composition opens with an explosion of spicy citrusy freshness thanks to the top notes of bergamot, mandarin, and pink pepper. The heart of the fragrance holds in its embrace orange blossom, clary sage, and salicylate molecule (a synthetic sweet floral note). The base of the perfume features woody notes, amber, tonka beans, and heliotrope.
Thierry Mugler A*Men Kryptomint
 Over 20 years after Thierry Mugler launched the original A * Men (in 1996), its newest edition, A*Men Kryptomint is eagerly anticipated in 2017. The newest addition to the famous oriental-gourmand fragrances including A*Men Pure Coffee, A*Men Pure Malt, and A*Men Pure Tonka, A*Men Kryptomint promises to be as sensual and uncompromising as its predecessors.
The "star of the show" in A*Men Kryptomint will be the perfume note peppermint, offering new levels of freshness and energy in the masculine scent. Just like a charger saves your dying battery, A*Men Kryptomint promises to increase your energy levels and give you that extra incentive to give 100% of yourself to the world. The composition features frozen US peppermint, Egyptian geranium, patchouli, and tonka beans.
Dior Homme Sport (2017)
 The newest edition of Dior Homme Sport will be launched in February 2017, 5 years after its previous version was launched. The new fragrance will appeal to the contemporary urban man who is sophisticated, yet irresistibly charming. He has a dynamic life, his schedule is full of business activities during the day and he has an enviable nightlife full of beautiful women, elegant dinners, and wild parties.
Created by Francois Demachy, Dior's in-house perfumer, the composition opens with the citrusy freshness of lemon, blood orange, and grapefruit. Pink pepper and nutmeg form its peppery heart while sandalwood and vetiver balance the composition, bringing warmth to the scent. The motto of Dior Homme Sport (2017) is "Life is a Playground."
Calvin Klein CK All
A new addition to the famous unisex fragrances by Calvin Klein, CK All will make all fans of unisex fragrances happy with its launch in February 2017. The slogan of the new fragrance is "Be One. Be All. Just Be." And the good news is that it won't be a limited edition so its fans will be able to enjoy it for more than just one season!
Fresh and energizing, its composition opens with an explosion of citrusy freshness thanks to the mandarin and citrus top notes. Following the freshness thread, the heart of the perfume features citrus blossom and the famous Paradisone molecule (a very powerful synthetic jasmine note that makes people turn their heads to see where this divine smell comes from). The warm base features amber and oriental notes that add to the longevity of the fragrance.
2017 promises to be a rather fruitful year with a lot of new launches of men's and women's fragrances by some of the most famous perfume houses like Nina Ricci, DKNY, Thierry Mugler, Miu Miu, Sisley, Bvlgari, Giorgio Armani, Dior, and Calvin Klein, among others. Which of the above perfumes to be launched in 2017 do you want to sample and add to your perfume collection?
Coming soon in our online store –https://venerafragrances.com/