Michel Almairac – a true artist always in search of a new inspiration
Michel Almairac was born in 1953 in Grasse, France. If we say that perfume is in his DNA, we won't be far from the truth. Grasse is the capital of perfumery and it undoubtedly had its impact on his decision to devote his life to perfumery. Here's his opinion on this: "Well it made things a lot easier! I was always surrounded by scents and smells which is part of life in that city, natural ones from the crops of flowers growing in the fields, and industrial ones as well, from the perfume factories. Then when I was 13/14 I asked to visit a perfume plant and was fascinated by the atmosphere, all the people in their white coats dipping and mixing scents."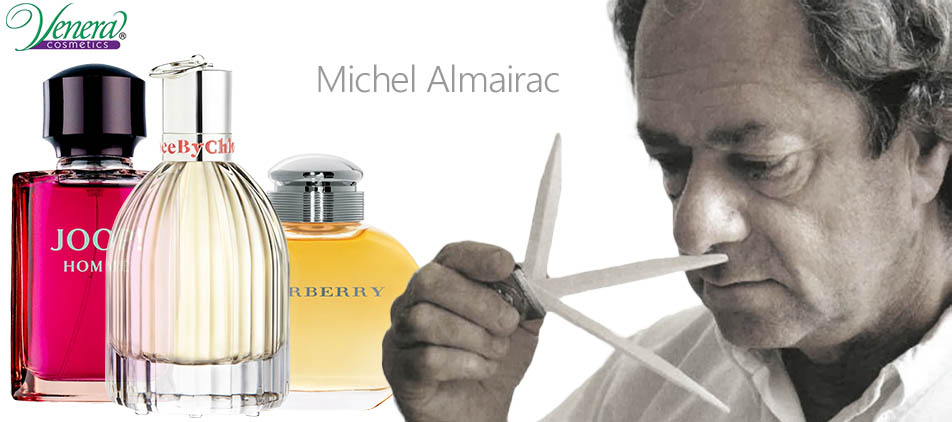 With over 30 years of experience, Michel Almairac has worked for world-famous perfume companies, such as Takasago, Florasynth, Creations Aromatiques, and Robertet. He studied perfumery in 1972 at the Roure School and he has been creating iconic fragrances for big global brands such as Burberry, Gucci, Chloe, Joop!, and Escada ever since.
His perfumes are highly valued in the perfume world. Here's the secret behind his creations: "I always use simple, short formulas. If you get it wrong and have to start from scratch, it's easier to correct. A former boss asked why I used such short formulas. I said I can find a mistake easier if it's short. It started from being lazy as a young perfumer. It's easier to weigh 30 ingredients than 300."
Michel Almairac is always in search of new inspiration. He loves exploring new lands in the perfume world, such as combining modern and classical ingredients. For him "… fragrance is like cooking. The same ingredients can make mayonnaise or Chantilly crème. It's the same mystery with perfume. It's the art of blending. The interaction of ingredients is all-important. A teacher of mine used to say, 'If you can't smell it, you don't need it.' But I'm not stubborn, or obsessed with simplifying formulas. I'll use what's required. What sparks my fancy are the raw materials."
Like a true artist, he considers his work his passion. No wonder he has this attitude towards his creations: "I've had the chance to create lots of fragrances, but it's like having lots of children. If you have 15 to 20 children you can't choose the one you love more than the others – they are all my children."
Some of the iconic perfumes created by Michel Almairac you can find on our website:
Do you have a favorite perfume created by Michel Almairac? Which one is it? Share it with us in the comments below!