Hazelnut – the sweet nutty note that adds a delicious, gourmand delicate flavor to any perfume composition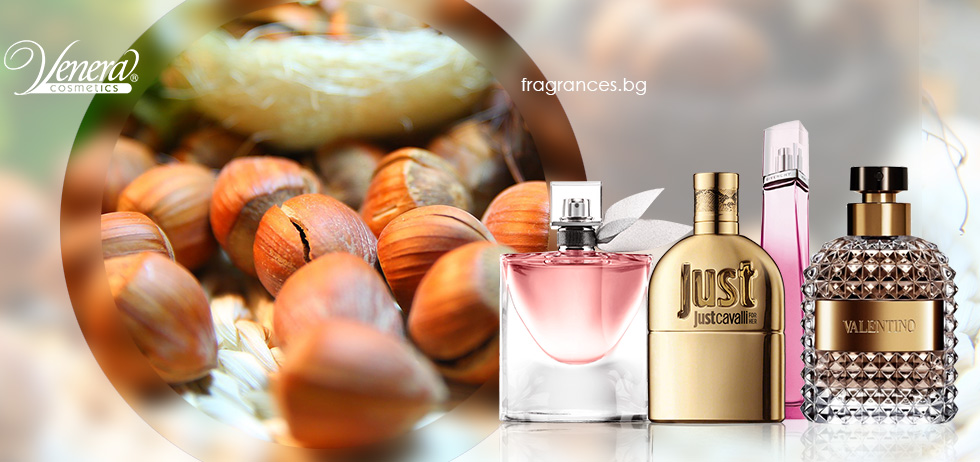 A recreated note, just like all nuts perfume notes, the hazelnut note is widely used in many popular branded perfumes as its balanced aroma makes a lovely heart or base note, adding a delicious, gourmand touch to any perfume composition.
There are several types of hazelnut fragrance notes you will find in your favorite perfumes:
Standard hazelnut – it has a mild, sweet, and creamy nutty smell that has the power to bring back memories from your childhood spent in the countryside;
Roasted hazelnut – this is the ultimate gourmand hazelnut note that evokes images of decadent desserts and hazelnut-scented hot chocolate. The aroma of the freshly toasted hazelnuts pairs very well with base notes of vanilla and butter. Yummy!;
Hazelnut leaf – with a greener and fresher scent, the hazelnut leaf perfume note is primarily used as a top note to add a splash of freshness with just a hint of the nutty note to the overall perfume composition.
Native to Europe and Asia, hazelnut trees are widely grown in many parts of the world today with Turkey being the biggest hazelnut producer in the world (responsible for about 75% of worldwide hazelnut production). The history of the hazelnut is very old – there is evidence of hazelnut processing dating from 9000 years ago!
Interesting facts about hazelnuts:
The hazelnut is the official state nut of Oregon, USA (since 1989);
Hazelnut trees bloom in the middle of winter (with beautiful yellow catkins);
After the first 2-3 years upon being planted, the hazelnut tree starts to yield and doesn't stop for at least 80 years. Some species produce hazelnuts for up to several hundred years!
Hazelnuts are ripe and ready to be eaten when they fall off the hazelnut tree (which happens about 7-8 months after pollination);
The word hazelnut has an Anglo-Saxon origin. "Hazel" derives from the Anglo-Saxon "haesel", which means bonnet (named so due to the specific hazelnut's shape);
Hazelnut coffee flavor is among the most famous flavors for coffee around the world (right next to amaretto and vanilla).
The story of Nutella
It is a little-known fact that the world-famous hazelnut-flavored chocolate spread Nutella was originally named Pasta Gianduja. It is based on an old Italian recipe dating back to 1806. It was in the Italian city of Turin where the love of chocolate and hazelnuts flourished for the first time.
During Napoléon's regency, the Mediterranean was under a blockade, so chocolate was a scarce commodity. A chocolate master, Michele Prochet, had very little chocolate in stock and needed a way to make use of it in the best possible way, so he came up with the idea to mix it with hazelnuts. Thanks to him, today millions of people are enjoying the divine taste of the hazelnut-flavored chocolate spread that is worth dying for!
Did you know that one jar of Nutella is sold every 2.5 seconds throughout the world? No wonder that Nutella's owner, Michele Ferrero (as in, you guessed it right, Ferrero Rocher) is the richest person in Italy!
Health benefits of hazelnuts
Loaded with energy and healthy nutrients, hazelnuts are among the healthiest foods on earth. Here are their main health benefits:
Hazelnuts are rich in monounsaturated and essential fatty acids. This makes them one of the most powerful weapons against bad cholesterol;
Hazelnuts are loaded with minerals (manganese, potassium, calcium, copper, iron, magnesium, zinc, and selenium), as well as vitamins and dietary fiber. Their regular consumption (in raw state) will help you fight many diseases, including cancer;
Folate (a B-complex vitamin) that is present in most nuts, including hazelnuts, is a very important vitamin, especially for pregnant women and women who are having attempts to conceive as it helps prevent neural tube defects in the newborn;
Hazelnuts have superb antioxidant qualities thanks to vitamin E which helps to protect your skin from different harmful oxygen-free radicals.
Hazelnut uses
In the culinary industry, hazelnuts are widely used in many different forms – from raw to baked, salted or coated with sugar. Experienced cooks from all over the world create culinary masterpieces with hazelnut in the leading role – praline, chocolate, cookies, chocolate spreads, cakes, tarts, liquor, brownies, you name it!
Except for the culinary and perfume industry, hazelnut's divine scent (in the form of hazelnut essential oil) is used for the creation of homemade candles, soap, home perfumes, bath and body products, as well as room scenting solutions. Hazelnut essential oil is a very popular base or carrier oil in traditional medicine and in aromatherapy.
The perfume note hazelnut blends very well with cedar, leather, floral notes, citrus notes, gourmand notes (coffee, chocolate, vanilla, caramel, whipped cream), white musk, tonka bean, sandalwood, clove, and vetiver.
In our online shop, you'll find plenty of men's and women's perfumes with the note hazelnut in them. Here are some of them:
Benetton White Night EDT for men
Cacharel Noa Perle EDP for women
Escada S EDP for women
Givenchy Very Irresistible EDT for men
Lancome La Vie Est Belle L'Eau de Parfum Intense EDP for women
Roberto Cavalli Just Cavalli Gold Her EDP for women
S.T. Dupont Noir EDT for men
Valentino Uomo EDT for men
Other perfumes with the note hazelnut include:
Chocolate Hazelnut Twist Botanical Perfume Esscentual Alchemy for women and men
Praline de Santal Parfumerie Generale for women and men
Signature Intense Axe for men
Angel Muse Thierry Mugler for women
Hermessence Vetiver Tonka Hermes for women and men
Exite Axe for men
Hello Kitty Baby Perfume Koto Parfums for women
Silver Scent Deep Jacques Bogart for men
Sensational Moment Celine Dion for women
Loverdose Red Kiss Diesel for women
Womanity Liqueurs de Parfum Thierry Mugler for women
Playboy VIP for Him Black Edition Playboy for men
Miracle So Magic! Lancome for women
Vetiver Essence Ferrari for men
Republic of Men Essence Banana Republic for men
Do you have a favorite perfume with the note hazelnut in it? Share it with us in the comments below!