Floral perfumes that will make you feel good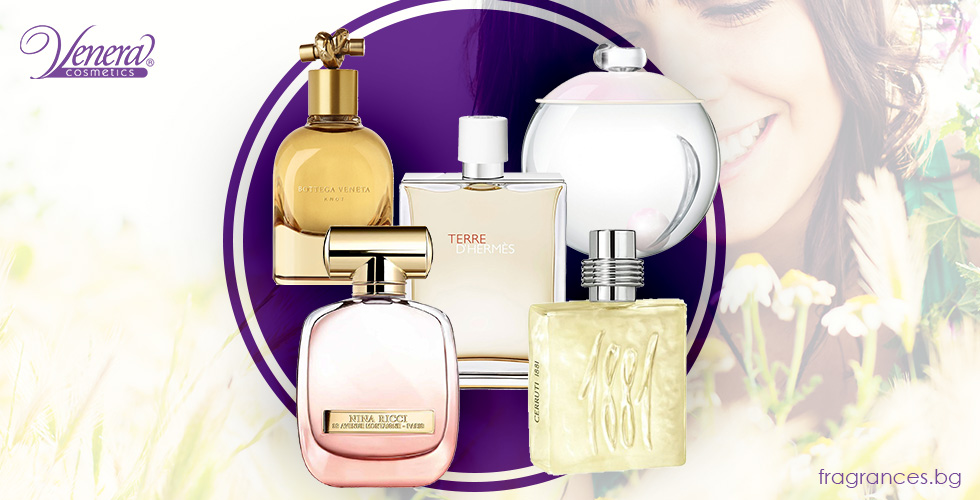 A new perfume always makes us feel good. After the long quest for our next favorite perfume is over, we finally get our hands on the small bottle full of divine scent. It feels as if we have found the missing piece of the puzzle! We can't wait to show off with our new fragrance and impress all of our friends and acquaintances.
We all know this feeling we get when we make a new purchase. But are there certain perfumes, certain scents in a perfume that actually boost our mood and make us feel better? It turns out the answer is yes! There are some floral perfumes whose delicate floral notes have the power to positively affect our emotional well-being. In other words, there are perfumes that will actually make us feel happier when we are wrapped in their floral scent!
It goes without saying that any woman will gift you with her happiest smile any time you give her a bunch of flowers. Why not go one step further and choose a delicate floral perfume that smells like her favorite flower instead?
Here are our suggestions for floral perfumes for women:
this sensual floral perfume owes its fame to the queen of all flowers, the rose. Roses are an emblematic symbol of love, so a floral perfume with a rose note in its heart will melt the heart of your beloved woman – just like a bouquet of velvety deep red roses!
this perfume belongs to the Oriental Floral fragrance family and its most prominent floral perfume note is the orchid note. The sweet, vanilla-like smell of orchid will make you feel better if you are tense or suffer from a constant headache or a migraine. To get even better results, treat yourself to perfume with the orchid perfume note in it AND get yourself an orchid for your home – the combination of its divine scent and gracious look will help you feel calm again after a busy day at work.
based on the calming scent of lavender, this perfume will ease your anxiety and will help you get inner peace. Together with a whole plethora of citrus notes plus peony and white rose, this fragrance will make you feel as if you are walking in a blooming garden by the Mediterranean coast.
this floral woody musk fragrance for women will make you feel feminine and delicate as the petals of lily of the valley, one of the most tangible heart perfume notes in Cacharel Noa EDT for women. Just like an invisible veil, the delicate scent of lily of the valley will keep bringing with it positive feelings and cherished memories that will keep the smile on your face all day long.
What about men? They surely also deserve to feel good, especially during spring when all plants and flowers are blooming! Since it's not conventional to get your special man a bunch of flowers, you can opt for a men fragrance with your (or their) favorite flower perfume note in it. This way, the man wearing the fragrance will feel the delicate scent of the floral note you have chosen for him and feel happy for being honored to have such a special woman in his life.
Here are our suggestions for floral perfumes for men:
fresh and light, this perfume with geranium heart notes is perfect for the spring and summer season. It is unostentatious and can be worn on many occasions! The geranium fragrance heart of the composition will cheer up the man who is wearing the perfume, reminding him that peace of mind is just as important in a man's life as climbing up the corporate ladder.
this unisex fragrance has gathered a whole bouquet of floral notes (lotus, peony, hyacinth, iris, etc.). Such a fragrance will appeal to the man who is stressed at work, works long hours, and has no energy in the morning. The floral bouquet in the fragrance's composition will reduce anxiety, boost productivity, promote creativity, and may even improve memory!
another men's fragrance based on floral notes is Cerruti 1881 Pour Homme EDT for men. In its composition, you will find lavender, bergamot, carnation, rose, lily of the valley, and ylang-ylang. This combination will certainly bring a breath of vitality and a sense of harmony to the man wearing the fragrance. Naturally fresh and discrete, this men's fragrance is a great choice for a spring perfume!
A few words on flowers and mood
Flowers bring positive emotional feelings thanks both to their colorful appearance and their delicate natural smell. There are numerous researches that show people who are given flowers or who arrange flowers in their homes and offices feel less anxious, less stressed, and are overall positively affected by the flowers' appearance and scent.
Here are 3 reasons to make your loved ones happy with a floral fragrance (even when there is no occasion):
You will put a smile on their face – everybody loves receiving presents (regardless of gender, age, social status, etc.). Add a flower bouquet and his/her smile will inevitably improve your mood for weeks ahead!
You will contribute to the receiver's higher sense of enjoyment and life satisfaction – we all know how nice it feels to spray on a favorite perfume and go outside, knowing you can literally conquer the world now that you are wearing the invisible "shield" of fragrant elegance.
You will enjoy more quality time and intimate connections – giving and receiving flowers (as well as perfumes) is a personal gesture that the receiver highly values. The fact that you have spent the time to find out what scent they would like will certainly be appreciated!