Winter perfumes 2015/2016 – most wanted fragrances for men and women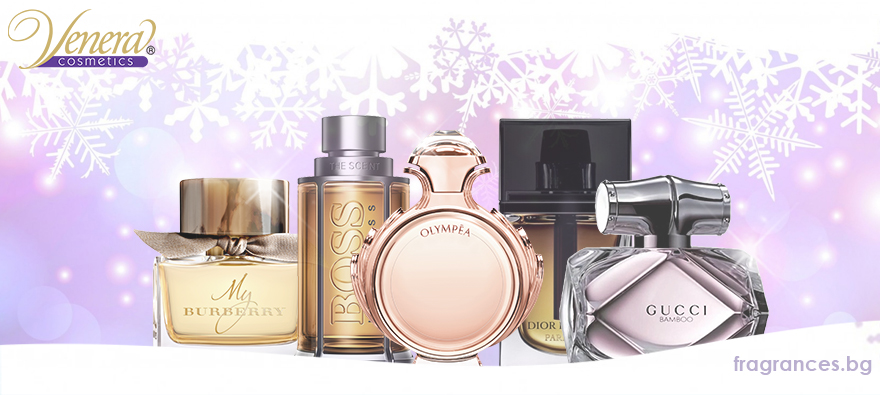 Even though we are as surprised as you are by the nice weather that has been making us happy these days, we can't help but notice the hardly perceptible nuances of the coming winter. They can be felt in the cold morning breeze and the shorter days gradually growing into longer and longer nights.
With such beautiful winter holidays just around the corner, like Christmas, New Year's Eve and St Valentine's Day, we bet you are ready to put up with the minus temperatures and get excited about spending some quality time with the ones you love the most.
What are the holidays without presents? Whether you want to make someone you love happy or melt your own heart by pampering yourself with a new fragrance, here are our top picks, the most wanted winter perfumes for season 2015/2016:
Women perfumes for winter 2015/2016:
Gucci Bamboo is a floral-fruity fragrance that's really hard to resist. Making you feel confident, sexy and successful, this fragrance is a great complement of your winter wardrobe this season. It opens with the powerful scent of bergamot and its heart is based on a whole plethora of exotic notes. What makes it perfect for the cold winter weather is his warm base of amber, vanilla, and sandalwood.
The floral perfume My Burberry is inspired by the iconic British Burberry clothing style. Fresh, yet deep and sophisticated, this perfume will make you feel like a real London diva conquering the world with femininity and charm. Open up your senses for a powerful wave of patchouli, rose, and musk that will warm your heart and make you feel the queen of the world!
Paco Rabanne's Olympea will make you feel like a real Greek goddess. Its power to wake up the goddess in any woman will win the heart of the confident woman who doesn't take "No" for an answer. You'll also fall in love with the creative bottle of this perfume, resembling a delicate laurel wreath!
Nothing can help you warm your cold hands and wake up your senses like a big cup of hot fragrant coffee. Just like that, YSL Black Opium will help you get through the cold winter days with its deep prevailing coffee notes that perfectly complement your classic winter style. Warm and spicy, this fragrance will just melt your heart.
Stylish and classy, this perfume begins to astonish you even before you smell it. The extravagant black bottle with gold elements and a stylized flower will make you want it just for you. Just like a precious piece of an exquisite jewelry collection, Valentino Valentina will make you feel special, elegant and unique.
Men perfumes for winter 2015/2016:
Boss The Scent is a brand new fragrance by Boss that was launched at the end of August 2015. Just in time for the winter season, this perfume is masculine and seductive at the same time. As its creators say, "Tapping into what women really want, it is a masterful orchestration of all the senses. It lasts and is not easily forgotten. "
A men's fragrance created by a lady (Daniela Roche Andrier), Luna Rossa Extreme by Prada is everything else but ordinary. With a powerful combination of Italian bergamot, black pepper, and vanilla, it suits very well the self-confident man who is not afraid to accentuate his personal style.
Another new perfume, launched in 2015, Armani Acqua Di Gio Profumo is a very successful interpretation of the classics Acqua Di Gio from the far 1996. It will help you run through the cold winter days with his sea notes, creating in your mind pictures of the upcoming summer. If you are a fan of its classical predecessor, you should definitely try this version as well!
Launched in 2014, Mont Blanc Emblem Intense is elegant and stylish. It opens up with fresh notes of grapefruit and cardamom, which gradually melt in its warm heart of fruit notes, cinnamon, and nutmeg. Its wooden base of patchouli, tonka, and suede will leave a strong impression on any woman passing by.
A classical winter fragrance for men, Dior Homme Parfum is specially created for the passionate man who knows how to conquer even the hardest to get a woman's heart. Are you on the love front this winter season? Dior Homme Parfum promises to be your most powerful weapon!
Don't forget that this is the time to give more love and warmth to your family and beloved!
Venera Cosmetics's team wishes you happy holidays!