Bulgarian rose in perfumery

It is a widely known fact that Bulgarian rose oil (extracted from Rosa damascenа) has the highest quality among other rose oils and this makes it a preferred ingredient for a lot of famous perfume producers like Christian Dior, Givenchy, Lancôme, Bvlgari, Chanel, Elizabeth Arden, Kenzo, Paco Rabanne, Estee Lauder, etc. Like with many other perfume ingredients, the area where the ingredient is grown is very important for its qualities. Due to its favorable weather conditions, Bulgaria is famous for the top quality and most aromatic rose oil that is produced there.
Called "the queens of flowers", roses grow on bushes that live up to 30 years and reach up to 2 meters in height. Their cultivation requires a lot of hard work and dedication. The rose blossoms are hand-picked early in the morning as if they are picked later, they lose their delicate scent. Bulgarian rose oil is extracted through double water-steam distillation. Of course, there are artificial products that claim to have the scent of rose oil, but they are incomparable to the subtle fragrance of genuine rose oil. There is also organic Bulgarian rose oil, which is more expensive, but its high quality is worth every penny.
An interesting fact about rose oil is that, like diamonds, it does not change with time. Apart from this, it has a very desirable effect of slowing up skin aging, which makes it a favorite ingredient for a lot of face creams. Another interesting fact about Bulgarian rose oil is that Bulgaria is one of the largest producers and exporters of natural rose oil and rose absolute (about 70 % of the worldwide export).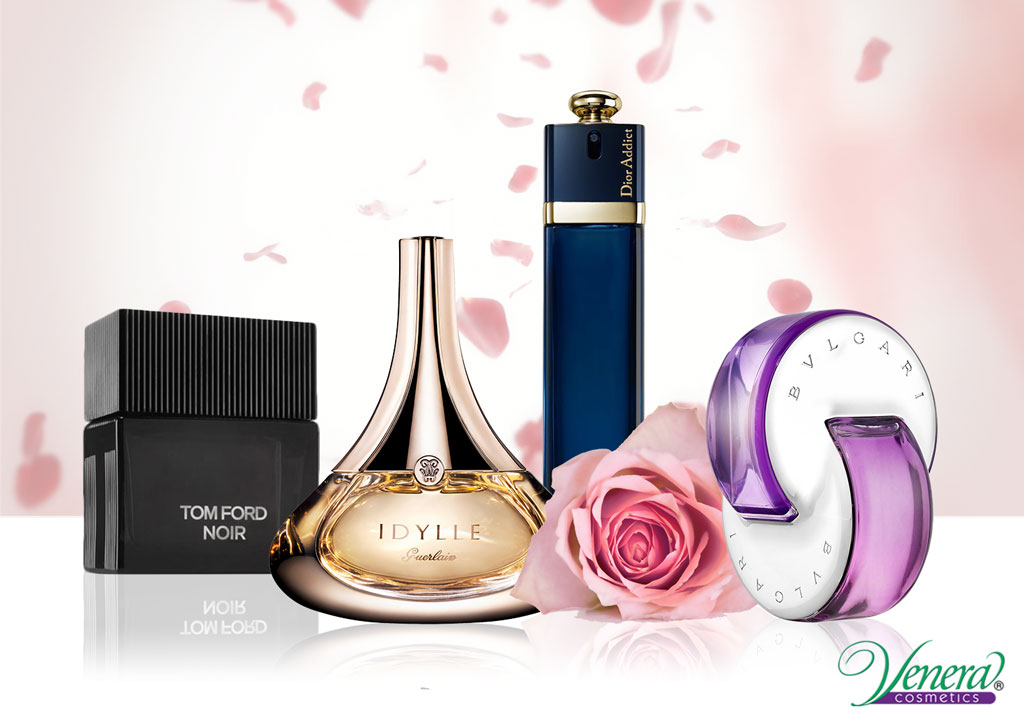 Here are some of the world-famous perfumes with a Bulgarian rose note in them:
Dior Addict EDP for women – launched in 2002, this perfume is created by Thierry Wasser. This is a very seductive fragrance with floral-oriental notes. It fits perfectly the passionate woman who is driven by her instincts rather than her common sense. Its top notes include mandarin leaves, while its heart reveals orange blossom, jasmine, and Bulgarian rose. Its base notes of sandalwood, tonka bean, and vanilla contribute to its oriental sensuousness.
Tom Ford Noir EDP for men – this is a sensuous and sexy oriental fragrance for the contemporary irresistible man. It is launched in 2012 and the nose behind the fragrance is Olivier Gillotin. This is a perfume based on contrasts – it opens with light bergamot which is pushed out by a fresh outburst of spices and flowers. The Bulgarian rose in the fragrance gives it a somewhat feminine touch, while the base notes of amber, patchouli, and vetiver bring back the masculinity of the perfume.
Guerlain Idylle EDP for women – this romantic floral perfume is launched in 2009 and its creator is Thierry Wasser. The perfume is an irresistible combination of Bulgarian rose and raspberry at the top, which give way to its floral heart of jasmine, lily of the valley, lily, and peony. Its base notes include musk and patchouli – they give the fragrance its sensuality.
Bvlgari Omnia Amethyste EDT for women – this fragrance is created by Alberto Morillas and is launched in 2007. Its top notes include fresh green notes. This elegant perfume owes its sophistication to the delicate heart notes of Bulgarian rose and iris, while its wooden base notes contribute to its deepness.
What is your favorite perfume with a Bulgarian rose note in it?