Autumn perfumes 2015 – best fragrances for men and women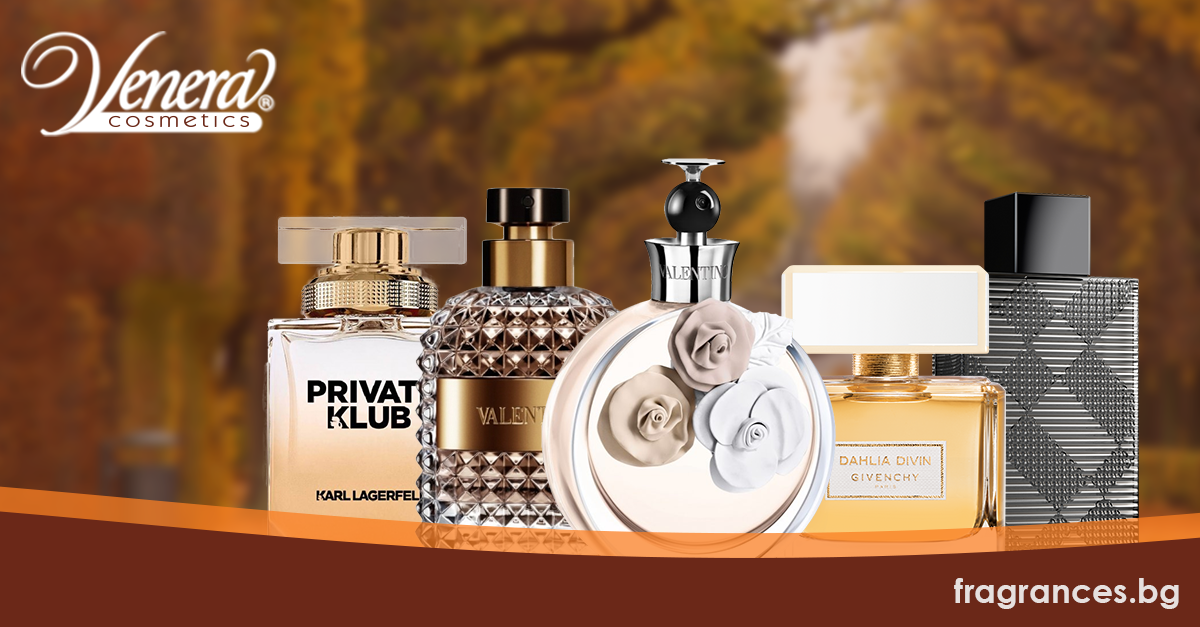 Summer is officially over. No more cocktails at the beach, no more casual pool parties, no more light fragrances that get dissolved in the summer sun…
Autumn, as every new season, brings with it the need for a change. Whether it is your wardrobe, your accessories, the colors you choose for your make up, or the perfumes you use, the colder weather asks for more neutral tones and deeper nuances. The same is true for the perfumes we wear as well – they are more sophisticated, cooler, and more stylish than the summer fragrances we used to wear on the days when the sunscreen's aroma couldn't be completely removed from the skin no matter how often you hit the shower.
It's time to see what's hot this autumn in the world of original branded perfumery. Don't be shy, take a look at our favorites and make your autumn 2015 perfume selection:
Women's top perfumes for autumn 2015:
Bvlgari Aqva Divina EDT for Women – launched in 2015, this perfume is created to please the goddess in you. Its warm base notes of amber, wood, and beeswax will embrace you like a luxurious cashmere scarf, leaving only men's sighs after your shadow.
Givenchy Dahlia Divin EDP for Women – a true masterpiece in the Givenchy collection, this sensuous perfume will help you find your true self – insubordinate to time and fashion trends. The eternal beauty of this fragrance has the power to help you conquer the world!
Karl Lagerfeld Private Club EDP for Women – this perfume is launched in 2015 and it will be your pass to all the parties this autumn! Get a VIP aura around you enhanced by bergamot, pink pepper, cashmere, almond and musk.
Nina Ricci L'Extase EDP for Women – launched in 2015, Nina Ricci's L'Extase EDP will open your mind and set your imagination free. It is perfect for the upcoming colder weather as its warm base notes will keep you warm inside while its gentle aura will melt your admirers' hearts.
Bottega Veneta for Women – launched in 2011, this inspiring perfume will help you get in step with the colder autumn days and nights. It is luxurious, stylish, and deep – what a better way to enhance your femininity in the new season?
Men's top perfumes for autumn 2015:
Burberry Brit Rhythm EDT for Men – this perfume is for the rock star inside of you. It is the best friend of your leather jacket, impatiently waiting for you to take it out of the closet and show the world how sexy you can be even after the summer is over! Seductive and provocative, this fragrance will guarantee you a long line of fans wherever you go.
Givenchy Gentlemen Only Intense EDT for Men – strong, yet sophisticated, this perfume is deep, seductive, and stylish. A true symbol of class and luxury, this men's fragrance will perfectly fit your autumn schedule full of parties and romantic dates.
Karl Lagerfeld Private Club EDT for Men – are you ready to change the casual pool parties with the stylish nightlife of the city? This perfume is destined to help you become the star of any VIP party this autumn!
Valentino Uomo EDT for Men – this classic and timeless perfume follows the traditional recipe that never fails to impress women. The bergamot at the top gets their attention, its delicious heart of baked coffee beans, chocolate, and hazelnut awakens their senses and its base of leather and cedar warms their hearts and makes them beg for more.
Bottega Veneta Pour Homme EDT for Men – launched in 2013, this men's fragrance is specially created for the traveler who likes the raw beauty of the mountain and is not afraid to explore it any time he can. This perfume is the perfect transition from summer to autumn as its warm base notes of leather and patchouli will make all women's hearts skip a beat and think about the warmth of your embrace.