Annick Menardo – one of the most prominent perfumers in today's fragrance world
Annick Menardo is among the most prominent perfumers in today's fragrance world. Her perfume creations (both for men and for women) have impressed thousands of hundreds of perfume fans from all over the world, turning her into one of the most sought perfumers nowadays. Her perfumes include masterpieces and bestsellers like Lacoste Red, Dsquared2 Wild, Bvlgari Black, Lancome Hypnose, Christian Dior Hypnotic Poison, Hugo Boss Boss, and many more!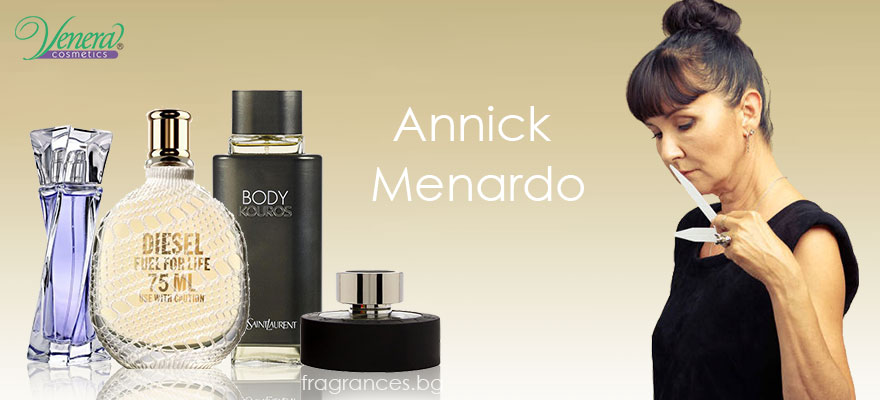 Born in Cannes, the famous perfumer Annick Menardo studied organic chemistry as an undergraduate. After she completed perfumery studies at the French perfume academy ISIPCA, she used to work with nose Michel Almairac at Créations Aromatiques.
After gaining the experience she needed and learning everything she needed from her great mentor, she was welcomed at Firmenich, where she has been working since 1991. At first, she was deeply influenced by the style of her mentor, which was evident in her early work. She soon found her own signature, though, and it never ceases to impress both perfume critics and perfume fans from all over the world.
Annick Menardo was an only child and her childhood was full of dreams of becoming a psychiatrist. While pursuing her childhood dream, she studied medicine, biochemistry, and chemistry, but all these subjects eventually opened the doors to the world of perfumery for her. Passionate and perfectionist, she is among the few women ruling the perfume creation world with grace and femininity.
Among the most amazing projects, Annick Menardo takes part in is sculptor Nobi Shioya's most ambitious work called "7S" – the seven deadly sins. The art installation consists of 7 plaster industrial-style weights that are a mix of plaster, water, pigment, fragrance oil, and chemicals. Each "sin" had its own fragrance created by a Firmenich perfumer together with the sculptor himself who managed to "mate" the nature of each sin to its perfumer's creativity.
Annick Menardo was chosen to work on "Anger" and it was, "Easy to assign", as Shioya explains, "[…] because Annick Menardo is always angry. She is amazingly talented. […] she has an almost animal-like sense of smell." The smell of "Anger" was extremely powerful – it resembled a bizarre and shocking juxtaposition between corrosive chemicals and a failed floral scent.
Some of Annick Menardo's perfumes you will find in our online shop:
Some other famous perfumes she has worked on include:
Benetton Funtastic Wild Citrus for Boys
Celine Celine for men
Cerruti 1881 Edition Blanche for women
Charriol Royal White for men
Christian Dior Bois D`argent for women and men
Eau d'Italie Morn to Dusk
Escada Loving Bouquet
Fendi Palazzo (with Thierry Wasser)
Giorgio Armani Emporio Armani City Glam for her & for him (with Olivier Cresp)
Givenchy Xeryus Rouge
Guerlain Bois d'Armenie
Kenzo Vintage Edition
Do you have a favorite perfume, created by Annick Menardo?