Summer fragrances 2016: The latest perfumes for a summer to remember
Summer is already here and July is impatiently knocking on our doors, as the alluring thought of being on the beach with a daiquiri in your hand is not a dream anymore! But before you leave for your vacation, you should pick a new fragrance, which will be a valuable detail for an unforgettable summer. Warm months require light scents that serve as your necessary dose of summer mood and sexiness.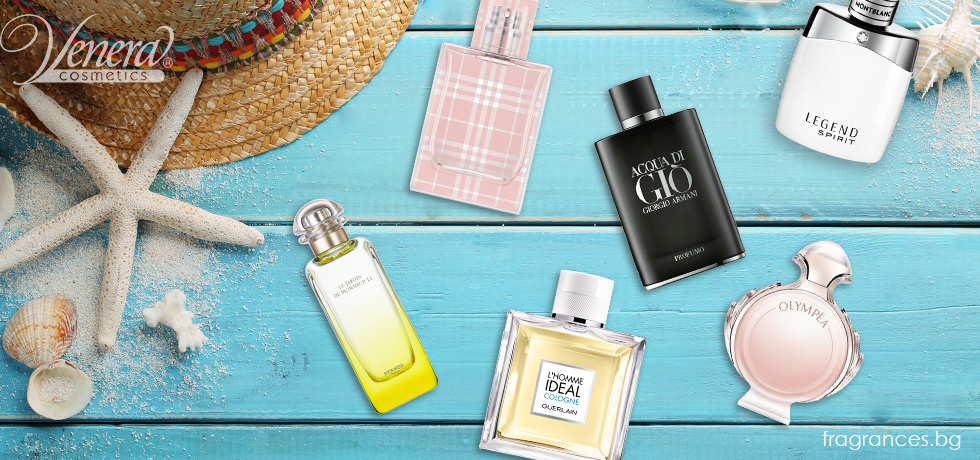 We'd like to introduce to you the latest perfumes for Summer 2016 so that you're getting noticed anywhere you go!
Women's fragrances for Summer 2016:
This amazing floral-marine fragrance ladies will make sure every woman is getting noticed this season. A gift from the gods of Mount Olympus, Paco Rabanne Olympea Aqua combines fresh and oriental touches that make it the perfect scent for every confident woman, who knows how to attract attention both on the beach and the elegant cocktail party under the stars.
Delicate and ethereal, this perfume is a real bouquet of sensuality. Amazing combination of scents of vanilla and caramel, Elie Saab Le Parfum Rose Couture invites its wearer to indulge in summer romances and unforgettable nights.
Launched in 2015, this perfume is fresh, simple and elegant. A combination of mint, kumquat, elegant jasmine and woody base notes, Hermes Le Jardin de Monsieur Li is a great choice for every sophisticated woman, who likes to keep this merely casual.
This floral-fruity scent is suitable for the energetic young lady who knows how to have fun! Its exotic notes invite you on a journey to the most fascinating and beautiful beaches where adventures and summer parties are guaranteed!
Elegant, unusual and sensual – these are the three words that best describe Trussardi Delicate Rose. It's a mandatory summer accessory for those who love to experiment and to stand out from the crowd. An explosion of floral, fruity and musky notes, this alluring fragrance may stay hidden in your bag ladies, but its aroma will surely not go unnoticed.
Launched in 2015, this perfume is definitely going to win the heart of every freedom lover. Combining citrus, floral and aquatic notes, Calvin Klein Eternity Summer 2015 will be a great "friend" on the beach!
Men's fragrances for Summer 2016:
Launched in 2016 under the motto "Follow your spirit", this amazing fragrance is for the men who can be anything they want – the romantic, the macho man, or the refined gentleman – even all three together! The scent is a real explosion of freshness and charm!
"The ideal man is a myth. Its perfume is reality." We're not sure if this would be the right fragrance for you if you just want to rest this summer. But once you put Guerlain L'Homme Ideal Cologne on, your reincarnated charisma will make you irresistible to women, and you'll surely not find any rest from the attention you're going to receive
This captivating fragrance leaves a deep and ethereal trail, acute as the crest of a wave. Inspired by nature and its perfection, this scent is suitable for a man who loves to conquer new peaks and is not afraid of the journey.
This perfume makes you hop on your bike and head on an unexpected summer adventure. Its composition skillfully mixes wood aromas, citrus scents, and sensual notes of amber – the perfect combination for every adventurer!
Inspired by the sun, sea, and summer beaches, this summer fragrance has a true Mediterranean flavor. Having won thousands of admirers, John Varvatos Artisan Acqua is an irresistible fragrance that cannot be forgotten.
Perfect for both the hot days and the cool summer nights, this fragrance will reactivate your hunting instincts of a hunter and win the hearts of countless women.
As Serge Lutens says: I know that if a perfume is badly written, just like a bad novel, cannot be truly lived through. With those summer fragrances, you will definitely have a summer to remember!