Iris (Orris) – the sophisticated scent,that adds class to any perfume
Classy and delicate, the iris is among the most often used (and most loved) perfume notes both for men's and for women's perfumes. Powdery and creamy, the iris perfume note is used in many iconic fragrances, the most famous of which is Chanel No. 5. The musky and sophisticated iris scent has earthy and velvety nuances. Its refined nature adds depth to men's fragrances and femininity to women's fragrances.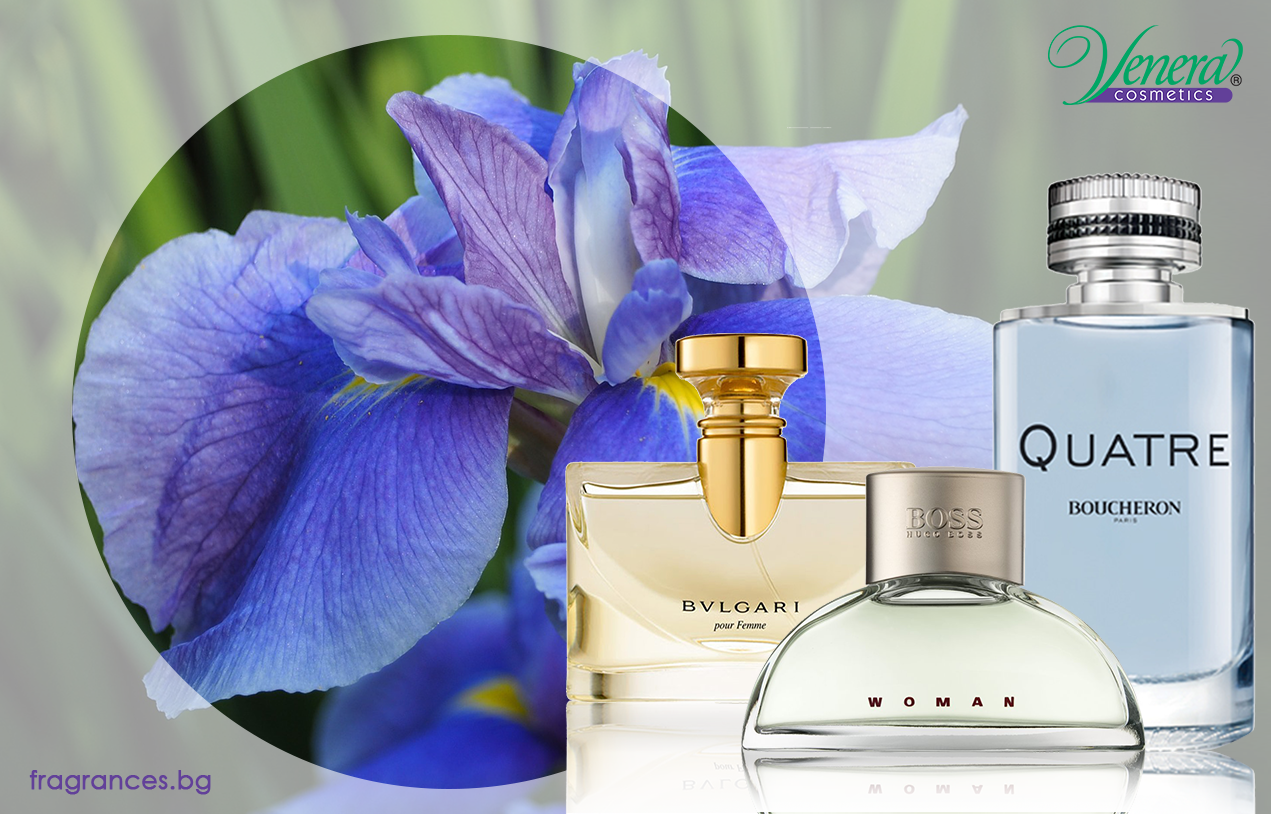 Interesting facts
Did you know that "iris" means "rainbow" and the flower is named after the Greek goddess Iris? In Greek mythology, Iris was a gods' messenger – a beautiful goddess riding on a rainbow, who travels with the speed of wind all around the world, deep into the sea and even in the underworld. Often referred to as the goddess of the sea and the sky, Iris is depicted either as a rainbow or as a young woman with wings, carrying messages between the gods and the mortal people.
An interesting fact about the iris note is that it has traditionally been used as a fixative both in perfumes and in gin! Its use for its aromatic properties has evolved around the wider popularity of niche perfumery. Nowadays it is very famous as a base note, but we see it more and more often used as a heart note and even as a top note in perfumes!
 Production
Having little in common with the iris flower, the iris perfume note is extracted from the iris roots, creating iris (orris) butter. The process of natural extraction of iris butter is very time-consuming and can be really expensive, leading to the high price of the naturally extracted iris perfume note.
First, the root of the iris flower is kept in the ground for up to 5 years (or more) and then it's dried for 3 more years before the actual steam distillation of the ground material takes place. Just 2% of the dried iris root turns to iris butter and its price can reach up to €100,000 per kg. Nowadays, there are, of course, synthetic alternatives produced on the perfume market that are considerably lower in price and are widely used in contemporary perfumery to achieve different nuances of the natural iris perfume note.
Orris root beauty benefits:
It has powerful skin-cleansing properties and helps fight skin impurities and germs;
It moisturizes the skin and helps with dryness and itchiness;
It gives the skin a fresh look and glow, helping it retain its moisture and elasticity;
It has a skin anti-aging effect
Orris root health benefits:
It is a powerful blood (hemoglobin) purifier;
It has gland-stimulating properties;
It enhances the functioning of the excretory system and the digestive tract;
It's a great antiseptic – very helpful with burns, cuts, and scars;
It helps to minimize inflammations and swellings (especially in the bronchial area);
In traditional herbal medicine, it is given to babies when teething to make their teeth strong and keep them healthy;
In many cultures, it is used in the fight against cancer;
It helps the proper functioning of the nervous system, improving concentration and increasing the body energy levels;
It increases appetite and improves digestion, balancing at the same time the acids-alkali balance in the body;
It is a popular and efficient means for weight loss;
It is often used for rheumatism treatment;
It prevents heart disease (specifically, ischemia and hypertension).
Orris root magical powers
Some people believe that iris root powder has magical powers… Also known as Queen Elizabeth root powder, iris root powder is apparently used in magic as well. If you believe in magic, here's what spheres it is claimed to help you in
Love affairs
Romance
Marriage
Passion
Considered to be better (and more powerful) than any other love-related amulet or magic ingredient, iris root powder allegedly attracts men under your spell… We cannot claim that there are any real magical powers to the iris root powder, but the high-quality iris perfume note used in the original branded perfumes you will find on our website will surely help you conquer the heart of any man with its divine smell!
Iris note fragrances in our store:
In our online shop, you'll find plenty of men's and women's perfumes with the note iris in them. Here are some of them:
Boucheron Place Vendome EDT for women
Boucheron Pour Femme EDT for women
Boucheron Pour Homme EDT for men
Burberry The Beat EDP for women
Burberry Weekend EDP for women
Bvlgari Aqva Pour Homme EDT for men
Bvlgari Man In Black EDP for men
Bvlgari Omnia Amethyste EDT for women
Bvlgari Omnia Crystalline L'Eau De Parfum EDP for women
Bvlgari Pour Femme EDP for women
Bvlgari Pour Homme EDT for men
Bvlgari Pour Homme Extreme EDT for men
Calvin Klein Reveal EDP for women
Cerruti 1881 Pour Femme EDT for women
Chloe Love Eau Intense EDP for women
Davidoff Cool Water EDT for men
Dolce&Gabbana Light Blue Dreaming in Portofino EDT for women
Elizabeth Arden 5th Avenue EDP for women
Emporio Armani She EDP for women
Escada Magnetism EDP for women
Givenchy Organza EDP for women
Guerlain La Petite Robe Noire EDP for women
Hermes 24 Faubourg EDT for women
Hugo Boss Hugo Woman Eau de Parfum EDP for women
Jean Paul Gaultier Classique EDT for women
S.T. Dupont Essence Pure EDT for men
Tom Ford Grey Vetiver EDP for men
Trussardi Black Extreme EDT for men
Do you have a favorite perfume with the note iris in it? Share it with us in the comments below!