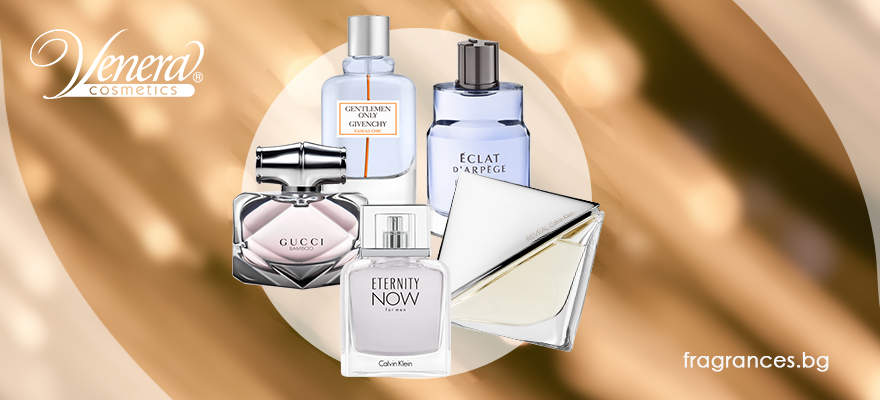 2015 is officially over and now it's time to see what your favorite perfumes were for the past year. We've gathered a list of the most wanted women and men perfumes for 2015. Check it out and get ready for the New Year with some of the bestseller perfumes for 2015!
Women's fragrances:
Launched in 2014, Calvin Klein Reveal EDP was a total hit in 2015. Its sensual oriental scent conquered the hearts of many sophisticated women who enjoyed its captivating scent reminiscent of summer sunsets and sea salt traces on the skin. Its powerful formula will surely be a hit in 2016 as well!
Launched in 2014, Cartier La Panthere EDP is not for any woman. It's bold and sexy, exquisite and gentle at the same time. Symbolizing the grace of the panther, this perfume seduces the senses of the gracious and independent woman. It's appropriate for a signature scent as its formula is distinctive and memorable.
Launched in 2015, Nina Ricci L'Extase EDP was a very successful perfume in 2015. Sensuous and provocative, this scent has the power to bring out your erotic fantasies and turn you into a timeless feminine divinity guided by desire. Dare to let your womanly spirit free!
Launched in 2015, Paco Rabanne Oplympea EDP got raving reviews in the year of its launch. It won women's hearts with its divine oriental floral composition and strong, yet calming scent. This perfume will fit your style perfectly in 2016 as well. Wake up the goddess in you!
Launched in 2015, Hermes Jour d'Hermes Gardenia EDP is the newest edition in the fabulous Hermes perfume collection, called Jour d'Hermes. Its delicate floral composition is perfect for the feminine women, who steal men's hearts with their delicacy and inimitable style.
Launched in 2015, Valentino Donna is a timeless scent dedicated to the contemporary elegant woman who can be gentle and discreet or bold and direct depending on the occasion. It fits perfectly the style of the strong woman who never stays unnoticed. This perfume owes its royal halo to the queen of all flowers, the Bulgarian rose!
Launched in 2015, Gucci Bamboo was a total hit last year and promises to be the first choice of most ladies in 2016 as well. The powerful combination of floral and woody notes awakens the senses and enhances the style of the confident and successful woman. Exotic and elegant, this fragrance promises to inspire any woman who wears it!
Launched in 2015, Roberto Cavalli Paradiso EDP is fresh, yet sensuous and strong. Its exotic floral woody and musk note elegantly complement the woman's natural charm, making her feel sexy and stylish. The warm woody base notes of pine, cypress and sweet wood will melt your heart!
Bvlgari Aqva Divina EDT for women
Launched in 2015, Bvlgari Aqva Divina is the first women's fragrance from the Aqva collection. It has been anticipated for quite some time and its launch was a real furor. Reminiscent of the sea with its salty waters and fresh breeze, this floral sea scent is everything you need for a touch of femininity and unostentatious elegance.
Launched in 2015, Tom Ford Noir Pour Femme EDP one of the best oriental floral women fragrances for 2015. Its irresistible fragrance fits perfectly the sensuous and provocative woman who knows how to use her seductive weapons and rarely takes "No" for an answer. Extravagant and mysterious, this perfume will be a preferred choice for a women's perfume in 2016 as well.
Men's fragrances:
Launched in 2015, Tom Ford Noir Extreme is created for the extraordinary man. It was a great success in 2015 as its distinctive oriental woody composition immediately attracts women's attention and which man doesn't want that? Fresh, yet captivating, this fragrance will surely continue to conquer women's hearts in 2016 as well.
Launched in 2015, Bottega Veneta Pour Homme Extreme EDT is a remake of the 2013 edition Bottega Veneta Pour Homme. The 2015 edition is stronger and more sensuous, which turns out to be a winning formula as the fragrance is among the most often chosen men's fragrances for 2015.
Launched in 2015, Givenchy Gentlemen Only Casual Chic EDT is everything else but ordinary. Its exquisite wooden spicy notes create a powerful aura of elegance and style around the man who is wearing it. It makes the woman's heart skip a beat while its invisible presence is a magnet to any woman in search of new love adventures.
Launched in 2015, Boss The Scent EDT was one of the bestselling men's perfumes for last year. One of the most commonly chosen Christmas presents, this perfume accentuates the man's seductive power and irresistible charm. Magnetic and chic, its sensuous spicy formula will never leave you unnoticed!
Launched in 2015, Lanvin Eclat d'Aprege Pour Homme EDT is stylish and classy. It is created for the confident man who has already conquered the world of business but has kept his family in the first place both in his heart and in his mind. The classic aroma is skillfully formulated to suit the contemporary man's taste which promises this perfume the success it deserves in 2016 as well.
Launched in 2015, Carolina Herrera CH Men Private EDT has a distinctive leather scent that is a perfect final touch to the effortless style of the adventurist contemporary nomad. Its explosive top notes of fresh citrus notes combined with aged whiskey immediately conquer the senses, while the warm leather base notes leave a woman with the desire to snuggle in the arms of the man who is wearing it for many hours after the first impression of the perfume is gone. Its power over women is sensational!
Launched in 2015, Armani Acqua di Gio Profumo EDP is the latest version of the classical Acqua di Gio. Seductive and powerful, its composition is perfect for the free-spirited man of the 21st century who is not afraid to conquer the contemporary world with decisiveness and timeless charisma.
Launched in 2015, Calvin Klein Eternity Now EDT is created as a tribute to the infinite love with which a true gentleman loves his lady. Warm and tender, the fragrance resembles an affectionate embrace. The powerful combination of ginger, patchouli, tonka, and vanilla provide a promising future for this exquisite men's fragrance in 2016!
Launched in 2013, Prada Luna Rossa Extreme EDP was a hit among men's fragrances in 2015. This oriental spicy perfume features an irresistible combination of Italian bergamot, black pepper, lavender, and vanilla. The overall feeling it creates fits perfectly the manly presence of the contemporary macho.
Launched in 2015, Hermes Terre d'Hermes Flacon H 2014 will never leave you unnoticed. Sensuous and seductive, it is the perfect perfume choice for a first date. Its woody spicy composition is memorable and captivating – a true sign that it will be among the bestsellers in 2016 as well!
What were your favorite perfumes for 2015? Share them with us in the comments below!