Top 10 perfumes for spring 2016
Except for Poli Genova's success in the Eurovision final on 14th May 2016 with the song "If Love Was a Crime", there weren't many other major events to be celebrated in Bulgaria this spring in the music world.
In the fabulous world of perfumery, however, several scents made it to the top 10 of the most wanted spring perfumes for 2016. Here's a list of them together with a short description explaining their prestigious place among the most desired and best-selling spring perfumes for 2016.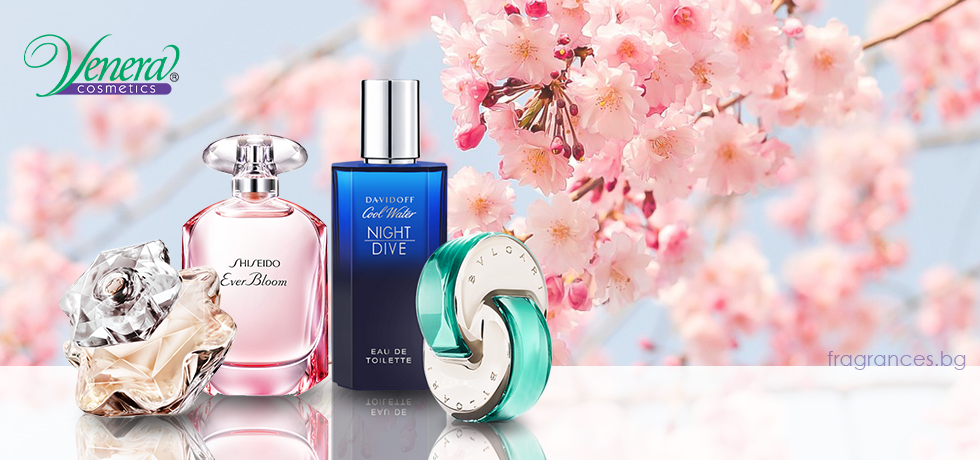 Women's fragrances spring 2016:
A true representative of the floral fragrances (as its name suggests) Shiseido Ever Bloom is inspired by a 1940 black and white photo of camellia taken by the son of Shiseido's founder. Feminine and sensual, this perfume gracefully finds the perfect balance between delicacy and power. The composition of the perfume is not structured as a pyramid (the usual way a fragrance evolves) but has a linear structure instead, in which the top and middle notes melt together in an irresistible flower bouquet of lotus, jasmine, Bulgarian rose, Tunisian orange blossom, and gardenia. The composition is layered on warm base notes of warm hinoki wood and musk.
Bvlgari

Omnia Paraiba

EDT
Omnia Paraiba belongs to the Floral Fruity fragrance family and is created by famous perfumer Alberto Morillas. Named after Brazilian semi-precious stone Paraiba Tourmaline, this perfume first captures the attention with its exotic blue-green bottle and then captivates the olfaction with its divine aroma inspired by Brazilian jungle, white sandy beaches, and majestic ocean waves.
One of the most wanted spring perfumes for women in 2016, Omnia Paraiba's composition opens with fruit notes of bitter orange and passion fruit. Its floral heart hides a secret garden of passionflower and Brazilian gardenia while its base includes warm vetiver and sweet cocoa.
Mont Blanc Lady Emblem belongs to the Chypre Fruity fragrance family. With its elegant and feminine scent, it is perfect for the sophisticated woman who is aware any man is ready to fall at her feet and beg for mercy as a victim of her sex appeal. Elegant and alluring at the same time, Mont Blanc Lady Emblem is perfect for a signature scent. Its composition has a rather bold opening featuring red currant jam, pink rose, and peach that give way to the intense heart of sandalwood, patchouli, and rosewood. Musk and raspberry in the base create the lasting feeling of allurement and sophistication that will guarantee you won't go unnoticed whenever you decide to wear this spectacular perfume.
Launched in 2013, Lanvin Me L ' Eau belongs to the Floral fragrance family. Light and airy, this fragrance is perfect for the spring season! It will win the heart of the romantic woman who is either in search of Prince Charming or has already found him. Either way, you can be sure he will fall in love with this feminine fragrance on you! Its composition starts with a fresh opening of Italian mandarin, violet leaf, and pink pepper. The fragrance then reveals a delicate floral heart of peony and magnolia enhanced by a base of sweet peach, cedar, and musk.
This Oriental Woody fragrance was launched in 2014 and has not stopped enchanting women with its divine scent ever since! The feminine version of Cool Water Night Dive for men, Davidoff Cool Water Night Dive for women is sensual and mysterious. Created for the modern mermaid, this perfume opens with a splash of mandarin freshness leading to an exotic mix of pistachio, woody notes, jasmine, and mastic. The green and woody base features notes of patchouli, cedar wood, and amber.
Men's fragrances spring 2016:
Paco Rabanne Invictus Aqua belongs to the Woody Aquatic fragrance family. Created for the contemporary conqueror, this fragrance is a timeless trophy for the irresistible macho conquering women's hearts gracefully and with style. With its impressive design and powerful scent, this perfume is a true delight to all senses. It opens with an explosion of freshness and a hint of exotic thanks to its top notes of grapefruit, yuzu, and pink pepper. The heart notes of the perfume take us to the warm embrace of the sea, skillfully enhanced by a delicate accord of herbal violet leaf. The warm and intense woody base makes this fragrance simply impossible to resist!
Davidoff Cool Water Night Dive is a new edition of the iconic Cool Water from 1988. The new fragrance features all the charisma of its predecessor but its power over women is enhanced to new levels of enchantment. Thanks to a more sophisticated formula that adds mystique and even more sophistication to the fragrance, this is one of the most wanted spring perfumes for men in 2016.
Another brilliant representative of the Woody Aquatic fragrances for men, Trussardi Blue Land was launched in 2015. Fresh, citrusy, and woody, this perfume is created by Alexandra Kosinski. Its composition opens with a powerful mixture of green apple, bitter orange, and stone moss that gradually give way to the marine heart of the perfume featuring sea notes, lavender, and ginger. The base notes of vetiver, cashmere, and suede add to the perfume's longevity and the masculine passion it gives the man wearing it.
Launched in 2014, S.T.Dupont Paris Saint-Germain belongs to the Aromatic Fougere fragrance family. Its elegant and very emotional scent owes its exclusivity to Christopher Raynaud who put his mastery into creating a true masterpiece. With its fresh opening, intense heart, and rich masculine base notes, the official fragrance for Paris Saint-Germain is a must for any true perfume lover!
Baldessarini Nautic Spirit is not your average men's perfume. Warm and spicy at the same time, built on the contrast between hot and cold, this fragrance is your secret weapon for conquering women's hearts. Be careful with it, though, as its power over women is so strong that you will need help getting them off you while its intoxicating smell makes them want to tear your shirt in pieces and get a piece of you! Created for experienced lovers, Baldessarini Nautic Spirit is the fragrance you need for this season.
Do you have a favorite perfume among the most wanted spring perfumes for 2016?