Orange note – conquering the hearts with its crispy freshness and delicious citrus sweetness
As one of the most often used top perfume notes (especially for floral fragrances), orange conquers the hearts of both men and women with its crispy freshness and delicious citrus sweetness. A very little known fact about oranges is that their name (contrary to popular belief) doesn't come from their color. The word "orange" is derived from Sanskrit and means "fragrant"!
Perfumers love using orange in the composition of both men and women perfumes from diverse fragrance families because its sweet, yet refreshing scent pleases the senses and creates a craving for tropical sandy beaches and exotic places. Besides, it blends perfectly with other citrus notes, such as lemon, lime, grapefruit, mandarin, bitter orange, pomelo, blood orange, etc. It also blends exceptionally well with notes like cinnamon, cloves, frankincense, ginger, black pepper, sandal wood, and vetiver.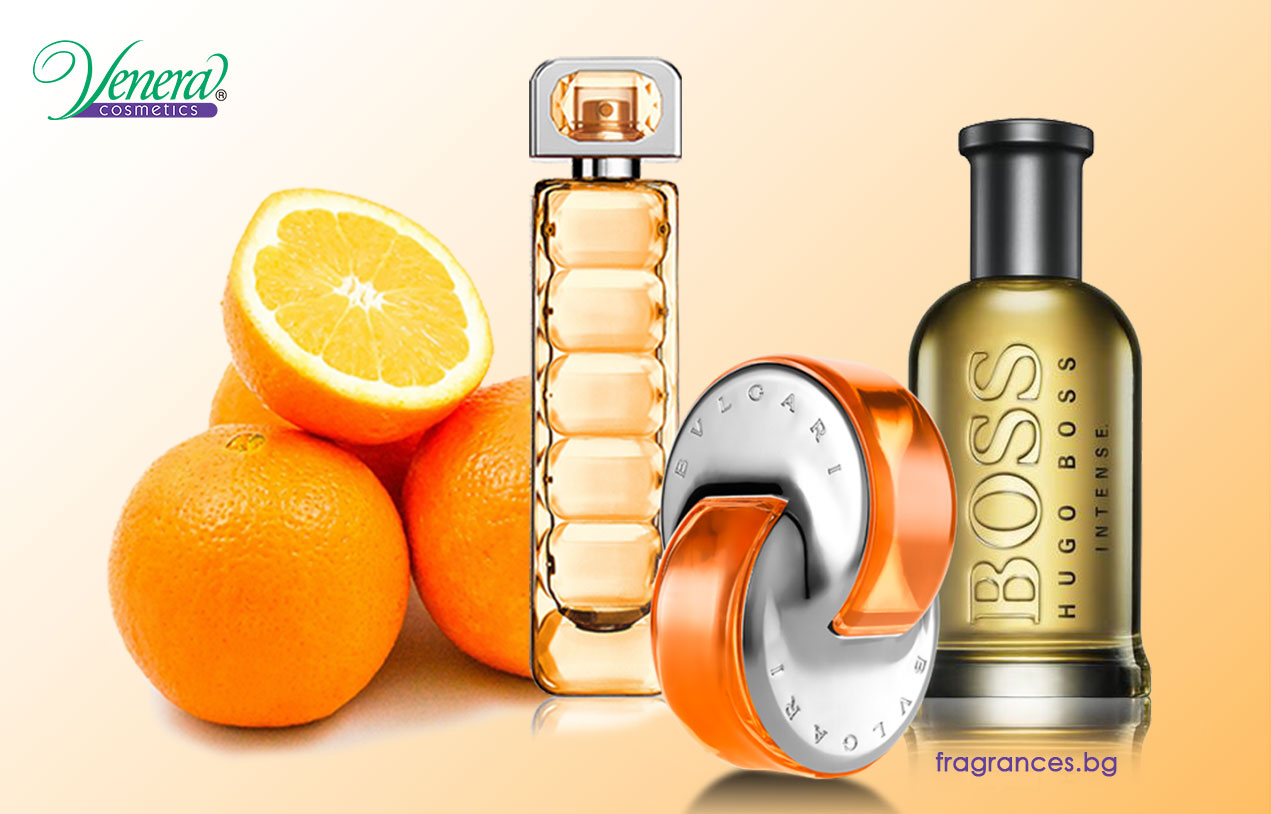 Did you know that orange (as we know it) is actually a hybrid between pomelo and mandarin? It is a domesticated fruit that doesn't grow in the wild, but the orange tree is the most commonly grown fruit tree worldwide! The orange tree was first cultivated in China and its popularity reached Europe back in the 11th century. Then, though, it was mainly used in… medicine.
It was not until the 15th century that orange was spread around the world and people started enjoying it for its sweet mouthwatering taste. It is an interesting fact that Christopher Columbus was the person who brought orange seeds with him and introduced the popular European fruit to the Caribbean!
Did you know that just 20% of the total crop of oranges worldwide is sold as whole fruit? It is amazing that the processed products of orange constitute of 80% of the total orange crop – these include orange juice, extracts, and preserves.
Orange essential oil is the second most popular product (by-product actually) made from oranges (the most popular being orange juice, of course). Orange essential oil is produced through cold-pressing of the outer orange peel. The extracted oil, sweet and fresh, is famous for its cleansing, antibacterial, immunity-enhancing, anti-inflammatory and flavoring properties.
Main health benefits of orange essential oil:
Enhances the immune system – it is famous for its cancer-fighting abilities and chemo-preventive agents;
Powerful antibacterial properties – preventing the proliferation of E. coli bacteria, and inhibiting the spread of salmonella bacteria;
Great cleaning properties – except for its natural clean and fresh scent, diluted orange oil can be used as a great cleaning agent for your home;
Fighter against high blood pressure – improving the blood flow and fighting hypertension, orange oil is a natural remedy for high blood pressure;
Improves the libido – orange essential oil has been known for centuries as a potent aphrodisiac;
Natural pain-killer – especially effective for headaches and PMS symptoms;
One of the most popular anti-inflammatory oils;
Antispasmodic properties;
Natural sedative – perfect to help you relax after a long stressful day at work.
Except for its wide variety of medicine uses, orange essential oil is also used in the food industry (to add flavor to drinks, desserts, etc) and in the beauty industry (in body lotions, soaps, creams, deodorants, etc). Its anti-aging and wrinkle-lifting properties have made it a popular choice for different serums and face treatments.
Except for the most popular orange (sweet orange), there are three more orange types used in perfumery: bitter orange, blood orange, and mandarin orange.
Bitter orange is mainly used for the extraction of the famous fragrance notes orange blossom and neroli. Bitter orange oil is also used in perfumery as it blends well with sweet orange and grapefruit and its more intense citrusy aroma adds character to different floral perfume compositions for both men and women.
Blood orange is very sweet in taste and flavor and has fruity hues of raspberry. Its distinctive flavor blends very well with lavender, frankincense, geranium, grapefruit, mandarin, neroli, rose, lemon, clary sage, myrrh and spicy notes like clove and cinnamon. In perfumery, it is mainly used for its uplifting and stimulating properties.
Mandarin orange has a juicy and sweet scent with a hint of honey in it. A symbol of good luck in China, mandarin oranges (also known as mandarins) are very popular in the perfume industry for their rich in flavor peel, used for the extraction of the famous mandarin essential oil. Except for other citrus notes, mandarin orange perfume note blends well with spicy notes like nutmeg, cinnamon, and clove.
In our online shop, you will find plenty of perfumes with orange notes in them. Here's a list of some of them:
Armani Acqua Di Gio EDT for men
Armani Code Luna EDT for women
Azzaro Chrome Legend EDT for men
Azzaro Chrome Sport EDT for men
Azzaro Pour Homme Night Time EDT for men
Boss Bottled Intense EDT for men
Bvlgari Aqva Marine Pour Homme EDT for men
Bvlgari Omnia Indian Garnet EDT for women
Burberry Brit Rhythm EDT for women
Guerlain L'Homme Ideal EDT for men
Carolina Herrera 212 EDT for women
Cerruti 1881 Pour Femme EDT for women
Chloe Love Story EDP for women
Marc Jacobs Honey EDP for women
Dolce&Gabbana The One Eau de Parfum EDP for men
Dolce&Gabbana The One EDT for men
Jacques Bogart Silver Scent EDT for men
Cartier Roadster Sport EDT for men
Elie Saab Le Parfum EDP for women
Givenchy Ange Ou Demon Le Secret Elixir EDP for women
Gucci Made to Measure EDT for men
Guerlain Shalimar Parfum Initial EDP for women
Hermes Elixir des Mervellies EDP for women
Jean Paul Gaultier Classique EDT for women
Lanvin Marry Me! EDP for women
Paco Rabanne Absolutely Gold Lady Million Perfume for women
Tom Ford Velvet Orchid EDP for women
Valentino Valentina Acqua Floreale EDT for women
Versace Crystal Noir EDP for women
Versace Yellow Diamond EDT for women
Do you have a favorite fragrance with the orange note?