Summer 2017 Fragrances: Perfumes that create memories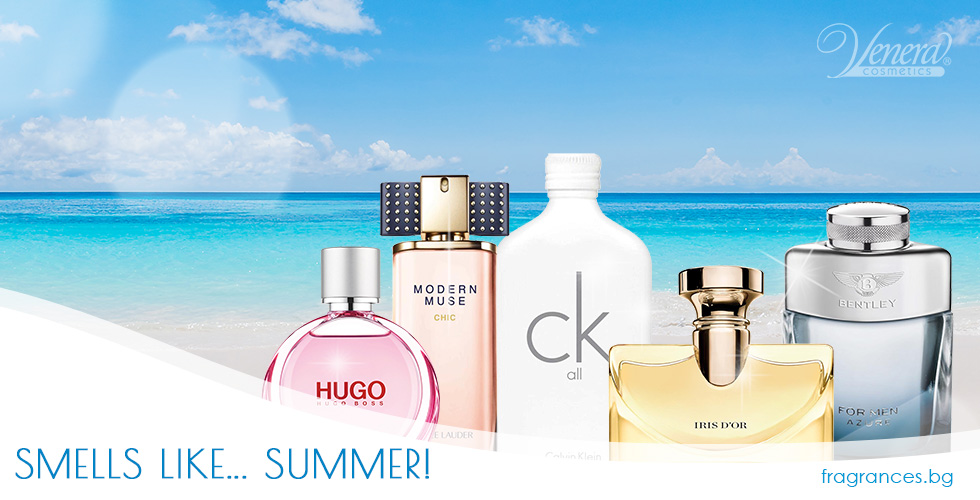 The summer is already here. We transformed our wardrobe and are ready for adventure – summer dresses and shorts are in; the sunglasses are a must-have accessory. The afternoons spent with a nice company in the park are no longer a mirage, and the picture containing us with a cocktail in hand, feeling the warm sand under our feet, is very close. Summer is the season of the most memorable experiences and the most intensive days and nights. And as Jean-Paul Guerlain said: "Perfume is the strongest form of a memory."
Check out our 10 suggestions for summer perfumes that will leave a lasting memory not only in you but also in the people around you.
Summer 2017 fragrances for women:
Bvlgari Splendida Iris d'Or EDP for women
This light and sunny scent will inspire and prepare you for new adventures. The sun inspires through the elegant bottle of the fragrance – the luxurious golden aura it radiates, adds just the needed amount of chic to complete your image. Magnificent and sensual, this is the perfect accessory for your long summer days.
Estee Lauder Modern Muse Chic EDP for women
The composition of Modern Muse Chic is a striking explosion of floral, fruity and woody fragrances. It was created to reveal the fashion icon in any lady who likes to express her individuality. Especially for women who like to be in the spotlight. And as we all know, summer is the best time for that.
Lanvin Eclat D'Arpege Arty EDP for women
You will be conquered and put into a summer mood as soon as you see the bottle of this scent. The artistic design with bright and saturated colors decorates our day and gives us energy. The perfume composition fills us with joy, emotion and tenderness, making the combination captivating and irresistible. The scent itself awakens the artist and the adventurer in us, promising an unforgettable summer!
Hugo Boss Hugo Woman Extreme EDP for women
This floral-fruity scent embodies the true sense of confidence and femininity. With its gentle and ethereal composition, it becomes a true bouquet of sensuality. Feminine and sensual, this perfume finds the perfect balance between delicacy and strength. Exotic, fresh, but refined, it is a great companion for your summer days on the seaside.
Kenzo L'Eau Kenzo Intense Pour Femme EDP for women
With this divine scent you can not go unnoticed. It conquers the senses, its delicate scent brings a seductive charge, and the exquisite but ever so lightly sinful notes will wrap you in their embrace, emphasizing on your femininity, tenderness and sensuality.
Summer 2017 perfumes for men:
Calvin Klein CK All EDT for men and women
This unisex scent presents a real explosion of freshness and sex appeal! Its composition, presents swallowing fresh mandarins and bergamot, floral and beautiful jasmine and lily with warm and sensual amber and vetiver – the perfect combination for the daring youngsters who like to fascinate and captivate.
Thierry Mugler A*Men Kryptomint EDT for men
Thierry Mugler A*Men Kryptomint is not an ordinary fragrance. Mint, bold and arrogant, it conquers and energizes us with the first whiff. The brave composition, featuring a variety of all captivating notes, makes the scent the perfect addition to your arsenal. It will not only fit into your intense daily life, it will also inspire and prepare for new impulsive experiences.
Bentley Bentley for Men Azure EDT for men
Inspired by the sea, the breezy summer days and the Bentley Azure, this perfume will make you embark on an unforgettable summer adventure. Irresistible, leaving a sense of vastness and unattainability, it is the reincarnation of charisma, the sea attraction and can not be forgotten.
Armani Eau D'Aromes EDT for men
If you are planning a peaceful summer in which you can rest and relax, then this fragrance is not for you! The composition is intense and bold and makes a strong impression wherever you go! The perfume is a perfect ally – rich and irresistible, and once felt, women will start to crowd around you, enchanted by your masculine scent.
John Varvatos Star USA EDT for men
This perfume differs from everything known before – it is contrasting, challenging and memorable. With its classical and sophisticated formula, adding mystique and elegance to the fragrance, it is timeless and absolutely obligatory for every perfume lover!
With the scents we have chosen for you, summer 2017 will be anything but boring.
What about you – do you have a favorite summer fragrance?