Musk in contemporary perfumes
The term musk refers to a class of fragrant substances and it is usually used as a base note in perfumes. Its Latin name is Moschus Moschiferus and it can be derived either naturally (from the perineal glands of the musk deer, as well as from plants with similar fragrances) or synthetically. The naturally extracted substance is amongst the most expensive animal products. The black market price of naturally derived musk is more expensive than gold. An interesting fact about the artificially produced musk is that it was discovered accidentally while the scientist Albert Baur was experimenting with… TNT explosives!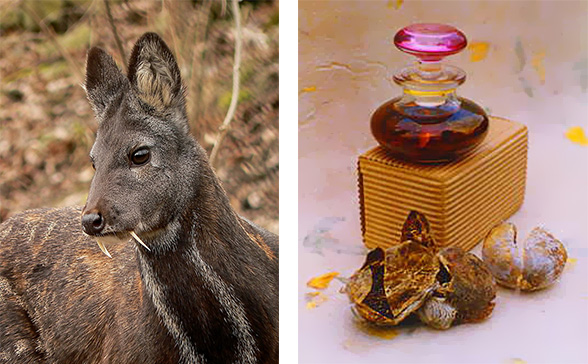 Musk has a very strong odor and a lively and contrasting nature that has been used in perfumery since antiquity. Nowadays, the synthetically produced musk is almost exclusively used as the use of natural musk was prohibited in 1979 when the musk deer became an endangered species. What makes musk a preferable base note for a lot of perfumes is its unique quality to balance the fragrance composition, allowing it to last for a longer time. It is also widely considered an excellent aphrodisiac as there is a close resemblance between the musk smell and the smell of testosterone.
Here are some of the musk perfumes we recommend to you:
Narciso Rodriguez For Her EDP – this is a soft and sensual fragrance representing the feminine beauty and grace as well as women's firmness and determination. With top notes of rose and peach, a musk heart, and base notes of sandalwood and patchouli, this fragrance is especially developed for the strong and powerful contemporary woman.
Chanel Chance EDP – this romantic and unpredictable perfume was created in 2003 by Jacques Polge. Its name means "luck" in French. That is the reason for the shape of its bottle (the round bottle represents the wheel of fortune) which is made in contrast to the rectangular shape used for Chanel N°5. This is a fragrance in which the freshness of pink pepper meets the femininity of jasmine and melts into the mystery and sensuality of white musk leading you to places you've never been before.
Chanel Allure Homme Sport Eau Extreme EDT is another great fragrance created by Jacques Polge (launched in 2012). It is a unique combination of musk nuances, spicy notes, invigorating freshness, and woody shades.
Angel EDP by Thierry Mugler – when it comes to musk we cannot miss Thierry Mugler's first fragrance – Angel. Launched back in 1992, this perfume is sensual and oriental. It is so unique that you will either fall in love with it or you will hate it. Pure, soft, and innocent, it is a fragrance that will not leave you unnoticed!
Benetton White Night Man EDT – this fresh citrus fragrance is created for the young men with a positive attitude towards life who likes partying till dawn. With grapefruit top notes and a musk heart, this is a rather energetic and seductive fragrance.
People say that musk is among the most controversial fragrances used in perfumery. How do you feel about musk? Do you like perfumes with musk notes in them?