10 reasons perfumes make the perfect holiday gift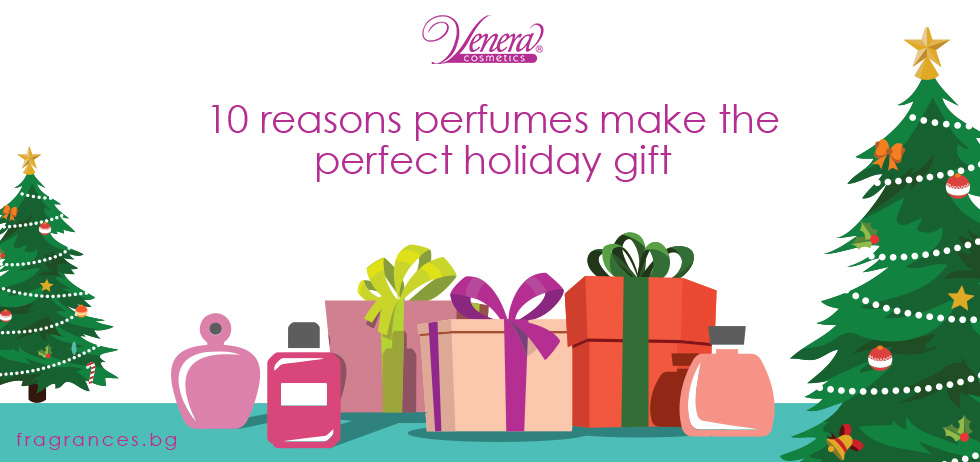 With Christmas around the corner, more and more people ask themselves the inevitable question, "What gifts should I get for my family and friends?" It's only natural that Christmas gift shopping adds additional stress to all of us at the end of the year. What's more, we want to take into consideration each gift recipient's personal preferences and individuality. Besides this, we all have to fit a certain gift budget…
In this article, we will give you a simple yet original solution to the problems – perfumes. They are a perfect gift for both men and women, to our close ones and our acquaintances. Here are 10 reasons that prove this statement true:
1. Perfumes are a personal present
When you buy a perfume as a present, you think about the person who will receive it. You take the time to find the fragrance you think will best fit their personality and lifestyle. That's very highly appreciated by the receiver. They feel pleased that you haven't just opted for an impersonal present chosen only based on the fact that it was on the most convenient store shelf on your way to the cash desk at your local hypermarket (check our article about Christmas gift for women).
2. They are a universal "pill" for a happier mood
At the very moment we put on our favorite fragrance, we feel refreshed, stronger, and ready to conquer the world. It has been proven that aromatherapy affects us in many different positive ways – from making us feel more calm and relaxed to being seductive, sensual and ready for challenges. Who would not want to gift such feelings?
3. Perfumes come in beautiful packages
When you buy a perfume as a gift, you can be sure that the receiver will be impressed by the beautiful package their present comes in. There's no need to pay more for extra packaging as perfumes are beautifully packaged by the producers. What's more, Christmas perfume gift editions usually come in a beautiful special gift package that makes the perfume inside an even more desirable present. And just like a piece of jewelry, a perfume comes in a compact size, making it the perfect surprise gift.
4. Another one is never unnecessary
Even if you have found "your" perfume and have a favorite fragrance, another one is never superfluous. Different fragrances affect us differently, focusing on different aspects of us and therefore are suitable for different occasions and activities in our lives. Whether it is a fragrance that will bring forth your seductive and feminine side and is suitable for romantic dates and special occasions, or scent that would emphasize your seriousness, ambition and confidence, perfumes can always be put to use.
5. Perfumes can practically fit in any budget
Whether you have a 3-digit budget or a looking for a more budgetary present, you can find an appropriate perfume (or perfume set) within your price range! This certainly doesn't mean you should risk with dangerous fake perfumes, though. There are many perfume brands offering fragrances and fragrance sets in the lower price range. High-quality branded perfumes and gift sets are produced at prices between 10 and 30 lv (such as Puma, Benetton, Elizabeth Arden, Ulric de Varens, Azzarо, Ungarо, Giorgio Beverly Hills, Jacques Bogart, David Beckham, Ferrari, Guess, Replay, and Sergio Tacchini, to name a few).
6. Perfumes are a great gift both for men and for women
One of the things that we like the most about perfumes is that they are worn both by men and by women. This makes them the perfect gift for anyone, regardless of their sex or age! As about one-third of women prefer wearing male fragrances, it is a good idea to pick for them a unisex fragrance that will both satisfy their want for "manly" notes and help accentuate their femininity.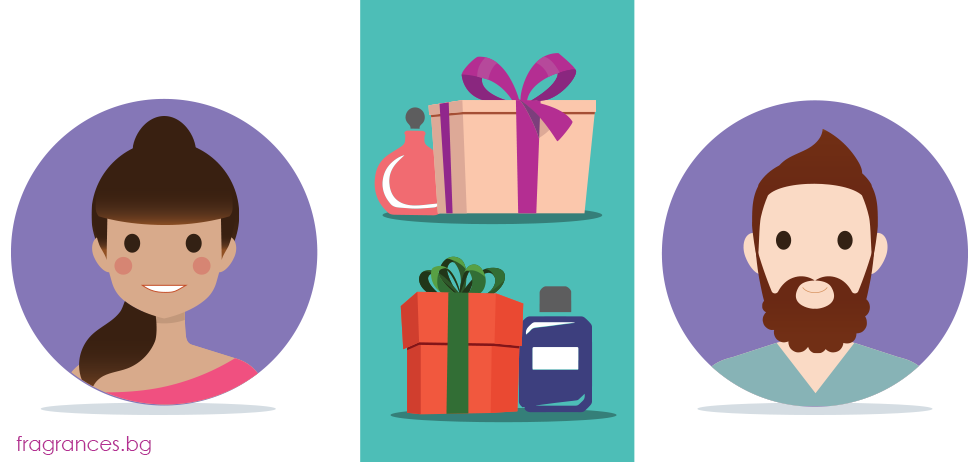 7. Perfumes are an emotional present
When you buy a perfume for a loved one, be sure they are well aware of the fact that you feel a strong emotional connection with them. Usually exchanged as presents between couples, perfumes are a personal gift that often has romantic undertones, so be very careful when choosing a perfume gift for a colleague or a person you are not that close with as they might get the gesture in the wrong way. For such occasions, stick to more traditional fragrances and stay away from sensuous and seductive fragrances.
8. Perfumes scream luxury
No matter what price range your original branded perfume comes from, it is considered a luxury gift. Everybody is flattered when they receive a beautifully packaged fragrance of a well-known perfume brand. To add even more value to the perfume gift you are considering buying, opt for a perfume set as the special fragrance sets include complimentary beauty products like shower gels, body lotions and deo sticks with the same fragrance, offering an even more pampering experience to the person using them.
9. Perfumes are actually used (and last for ages)
Unlike the dreadful dust-gathering Christmas gifts most of us have received over the years, perfumes are a personal item that is actually enjoyed by its holder. We are sure each of you has at least one useless present you've received as a Christmas gift that you only display in your home when you are expecting the person who gave it to you to come visit. With perfumes, you shouldn't have such concerns – if the person likes the scent, they will use it daily; if they don't – they can simply exchange it for another scent they like wearing. What's more – perfumes can be worn regardless of the season and, if stored properly, they last for ages!
10. Buying one is rather easy
Unlike a sweater or a pair of shoes, you can buy perfumes even online without worrying that your gift won't "fit" the person it is intended to. With filters like price range, fragrance families, brands, special offers, types of products (for men, for women, sets, etc.), it is easier than ever to find the fragrance you are looking for online! It takes literally a few minutes to find the perfect perfume product, add it to your cart, and receive it 1 to 2 business days after you've placed your order. No more waiting in kilometric queues and hours lost in crowded malls! Also, they can easily be returned and exchanged for another fragrance that appeals more to the person whom the gift is for.
To all of you, happy holidays!