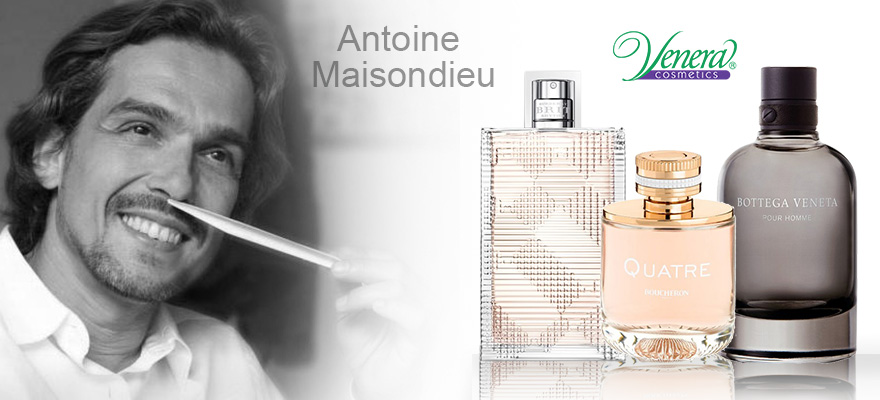 "Instinctive, Inspired, Dreamer" – these are the 3 words that describe the style of Antoine Maisondieu in his own words. Born in the cradle of perfumery (Grasse, France), Antoine Maisondieu is a world-famous perfumer currently working at Givaudan. He comes from a family with old traditions in perfume-making – he is a third-generation perfumer!
Here's what he remembers from his childhood, so tightly bound to perfumery: "My dad works in natural raw materials, whereas my mom comes from a family of artists. So quite young, I was immersed in the world of scents and creation I enjoyed it very much. But it was an encounter with perfumer Jacques Chabbert, a few years later that turned out to be the defining moment that gave me the desire to pursue this career."
Although perfume has been running through his veins ever since his birth, when he was young he didn't embark on the perfume-creation journey that would make him famous in the world of perfumes and beauty right away. Instead, he attended law school before entering the world of perfumery.
His master's degree in law, however, couldn't satisfy his inexplicable (at that time) hunger for art and creativity, so later on, he attended perfumery school at Roure. An internship in perfumery at Givaudan finally made it clear that it is perfumery that will follow him on his professional way and 1989 set the beginning of his flourishing career at the Fine Fragrance department of Givaudan.
"I was already getting bored after my first year in law school", he remembers, "and I was feeling more attracted to the artistic professions, such as cinema or photography. The perfume industry seemed too obvious a choice since my father was already working there, and I had always declined to take that path. I thought it was less creative. That was up until the day when I accepted an internship in perfumery, and I realised that it was in fact very creative."
It is a little-known fact that the famous perfumer Antoine Maisondieu is the grandson of Albert Camus – a French Nobel Prize-winning philosopher, author, and journalist.
Antoine Maisondieu is among the few perfumers who successfully collaborates with many other perfumers, creating fragrances in teams. Here's the secret to his success as being on a perfume-creation team with other famous perfumers and how the collaboration works: "I think, most of the time, it doesn't work! I think for it to work you need people without too much ego. If everyone has a huge ego, it can't work. Then you have to have a common language, but I'm not sure how to explain that. When you have two people, I think that's okay. It can be good. Generally, I prefer to work on my own, or in a pair, but more than two, I don't like. Sometimes it's forced."
Originality is something of great importance to Antoine Maisondieu. He admits that there's always some inspiration, as well as "something that has come before", but copying is definitely not his thing. He is, however, always concerned about the brand he is working for, so whenever the job requires it, he is willing to be "commercial" in his approach to perfume creation.
A good perfume, according to Antoine Maisondieu has a unique signature, elegance, and its own trail. It is, however, more and more difficult for perfumers nowadays to achieve this with contemporary perfumes due to the tightening EU legislation restricting the allowed number of ingredients that perfumers are allowed to use. These restrictions inevitably impact the way perfumes are created and Antoine Maisondieu shares in this reference, "Not being able to use some natural materials has obviously affected my creations, but at the same time, it has forced imagination."
A fan of citrus notes, lemon, and bergamot, the famous perfumer is particularly uplifted by "fragrances in bright colors". In his creative work, he is inspired by Greece and its odors – flowers, incense, thyme, and Juniper berry. He also seeks inspiration in his home (France) as well as in Italy (especially Capri and Sicily). He does not restrict his muse to just one sense, though! "What inspires me are the emotions that are evoked by each of my senses".
Some of the perfumes, created by Antoine Maisondieu you can find in our online store:
Bottega Veneta Pour Homme EDT for men
Bottega Veneta Pour Homme Extreme EDT for men
Boucheron Quatre EDP for women
Burberry Brit Rhythm EDT for women
Diesel Only The Brave Wild EDT for men
Lanvin Marry Me! EDP for women
L'Eau de S.T. Dupont Pour Homme EDT for men
Tom Ford Velvet Orchid EDP for women
Van Cleef & Arpels Feerie EDP for women
Valentino Donna EDP for women

YSL Opium EDP for women
Other famous perfumes created by Antoine Maisondieu are:
Acqua di Parma Magnolia Nobile (2009)
Burberry Brit Limited Edition For Men (2010)
Burberry London for men Special Edition (2008)
Giorgio Armani Armani Code Ultimate (2012)
Giorgio Armani Prive Eau de Jade (2004)
Gucci Eau de Parfum II (2004)
Gucci Rush for men (with Daniela Andrier)
Iceberg The Iceberg Fragrance For Men (2009)
Lanvin Marry Me! Confettis (2015)
Paul Smith Extreme for women (2002)
Paul Smith Rose (2007)
Paul Smith Rose Summer Edition (2009)
Roxy Eau de Toilette (2007)
Quiksilver for Men (2008, with Antoine Lie)
Van Cleef & Arpels Collection Extraordinaire California Rêverie (2014)
Van Cleef & Arpels Collection Extraordinaire Muguet Blanc (2009)
Van Cleef & Arpels Collection Extraordinaire Rose Velours (2013)
Van Cleef & Arpels Féerie Rubis (2015)
Versace Gianni Versace Couture Jasmine (2014)
Victoria's Secret Forbidden (2014, with Aurélien Guichard)
Yves Rocher Comme une Evidence Homme (2008)